Product Description
GODIAG GT101 PIRT Power Probe is a multi-use circuit-tester with built-in diagnostic power. It is the best electrical tester for reducing diagnostic time in all 6- to 40-volt vehicle electrical systems. Undoubtedly it is the most versatile and practical tool ever for its users.
GODIAG GT101 PIRT Power Probe DC 6-40V Vehicles Electrical System Diagnosis/ Fuel Injector Cleaning and Testing
Top Reasons Why You Need GODIAG GT101 PIRT Power Probe:
①GODIAG PIRT Power Probe is a special circuit maintenance testing tool which is developed for automobile maintenance workers and engineers.
②It can be used to diagnose an open circuit, short circuit, detect positive and negative circuit and pulse current of power lines; and support the testing of lighting lamp,window lift motor, horn, ECU control Unit power supply and other individual component, vehicle component circuit.
③Moreover, its function also covers the detection of relays and fuel injectors as well as the cleaning of fuel injectors.
④The output current can be reversed to form a loop power, and when the current exceeds 20A, it automatically trip to protect the device and extend the service life.
⑤It can detect all 0-80v electronic systems, greatly shortening the detection time. The connection with the car battery is simple and easy to use.
Product Introduction:
GODIAG GT101 PIRT Power Probe is a multi-use circuit-tester with built-in diagnostic power. It is the best electrical tester for reducing diagnostic time in all 6- to 40-volt vehicle electrical systems. Undoubtedly it is the most versatile and practical tool ever for its users.
This tool simplifies the testing of fuse boxes, verifies the correct operation of motors, lights, relays, sensors, wires, and communication-circuits. The large digital color display makes for easy viewing in direct sunlight or complete darkness.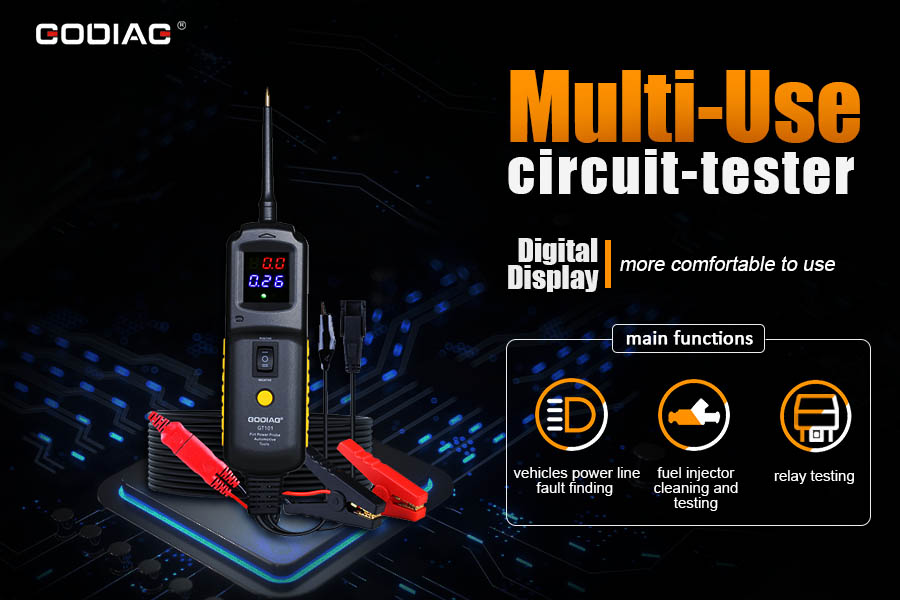 Main Functions of GODIAG GT101 PIRT Power Probe:
1.Circuit Troubleshooting Test (Short Circuit, Open Circuit)
When the vehicle's headlights, turn signals, lift windows, sunroofs and other functions fail, GT101 can be used to detect the circuit voltage or supply power for these components to find out whether it is a circuit problem or a component damage.
1)According to the circuit diagram, locate the fault point that may have the problem, and the GT101 electric tester can detect the positive and negative electricity.
2)Detect whether the circuit has normal positive or negative electricity.
3)Input positive voltage to the malfunctioning component (for example, headlight or motor). If the component works normally, it means that the circuit may be open. Otherwise, it means that the component is damaged.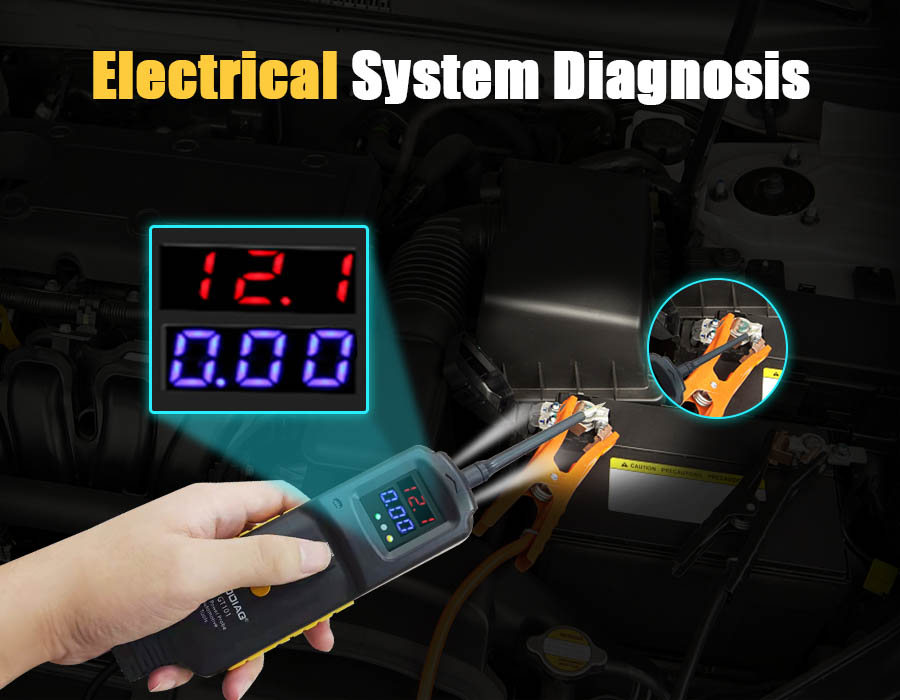 2.Relay Test
When the car's headlights, turn signals, horn and the engine starter do not work, if there is no problem with these components after detection, you can check the relay switch.
After the relay is removed from the car, connect the adapter based on the connection of the relay.
3.Fuel Injector Test
When the vehicle has difficulty in starting, acceleration and fuel consumption, etc, it is necessary to check the fuel injector.
When detecting the fuel injector, if the fuel injector is driven to open or close, the ammeter shows the normal value and the fuel injector woks normally, it means that the fuel injector is normal. Otherwise, it means that the fuel injector is damaged.
4.Fuel Injector Cleaning
When the fuel injector is blocked, the fuel injection is not smooth. There are carbon deposits and thick sticky substance in the gap of the fuel injector. The designed fuel injection volume or atomization effect cannot be achieved, it needs to be cleaned.
1)Prepare a fuel injector cleaner pressurized can or a carburetor cleaner pressurized can(nozzle diameter of the pressurized cans : 4mm)
2)Hold the manual cleaning tool tightly with your hand, and firmly fix the fuel injector with your fingers to prevent the pressure of the cleaner can from washing away the the fuel injector.
3)Pay attention to the hazards of liquid to human body during manual cleaning, and take protective measures. Do not operate in dangerous places with open flames because the pressurized cans are extremely flammable. Choose an open place to facilitate the discharge of cleaning liquid.)
5.Used with the Wire Piercing Probe
1) First, turn the red knob and pull down the spring clip to an appropriate position, so that the spring clip can clamp the line under test.
2) Screw the red knob again to make sure the probe and the line under test are in good contact.
3) Insert the banana plug cable at the end of it (GT103 does not have a voltage and current display, and you can read the voltage of the line under test with a multimeter)
4) Plug the other end of banana plug cable into the GT101(also can be used with GT102 or GT103)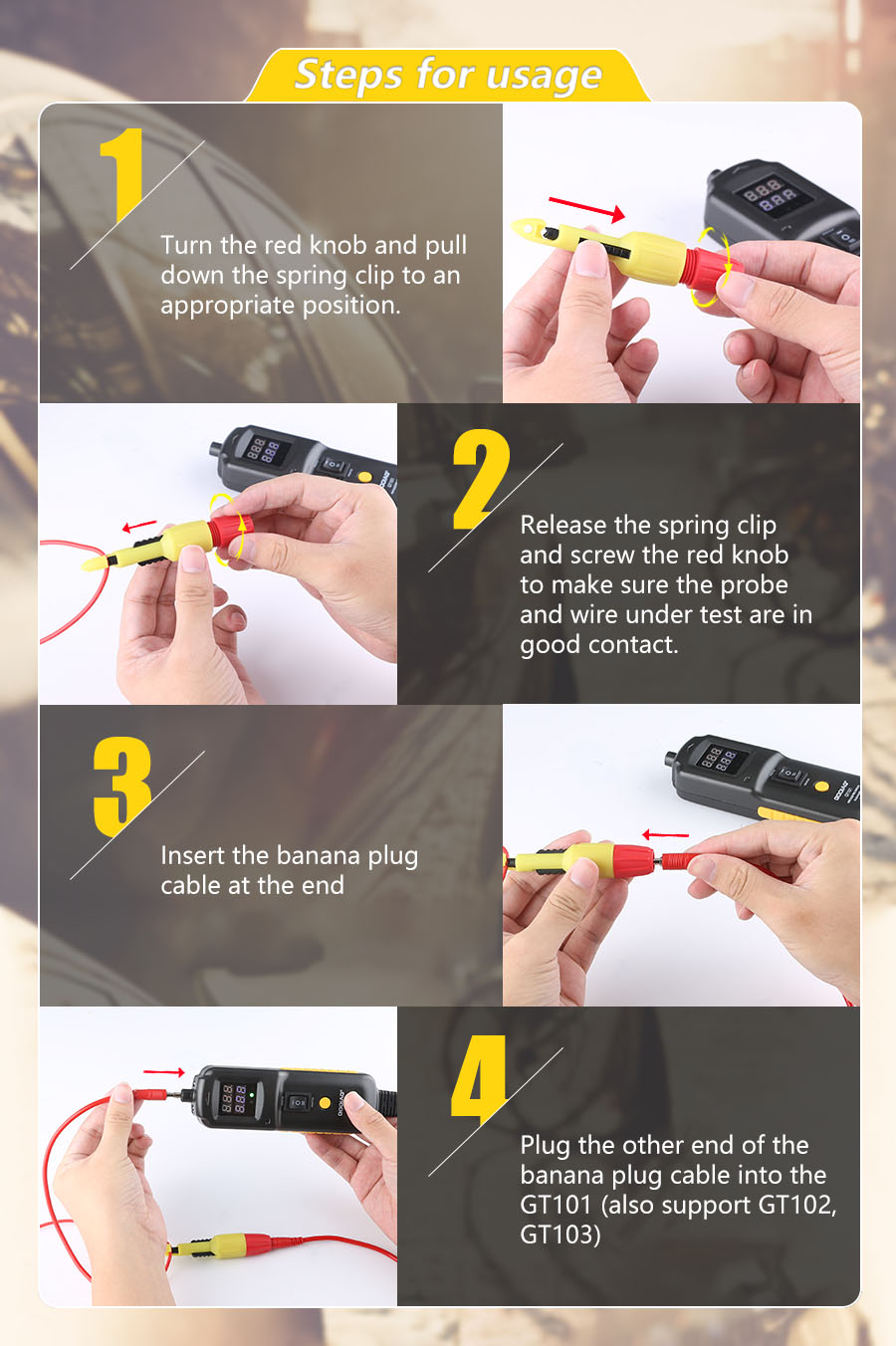 5) After reading the voltage, unplug the cable, turn the knob and pull down the spring clip, finally remove the test wire.
Key Features of GODIAG GT101 Mini Pirt Electric Circuit Tester:
Performs every type of service including power injection, measurement, ground testing, polarity checks, continuity testing and components activation
Easy-to-read volt-ammeter allows you to read voltage and current at your fingertips.
With a flip of the output switch, you have positive and negative electricity via the probe for powering up electrical components like cooling fans, relays, etc.
Simultaneously uses the hot lead and the ground lead to activate components right in your hand
Instantly identifies positive, negative and open circuits
Tests for bad ground contacts instantly, allowing you to follow and locate shorts fast without wasting fuses
Instantly checks continuity of switches and relays.
Circuit breaker protected
Built-in Flashlight enables you to work in the dark
Audio tone indicator allows for no-look menu scrolling once users are familiar with menu tone assignment
20ft (can be extended via extendable cable port) cable provides excellent accessibility to test along the vehicle
Extremely easy to use and highly reliable
Used for DC 6-40v cars, motorcycles, trucks, buses, engineering vehicles, vessels, tractors, mining vehicles and other vehicles that use DC circuits.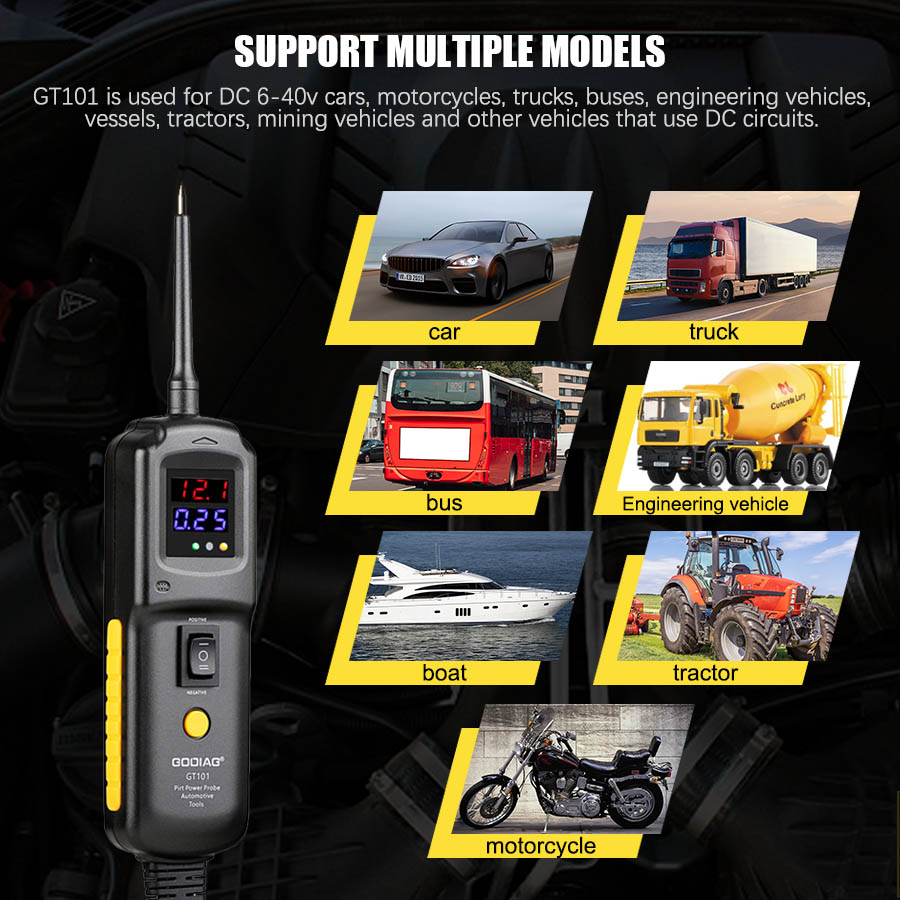 The Product Comparison Chart
| | | | | |
| --- | --- | --- | --- | --- |
| Product Functions/Names | GoDiag GT101 | GoDiag GT102 | TOPDIAG P200 | AUTEL PS100 |
| Product Picture | | | | |
| DC voltage | √ | √ | √ | √ |
| AC voltage | X | X | √ | √ |
| Positive and negative voltage output | √ | √ | √ | √ |
| Component activation | √ | √ | √ | √ |
| Current | √ | X | √ | √ |
| Resistance | X | X | √ | √ |
| Open circuit detection | √ | √ | √ | √ |
| Short circuit detection | √ | √ | √ | √ |
| Fuel injector test | √ | √ | √ | X |
| Fuel injector cleaning | √ | √ | X | X |
| Relay test | √ | √ | √ | X |
| Oscilloscope function | X | X | √ | X |
| Flashlight | √ | √ | √ | √ |
Product Parameters
| | |
| --- | --- |
| Items | Description |
| DC Power | DC Car battery power(Suitable for 6-40v) |
| Power Consumption | 0.5W |
| Operating Temperature | -5 to 50 degrees Celsius |
| Storage Temperature | -5 to 60 degrees Celsius |
| The Box Size | 25*18.7*8.5CM |
| The Main Unit Size | 18*5*2.7CM |
| Weight | 1.2KG |
| Wire Length | 620CM |
| Shell Material | ABS Environment-Friendly Materials |
Package Includes:
1pc x Main Unit of GODIAG GT101 PIRT Power Probe
1pc x Clip to Connect Battery
1pc x Probe
1pc x Probe Cap
1pc x Fuel Injector Test Lead
1pc x 10mm Fuel Injector Cleaning Connector
1pc x 12mm Fuel Injector Cleaning Connector
1pc x Simple Relay Test Adapter
5pcs Simple Relay Connection Leads
1pc x English Manual
---
Customer Service:
Mrs.Bella
Email: sales@obd16shop.com
Whatsapp:+8615271813909
Skype: eobd11

About Shipping Way
1.DHL Shipping: 5-7 working days. With DHL shipping, we will declare lowervalue on invoice for customers to help customs clearrance .If customer have special requirements on declaring, please contact salesman on order page, online chat,email, skype or whatsapp. Usually we can reply in 24 hours on workingg days.
2.Yanwen express: 7-10 working days.We usually ship orders by Yanwen to European countries like German,Greece,Romania,Sweden,France,etc.By yanwen express, customer dont need to pay for tax. Tax is pre-paid. If customer needs faster shipping, please contact salesman.
3.US, UK, EU shipping directly fast and no tax : 3-5 working days.We have stocked up hot sale items in US, UK, EU Warehouse ,which is more convenient for you. Free TAX, faster shipping with cheaper price.
Click and check items in US Warehosue UK Warehouse

About Cancellation Policy
1.You can get a full refund if you make cancellation within 24hours. Because usually we will ship out package within 24 hours, for get full refund, please send us a cancellation note via order center or email.
2.If your cancellation made after 24 hours, please contact our customer service first, you can easily get touch with our customer service via email or any online contact method like skype, whatsapp or online chat. If customer service confirm your order have not been ship out, you can get a full refund
3. If your order has been proceed but have not get out of China(including Hongkong area), you can still cancel our order but you have to pay for the cancellation fee.(Detail fee please consult customer service for your order)
4. If the order already out of China, the order can not be canceled. If you want cancel it, you need send it back after you receive the package and you will need to undertaken the return fee.