Product Description
Yanhua Mini ACDP Programming BMW CAS1 - CAS4+ IMMO & ODO authorization and adapter
NO NEED SOLDERING if you program a new key with Mini ACDP
Yanhua Mini ACDP works for:
BMW CAS1, CAS2, CAS3, CAS3+, CAS4, CAS4+, FEM, BDC dashboard and Immobilizer.
ACDP (SK247-4) is able to:
Read BMW ISN code
Read and write Fujitsu CPU MB91F dashboard of Honda/Hyundai/Kia etc
Read and write all the 8pin IC chips
ACDP App support O.S. and devices:
IOS iPhone
IOS computer
PC
Android phones with the Qualcomm chip
Note:
The Huawei device doesn't work for the tool.
Module Number
Module Name
Function
Price (USD)
SK247

ACDP Programmer

Basic Module

Support 93 /24/ 25 / 35/ 95 Series EEPROM in circuit programming (ICP) and on adapter board programming (OBP), and parts of Freescale / NEC MCU in circuit programming(ICP). This module is a necessary basic configuration for other modules.
159$
SK247-1
CAS Module
(1) Support CAS1 – CAS3+ IMMO key programming by OBD or ICP mode, Mileage reset, Read/Write EEPROM and FLASH data.
(2) Support CAS4/CAS4+ IMMO key programming in circuit programming (ICP), Mileage reset, Read/Write EEPROM and FLASH data.
299$
SK247-2
FEM/BDC Module
Support FEM/BDC IMMO key programming by ICP or OBP mode, Mileage reset, Recover/Backup data.
339$
SK247-3
ISN Module
Read/write N20/N55/N13 ISN code via OBD.
Read/write MSV80/MSD85 ISN code without opening DME shell.
Read/write other DME ISN code by opening DME shell.
199$
SK247-4
35160 Module
Support erase/adjust mileage of 080DOWQ/T,160DOWQ/T EEPROM.
99$
SK247-5
Fujitsu CPU MB91F Module
Support Fujitsu CPU MB91F (Honda Fit, KIA K3/K5, Sonata 9, etc.) Mileage adjustment.
79$
SK247-6
MQB/MMC Instrument
upport parts of VDO mileage adjustment of VW MQB platform via OBD,and Passat MMC (NEC D70F3525 + 95320) instrument adjustment after years 2015 by ICP mode.
79$
SK247-7
Refresh BMW key
Refresh BMW E chassis/F chassis key to make BMW keys can be used repeatedly.
50$
SK247-8
FRM module (FRM Footwell module)
Read and write BMW FRM module (FRM Footwell module) 0L15Y chip EEPROM/FLASH data. Read and write 3M25J chip EEPROM/D-FLASH/P-FLASH data.
30$
Note: From SK247-1 to SK247-8, the package doesn't include the main unit. For the new user, you need to buy the main unit (sk247); if you already have it, just buy the authorization with the adapter.
BMW: CAS4/FEM/BDC/16ODOWT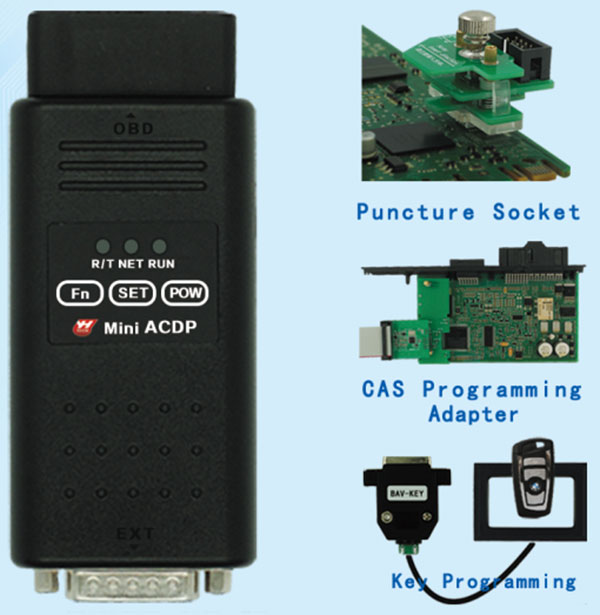 Programming with security: (No need solder anything yourself)
WIFI connection Free connection
1. Overturn the traditional work mode - Single operation is changed to team cooperation
2. Change the operation mode - PC operation is changed to mobile phone operation
3. Change the test connection mode - Electric soldering iron is changed to no-solder dedicated connector
4. Changed from artificial observation to intelligent monitoring Artificial observation / trying is changed to automatic detection algorithm, grap hical in dication the relability of connection. Ensure the data is not damayed and lost
5. Change the service mode - Offline service is changed to online synchronous service
IMMO/Mileage Programming
No need to remove chip
No need soldering
No need to cut the line
No need to lift the pin
Functions
1. Memory programming:
Support 93/24/25/35/95 series EEPROM in circuit (ICP)and on board(OBP)programming and parts of Freescale/ NEC MCU in circuit programming(ICP)
2. BMW module programming:
(1) Support cas1-cas4+ and FEM/BDC IMMO key programming, mileage reset, program recovery
(2) BMW engine ECU data reading and ISN code reading
3. VW module programming: MMC instrument
4. Instrument mileage and airbag ECU reset/maintenance is under development.
5. BENZ. BMW Audi and
more models are updated soon
Install ACDP App from App Store.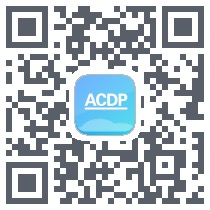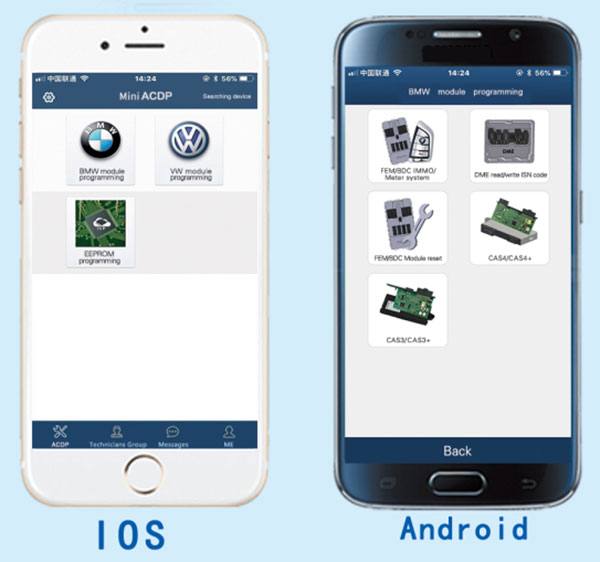 ICP: Memory and MCU programming In Circuits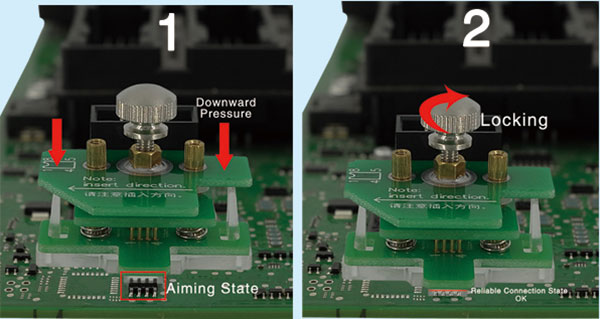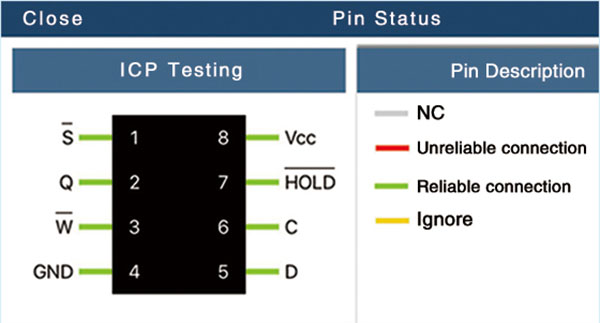 MCU programming in Circuits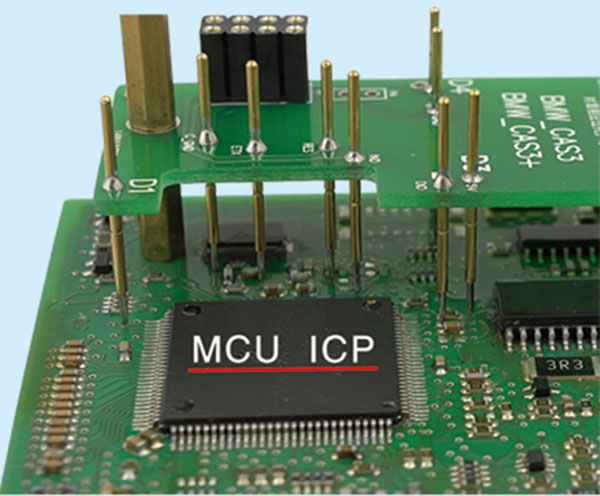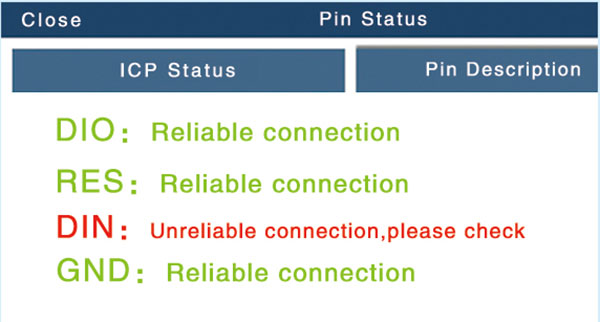 ACDP programming master configuration list:

Package includes:
1pc x HONDA FIT DELUXE Interface board
1pc x HONDA FIT GENERAL Interface board
1pc x KIA K3 Interface board
1pc x KIA K5 Interface board -1
1pc x KIA K5 Interface board -2
1pc x Sonata Interface board -1
1pc x Sonata Interface board -2
---
Customer Service:
Mrs.Bella
Email: sales@obd16shop.com
Whatsapp:+8615271813909
Skype: eobd11

About Shipping Way
1.DHL Shipping: 5-7 working days. With DHL shipping, we will declare lowervalue on invoice for customers to help customs clearrance .If customer have special requirements on declaring, please contact salesman on order page, online chat,email, skype or whatsapp. Usually we can reply in 24 hours on workingg days.
2.Yanwen express: 7-10 working days.We usually ship orders by Yanwen to European countries like German,Greece,Romania,Sweden,France,etc.By yanwen express, customer dont need to pay for tax. Tax is pre-paid. If customer needs faster shipping, please contact salesman.
3.US, UK, EU shipping directly fast and no tax : 3-5 working days.We have stocked up hot sale items in US, UK, EU Warehouse ,which is more convenient for you. Free TAX, faster shipping with cheaper price.
Click and check items in US Warehosue UK Warehouse

About Cancellation Policy
1.You can get a full refund if you make cancellation within 24hours. Because usually we will ship out package within 24 hours, for get full refund, please send us a cancellation note via order center or email.
2.If your cancellation made after 24 hours, please contact our customer service first, you can easily get touch with our customer service via email or any online contact method like skype, whatsapp or online chat. If customer service confirm your order have not been ship out, you can get a full refund
3. If your order has been proceed but have not get out of China(including Hongkong area), you can still cancel our order but you have to pay for the cancellation fee.(Detail fee please consult customer service for your order)
4. If the order already out of China, the order can not be canceled. If you want cancel it, you need send it back after you receive the package and you will need to undertaken the return fee.