Product Introduction:
Autel MaxiIM IM608 is the most advanced and comprehensive key programming tool that combines the most powerful IMMO and programming functions with OE-level diagnostics and advanced service functions in one Android based 10.1-inch touchscreen tablet. IM608 helps perform complete key programming quickly.
Equipped with XP400 Key Programmer and MaxiFlash J-2534 VCI, IM608 offers complete IMMO coverage and programming functions. Moreover, it has smart mode and expert mode to satisfy different needs and improve working efficiency.
Product Features:
Extraordinarily powerful Cortex A7+A15 six-core processor
10.1-inch LED capacitive touch screen with 1920x1200 resolution
Internal reliable 64GB On-board Memory for better performance
Built-in 8-megapixel rear camera with autofocus and flashlight
802.11 a/b/g/n/ac Wi-Fi to access your favorite web resources
Open source Android Operating System for fast boot-up and multitasking
Powerful combination of advanced key programming/all systems diagnostics/advanced maintenance services
Professional key programming equipped with XP400 key programmer and MaxiFlash ECU programmer for complete IMMO coverage
Smart mode for guided and automated key learning
Expert mode for advanced key learning
Read PIN/CS (all key lost), generate key, key learning, remote learning
IMMO ECU reset/adaptation, refresh/coding
Read/write transponder data, ECU/MCU/EEPROM data (eg. 9S12 encryption chip), IC card, detect remote frequency
Powerful OE level full system diagnostics for more than 80 US, Asian and European makes and models
Complete capabilities for codes, live data, active test(Bi-directional control), ECU information, adaptation, matching, coding etc.
30+ special functions, EPB, DPF, SAS, Oil reset, BMS, TPMS sensor ID relearn, etc.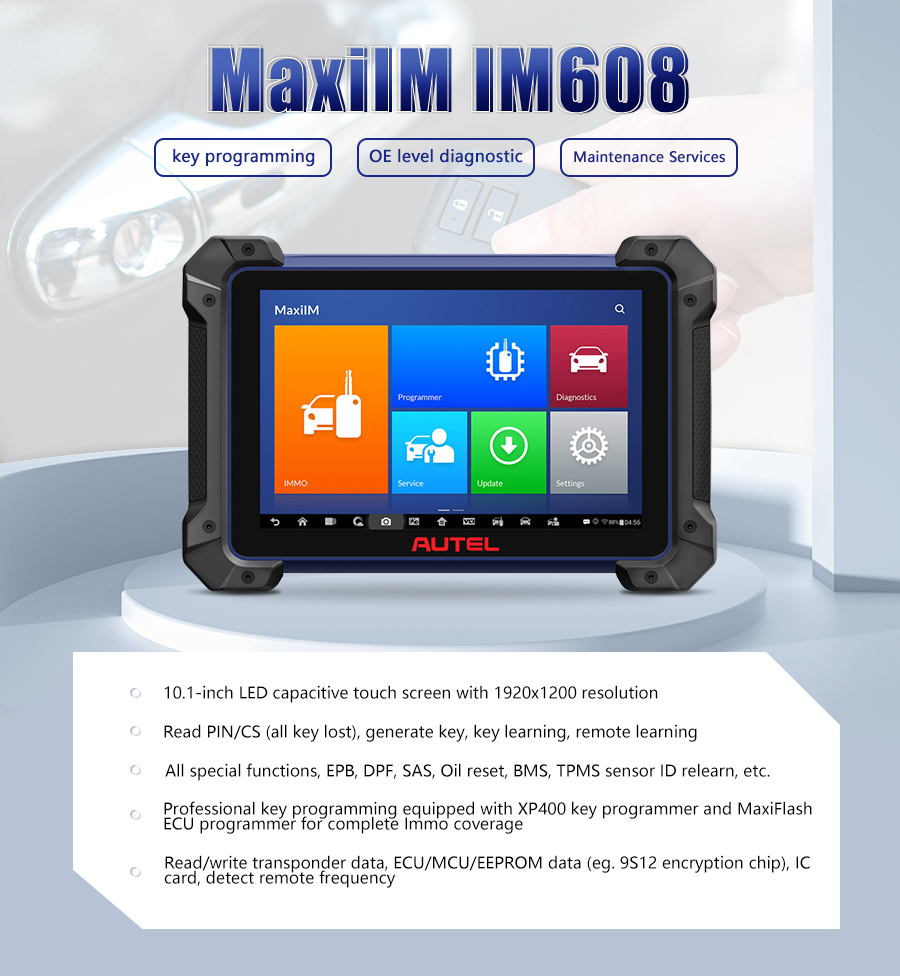 2022 Enhanced New Features:
2022 Enhanced New Features for BMW/ MERCEDES-BENZ

Autel IM608 has completed great enhancement in terms of both hardware and Software since 2022, the upgraded XP400 has completely resolved misconnection burnout problem. What's more, some great new features has been added
1.New Features added for BMW
Adds 'Programming' and 'Coding' functions for IMMO related systems : DME, JBE, FRM, CAS, KOMBI, EGS, GWS, ZGW, ELV and FZD.
2. New Features for Mercedes-Benz
Adds coding SCN for IMMO related systems : DAS, ECU, TCU, ISM and ESL.
PS: The function is not universally compatible, please send us car VIN(17 digits), brand, model, year and the specific functions you need, so we can help you check before purchase.
The IMMO application provides Smart Mode and Expert Mode
Product Specifications:
Operating System
AndroidTM 4.4.2, KitKat
Processor
Samsung Exynos hexa-core Processor (1.3GHz Quad-core ARM Cortex-A7 + 1.7GHz Dual-core ARM Cortex-A15)
Memory
2GB RAM & 64GB On-board Memory
Display
10.1-inch LED capacitive touch screen with 1920x1200 resolution
Connectivity
Wi-Fi (802.11 a/b/g/n/ac)
USB: 2.0
BT v.2.1 + EDR
SD Card (Support up to 32GB)
HDMI
Camera (rear)
8.0 Megapixel, AF with Flashlight
Sensors
Gravity Accelerometer, Ambient Light Sensor (ALS)
Audio Input/Output
Microphone
Dual Speakers
3-Band 3.5 mm stereo/standard headset jack
Power and Battery
15000 mAh 3.8 V lithium-polymer battery
Charging via 12 V AC/DC power supply with the temperature between 0°C and 45°C
Input Voltage
12 V (9-24 V)
Power Consumption
6.5 W
Operating Temp.
0 to 50°C (32 to 122°F)
Storage Temp.
-20 to 60°C (-4 to 140°F)
Dimensions (W x H x D)
300 mm (11.81") x 220 mm (8.66") x 50 mm (1.97")
Weight
NW: 1.42 kg (3.13 lb.) GW: 8.655 kg (19.08 lb.)
Protocols
ISO 9142-2, ISO 14230-2, ISO 15765-4, K/L-Line, Flashing Code, SAE-J1850 VPW,
SAE-J1850 PWM, CAN ISO 11898, Highspeed, Middlespeed, Lowspeed and Singlewire CAN,
GM UART, UART Echo Byte Protocol, Honda Diag-H Protocol, TP 2.0, TP 1.6, SAE J1939,
SAE J1708, Fault-Tolerant CAN
Package Includes:
1pc x APA107 (Connect Cable)
1pc x APA106 (MC9S12 Clamp)
1pc x APA105 (MCU Clamp)
1pc x APA104 (ECU Clamp)
1pc x APA103 (EEPROM Clamp)
1pc x APA101 (Single Cable)
1pc x APA002 (EEPROM Socket)
1pc x APB108 (MCU_FQFP176)
1pc x APB107 (MCU_FQFP144)
1pc x APB106 (MCU_FQFP112)
1pc x APB105 (MCU_FQFP80)
1pc x APB104 (MCU_FQFP64)
1pc x APB102 (MB IR Cable)
1pc x APB101+APD101 (EEPROM Adaptor + EEPROM Adaptor Shell)
1pc x APC101 (USB Cable)
1pc x AAC001 (MED17 Cable)Light Fuse 6*30mm (2pcs)
1pc x XP400 Key Programmer
1pc x MaxiFlash JVCI
1pc x MaxiIM IM608
1pc x AC/DC Adapter (12V)
1pc x Carrying Case
1pc x Quick Reference Guide
1pc x USB Cable
1pc x Cigarette Lighter
1pc x Packing List
1pc x Mini USB Cable