Product Description
The MaxiSys Ultra is Autel's most ambitious diagnostic tablet designed to maximize technicians' intelligence. It features a 12.9-inch touchscreen tablet with Android 7.0 OS, an Octa-core processor (2.3GHz Quad + 1.7GHz Quad) and substantial 256GB built-in memory. It offers new split-screen multi-application navigation to provide diagnostic guidance and confirm repairs of the tested components.
Original Autel Maxisys Ultra Full Systems Diagnostics Tool With 5-in-1 VCMI Topology Map 36+ Service Functions

Autel Maxisys Ultra Highlights:
1. No IP Limitation
2. Updated Version of MK908P/ MS908P/ Elite/ MS909/ MS919:
All-in-one comprehensive scanner for large repair workshops
3. One Year Free Update Online
on Autel Official Website
4. Support New VCI Protocols:
D-PDU, DoIP/ CAN FD, Mega CAN
5. Advanced VCMI 5-In-1 Device:
VCI, OSCILLOSCOPE, MULTIMETER, WAVEFORM GENERATOR, CAN BUS CHECK
6. Provide Latest OE Level Coverage
for more than 80 US Domestic, Asian and European vehicles, including supercar
7. Exceptional OE-Level functionality from comprehensive OBDII diagnostics & services to advanced ECU coding and programming
8. Secure Gateway Access:
Authorized FCA SGM Access with AutoAuth Account
9.Split-Screen Multi-Application Navigation with Super Fast Running Speed, Greatly Improving Your Work Efficiency
Notice:
1. Not support Benz gateway.
2. Default Language: English.
Product Introduction
Combined with the dynamic topology module mapping, enhanced autoscan features and Intelligent diagnostic option, the MaxiSys Ultra offers the technicians step-by-step repair guidance. The new MaxiFlash VCMI functions as a 4-channel oscilloscope, waveform generator, multimeter and CAN BUS tester. The convenient docking station of it ensures that you will always have the power to scan.
Main Features of Autel MaxiSys Ultra:
Updated version of MS908P/Elite/MS909/MS919;
All-in-one comprehensive scanner for large repair workshops;
D-PDU/SAE J2534/RP1210/DoIP/CAN FD protocols are supported;
Wider vehicle coverage for 99.99% cars'makes in the market;
5-in-1 VCMI with functions of VCI, oscilloscope, waveform generator, multimeter, and CAN BUS tester;
Advanced Programming and Coding, ECU upgrading & downgrading, ECU module matching & replacement, etc.
36+ service functions to fix all car-related problems, no need to turn to other scan tool or gurus;
One-stop Intelligent Diagnoses based on DTCs, helping you have a clear picture of vehicle status;
The Ultra features the TSB, repair tips, DTC analysis, etc.
For each fault code, Ultra performs in-depth analysis and gives the OE data and processing suggestions.
OE-level Topology Module Tree, helping you view the vehicle's crux much more intuitively;
Split-screen multi-application navigation with super fast running speed, greatly improving your work efficiency;
10+ highly advanced functions: Active Test/Guided Functions/Personalization/Modification/ etc.;
Multiple repair guidance: Technical Service Bulletin (TSB), DTC Analysis, Repair Assist, Repair Tips, Component Measurement, and Relevant Cases
Automatic system and software updates with real-time push message notifications via internet.
Interactive Data Logging sessions enable direct contact with Autel Support for first-hand troubleshooting of diagnostic bugs and errors
Cloud-based Data Manager saves customer and vehicle records, scanner data and technician notes.
Multitasking designed for ideal management of workshop operations to keep all data files, customer info, and vehicle records well organized.
Advanced J2534 ECU Programming & Coding
The need to perform programming & coding services is now more relevant in the aftermarket than ever. There are more and more instances where programming/coding is necessary, e.g., replacing a module, replacing the existing software or firmware in the ECUs, fixing software-controlled drivability issues and emission issues, etc. There are two general types of programming operations:
A. Coding--also known as Teach-in Program, or Component Adaptation, is used to reprogram adaptive data for vehicle control modules after repairs or replacements of vehicle parts.
B. Programming --downloads the latest version of software from the online server database through Internet access (this procedure is done automatically when the tablet is connected to the Internet, so there is no need to check for software updates yourself), and reprograms the newest version into the vehicle's ECU.
Autel top scanner MaxiSys Ultra with VCMI can help you solve all above issues. With D-PDU, SAE J2534 & RP1210 protocols, Auto scan tool Maxisys Ultra provides diagnosing, coding, and programming for more passenger and commercial vehicles, much more advanced than J2534 programming tools.
Online ECU programming & coding without any special connectors for BMW (F & G chassis);
Online ECU programming for new chassis of Benz (204, 212, 207, 463, etc.); Online SCN for Benz (222, 212, 204, 205, etc.);
Online ECU coding for Volkswagen, Audi, Porsche, Renault, etc.
ECU programming & coding for GM, Ford, Chrysler, Volvo, Land Rover, Jaguar, etc.
The VCMI module also supports various common vehicle buses protocols, for instance: KPW, CAN, CAN-FD, DoIP, etc. Speaking of the CAN-FD, its transmission speed is 14 times faster than CAN.
36+ Maintenance Functions Greatly Improve Work Efficiency
26 Commonly Used Reset Functions for Fast Maintenance or Repairs:
Oil Reset, EPB, BMS, ABS Bleed, TPMS, Airbag Reset, DPF Reg., IMMO Service, Injector Coding, SAS Calibration, Suspension Calibration, Throttle Adaption, ABS/SRS, Gear Learning, Sunroof Initialization, Seats Calibration, Language Change, Headlight Matching, A/F Setting, WIN DR Roof, Odometer, CHG Tire Size, Cylinder, Turbocharging, Limit, Trans Adaption.
10+ Advanced Functions for Different Vehicle Models:
Neutral Gear Position Learning, Torque Sensor Adjustment, Signal Check, Yaw Rate Sensor (YRS) Learn, Clutch Pedal Position Learn, Cylinder Power Balance, Component Matching, Stop/Start Reset, Transport Mode, Auto-Door Lock, etc.
Oil Reset, to reset the oil service lamp for the engine oil life system; EPB Reset, to reset the brake pad after replacing the brake pad.
ABS Bleeding, to perform various bi-directional tests of Anti-lock Braking System;
Injector Coding, to write the new code to the ECU after replacement of injector.
Suspension Calibration, to adjust the height of the body; SAS Calibration, to calibrate the steering angle after replacement.
Anti-theft Matching, to disable the lost key and add the new key's data for security.
BMS Reset, to perform a resetting operation on the monitoring unit of the vehicle battery.
Tire Pressure Reset, to look up the tire sensor IDs, reset tire pressure, and turn off the tire pressure MIL.
DPF Reset, to retrieve/erase DPF-related codes, and reset the DPF light.
Throttle Matching, to make initial settings to throttle actuators.
Gearbox Matching, to achieve a more comfortable and ideal shift quality.
WIN DR ROOF, Seats, Odometer, Lang Change, Headlamp, CHG Tire Size, TEC Learn, Cylinder, Trans Adaption, Airbag Reset, etc., and are still growing.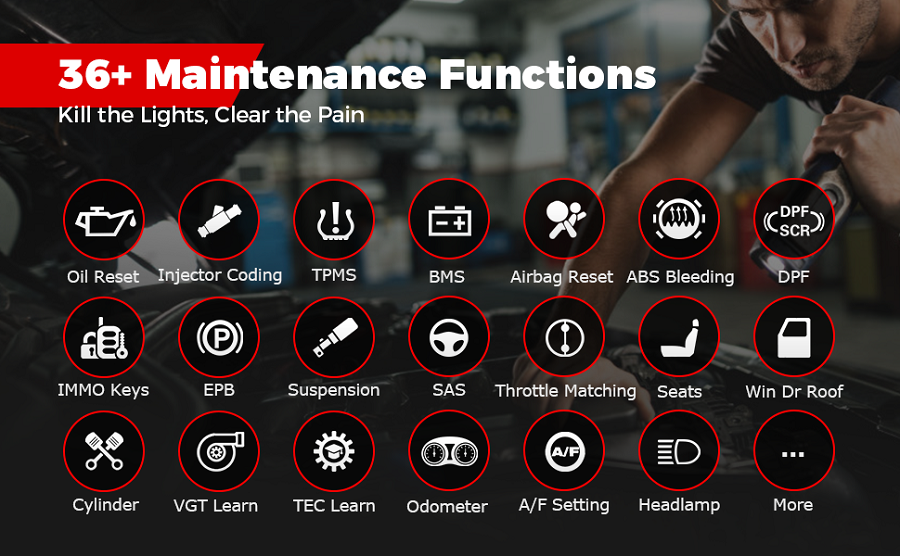 Intelligent Diagnostics, One-Stop Solution for DTCs
Intelligent Diagnostics provides smart shortcuts for technicians to get information directly related to the fault code, rather than that isn't relevant, helping technicians repair detected faults efficiently, making repair work 200% easier than ever.
One-Stop Solution to Guide Customers to Solve the Faults Step by Step
Vehicle System and Detected DTC: displays the name of the vehicle system(s) and the detected DTC(s)
Technical Service Bulletin (OEM Info): contains DTC-related recalls, TSB, and OEM campaigns.
DTC Analysis: provides repair assistance information related to the fault code.
Repair Assist: intelligently prioritizes DTCs and leads the user to the proper repair.
Repair Tips: step by step guidance to efficiently to solve multiple faults
Component Measurement: provides detailed information and instructional guides on using the oscilloscope to test components for faults.
Relevant Case: offers relevant fault-clearing cases for reference.
Compatible with: BMW, Ford, Audi, Chrysler, Nissan, Honda, Toyota, Lexus, Land Rover, Jaguar, Mercedes-Benz, VW, etc.
5-in-1 VCMI, Diagnose & Program Vehicles More Efficiently
5-in-1: Except working as a diagnostic tool, it also functions as a 4-channel oscilloscope, waveform generator, multimeter, and CAN BUS tester.
More Advanced than J2534: With the 3 diagnostic protocols (D-PDU/SAE J2534/RP1210), Ultra can work with more OEM diagnostic tools and diagnose & program more vehicles than J2534 programming tool
10+ Highly Advanced Features
Bi-Directional Control (Active Test)
Accurately figure out whether a specific system, component, or a subsystem in vehicles goes well and locate the problem by interactively operating and testing the vehicle related actuators; Compatible with most vehicle models on the market.
Modifications
To improve car performance and enhance your experience as a driver or owner, you can change or add the functions by changing or adding certain modules that haven't already in your vehicle, such as adding a satellite navigation system, courtesy lamps, car phone, parking sensors, atmosphere lights, etc.;Compatible with Volkswagen, Audi, BMW, etc.
Guided Functions
Come with the on-screen instructions to guide you on how to complete some complicated functions step by step; Compatible with Volkswagen, Audi, Skoda, Seat, etc.
Personalization
Customize your car as you want. Help you make full use of the hidden functions and disable the annoying features; Available for BMW, Porsche, Toyota, Nissan, Peugeot, Citroen, Fiat, etc.
How The Autel Ultra Differs from The Maxisys Elite and MS908S/ Pro:
1. Android 7.0
2. With More Memory: 256GB Memory
3. With Larger Screen: 12.9-Inch Touchscreen
4. With MaxiFlash VCMI Interface: With The Updated J2534 VCI includes oscilloscope, waveform generator, multimeter, CanBUS tester
5. Topology M Module Listing CAN BUS Tree
6. Split Screen View to View Two Different Functions
7. With Faster processor
8. Does not Include a Docking Station
9. Does not Include Early OBD-II Adapters!
The Specifications of Autel MaxiSys Ultra
Operating System
Android 7.0
Processor
Samsung Exynos8895V octa-core Processor (2.3GHz Quad-core Mongoose + 1.7GHz Quad-core A53)
Memory
4GB RAM & 256GB On-board Memory
Display
12.9 inch TFT-LCD with 2732 x 2048 resolution & capacitive touch screen
Connectivity
WiFix2 (802.11 a/b/g/n/ac 2x2 MIMO)
BT v.2.1 + EDR
GPS
USB 2.0 (Two USB HOST Type A, one USB mini device)
HDMI 2.0
SD Card (Support up to 256GB)
Camera
Rear: 16 Megapixel, Autofocus with Flashlight
Front: 5 Megapixel
Sensors
Gravity Accelerometer, Ambient Light Sensor (ALS)
Audio Input/Output
Microphone
Dual Speakers
3-Band 3.5 mm stereo/standard headset jack
Power and Battery
18000mAh 3.8 V lithium-polymer battery
Charging via 12 V AC/DC power supply with the temperature between 0°C and 45°C
Input Voltage
12V/3A Adapter
Operating Temp.
0 to 50°C (32 to 122°F)
Storage Temperature
-20 to 60°C (-4 to 140°F)
Dimensions (WxHxD)
366.5 mm (14.43") x 280.9 mm (11.06") x 34 mm (1.34")
Weight
2.18kg (4.81 lb)
Protocols
DoIP, PLC J2497, ISO-15765, SAE-J1939, ISO-14229 UDS, SAE-J2411 Single Wire Can (GMLAN), ISO-11898-2, ISO-11898-3, SAE-J2819 (TP20), TP16, ISO-9141, ISO-14230, SAE-J2610 (Chrysler SCI), UART Echo Byte, SAE-J2809 (Honda Diag-H), SAE-J2740 (GM ALDL), SAE-J1567 (CCD BUS), Ford UBP, Nissan DDL UART with Clock, BMW DS2, BMW DS1, SAE J2819 (VAG KW81), KW82, SAE J1708, SAE-J1850 PWM (Ford SCP), SAE-J1850 VPW (GM Class2)
Product Comparison Chart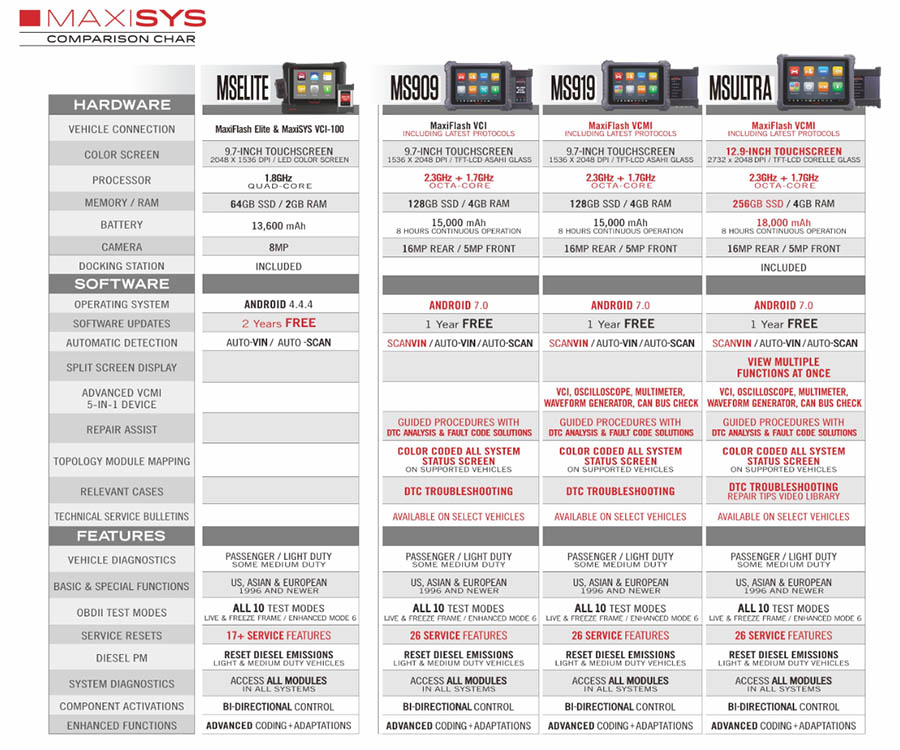 Note:
MaxiSYS Ultra=MSULTRA
Package Includes:
Package List:
1pc x Main Unit
1pc x MaxiFlash VCMI
1pc x Main Cable V2.0
1pc x USB 2.0 Cable V2
1pc x AC/DC Adapter(12V)
1pc x Cigarette Lighter
2pcs x Light Fuse 6x30mm
1pc x Clipper Cable
4pcs x Scope Test Lead
2pcs x Multimeter Test Lead
2pcs x Secondary Ignition Pickup
2pcs x Attenuator 20:1
1set x Breakout Lead 4x6 PCS
2pcs x Multimeter Probe
1set x Flexible Back-pinning Probe 2x2 PCS
1set x Back-pinning Probe - Red/Green/Blue/Yellow/Black 1x5 PCS
2pcs x Back-pinning Probe Screw
20pcs x Back-pinning Probe Replacement Needle
1set x Small Crocodile Clip 2x2 PCS
1set x Large Dolphin Clip 1x2 PCS
1pc x Quick Reference Guide
1pc x Packing List
1pc x Soft Cloth
1pc x Tool Box
1pc x Carrying Case
1pc x Autel MaxiSys MSOBD2KIT
---
Customer Service:
Mrs.Bella
Email: sales@obd16shop.com
Whatsapp:+8615271813909
Skype: eobd11

About Shipping Way
1.DHL Shipping: 5-7 working days. With DHL shipping, we will declare lowervalue on invoice for customers to help customs clearrance .If customer have special requirements on declaring, please contact salesman on order page, online chat,email, skype or whatsapp. Usually we can reply in 24 hours on workingg days.
2.Yanwen express: 7-10 working days.We usually ship orders by Yanwen to European countries like German,Greece,Romania,Sweden,France,etc.By yanwen express, customer dont need to pay for tax. Tax is pre-paid. If customer needs faster shipping, please contact salesman.
3.US, UK, EU shipping directly fast and no tax : 3-5 working days.We have stocked up hot sale items in US, UK, EU Warehouse ,which is more convenient for you. Free TAX, faster shipping with cheaper price.
Click and check items in US Warehosue UK Warehouse

About Cancellation Policy
1.You can get a full refund if you make cancellation within 24hours. Because usually we will ship out package within 24 hours, for get full refund, please send us a cancellation note via order center or email.
2.If your cancellation made after 24 hours, please contact our customer service first, you can easily get touch with our customer service via email or any online contact method like skype, whatsapp or online chat. If customer service confirm your order have not been ship out, you can get a full refund
3. If your order has been proceed but have not get out of China(including Hongkong area), you can still cancel our order but you have to pay for the cancellation fee.(Detail fee please consult customer service for your order)
4. If the order already out of China, the order can not be canceled. If you want cancel it, you need send it back after you receive the package and you will need to undertaken the return fee.