[Best Price] XHORSE DOLPHIN XP-005 plus XDKR00GL Key Reader (Completed Two Devices)

Package including:
1 set x DOLPHIN XP-005
1 set x XDKR00GL Key Reader

This package including DOLPHIN XP-005 + XDKR00GL Key Reader
You can get them together at a very lowest price, do not miss it !!!!
We are Authorized XHORSE Dealer, Guarantee it is a 100% Original XHORSE Machine

---
XHORSE DOLPHIN XP-005

Product Introduction:

Xhorse XP-005 is the third generation key CNC machine, it is often used for duplicating automobile mechanical keys, changing key bitting, and solutions when all keys are lost. As a portable CNC machine, it is preferred by locksmiths to take out for work by car. Moreover, Xhorse XP-005 supports online upgrade and can update the new key data in time.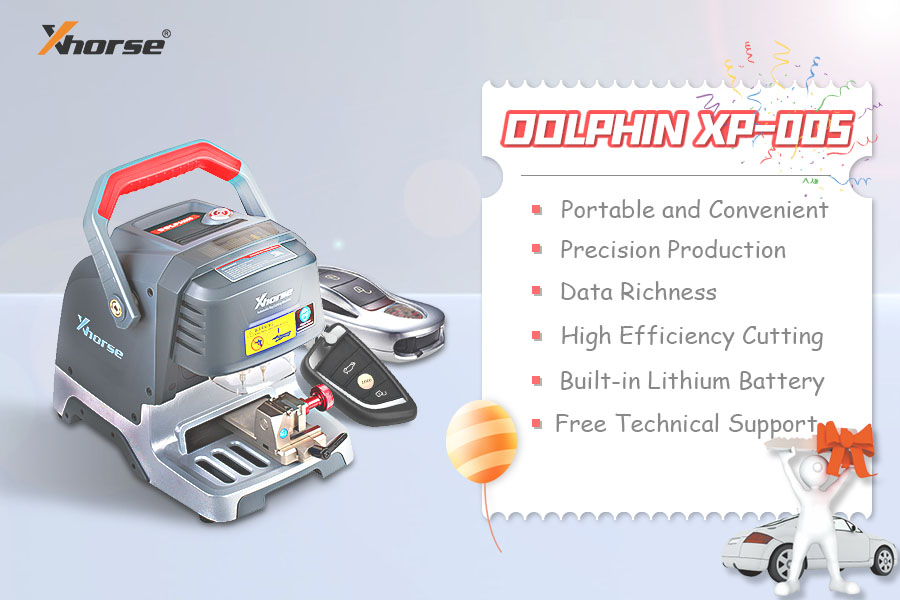 Product Features:

Portable and Convenient
Attractive appearance, full of technology, portable design, compact structure, small body leading the industry
Precision Production
All aluminum body structure, Manufactured by Germany-made DMG CNC machine
Intelligent Control
Provide powerful free App, support multi-language, support mobile phone, tablet computer and other intelligent terminal control, easy for operations.
Data Richness
Provide rich vehicle data, blank key data, the best tool of all key lost.
High Efficiency Cutting
Use American famous brushless motor and screw rod, high efficiency and stability, create high precision cutting quality.
Built-in Lithium Battery
Optimized lithium battery of well-known brand, stable and reliable, support cutting under no power conditions
Patented Clamps
Standard equipped two clamps M1 and M2, supports sided, track, dimple and tibbe keys. Optional M3 clamp and M4 clamp are available, M3 clamp is applicable to Ford FO21 & Citroen SX9 keys, M4 clamp is applicable to single sided house-key.
The XP-005 patented clamp design makes it convenient and easy to switch between different types of clamps. The built-in clamp of XP-005 supports common external milling and internal milling and duplication of vertical milling keys. It can also be used with special fixtures to cut special Ford Citroen keys. It supports the connection of photo-taking, tooth-reading and optical imaging equipment. Non-conductor keys (plastic keys) can be cut.
Free Upgrade
Provide free software upgrade service, software function and database.
Technical service
One year warranty, free technical support, online service to provide remote control support
Key Database
The built-in genuine key database is convenient for the tooth shape query when all keys are lost.
Bluetooth Connection
XP-005 can be connected to a mobile phone or tablet computer through Bluetooth for operation, and can also be used with key tool max and tablet computer.
Built-in Battery
The built-in lithium battery of the XP-005 machine can support rescue work for a long time without external power supply. The portable handle design and light body weight make it more convenient to carry.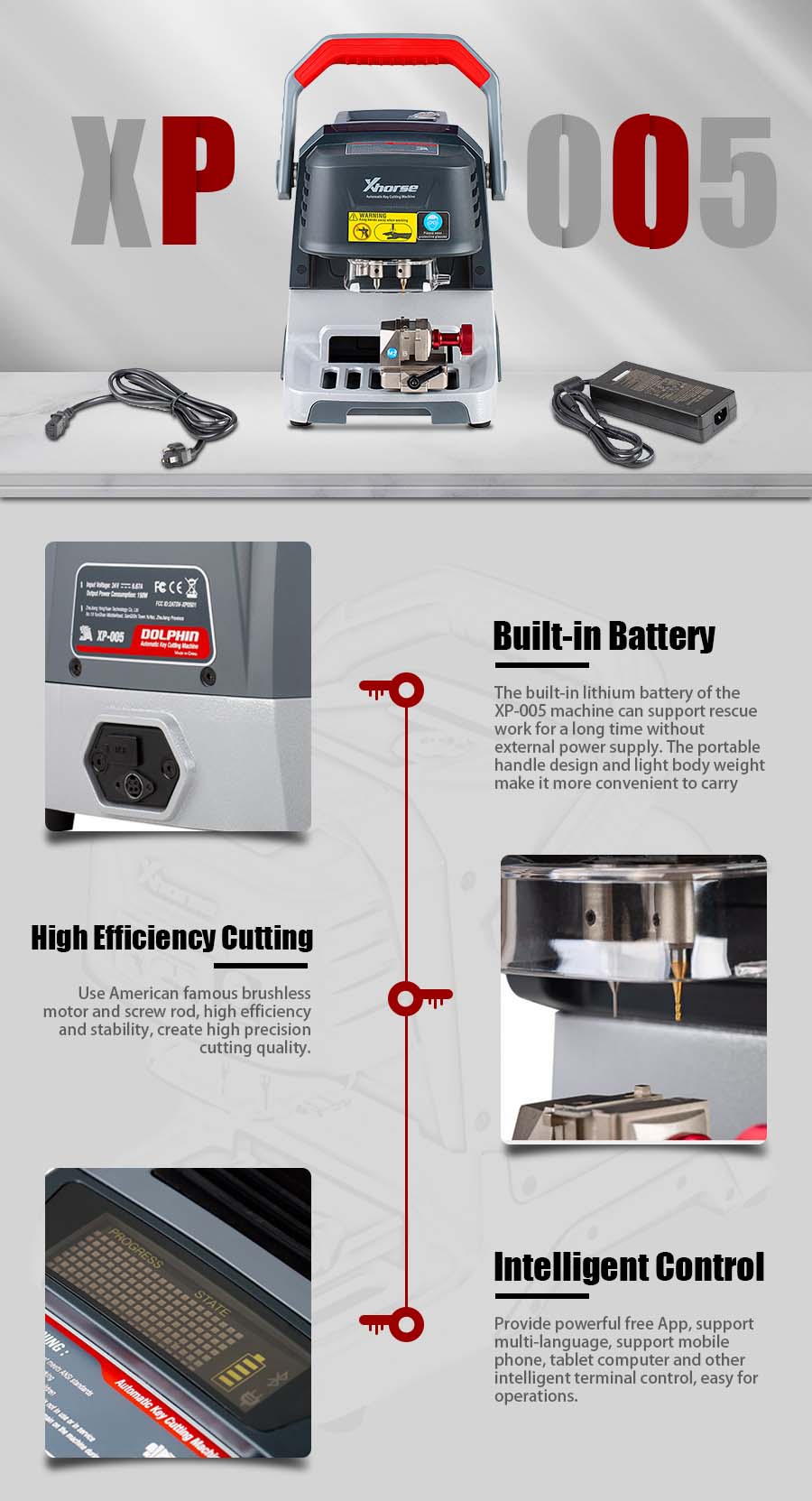 Product Comparison:
| | | |
| --- | --- | --- |
| Model | DOLPHIN XP-005 | Condor XC-MINI PLUS |
| Picture | | |
| Screen | Small screen showing battery and Bluetooth status | LED Display 1024×600 Adjustable Touch-Screen |
| Spindle | Mechanical shaft +60W DC motor ( foreign brand) | Electric spindle brushless 300W, built-in angular contact bearing |
| Transmission Mechanism | T-shaped screw + anti-backlash nut | Ball screw |
| Guide | Roller guide | Cross-track |
| Shell | Base aluminum alloy die-casting, the upper body is made of plastic shell and the body is made of integrated aluminum alloy die-casting | Plastic outer casing body is formed by body alloying die casting |
| Operating System | Mobile phone APP | Stand-alone/Mobile phone APP |
| Battery | Optimized lithium battery of well-known brand, stable and reliable, support cutting under no power conditions | (optional) Power supply adapter with Battery |
| Built-in Database | Yes | Yes |
| All Keys Lost | Yes, with network connection | Yes, offline operation |
| Fixture | Standard fixture | Two sets of standard fixtures |
| Operation | No touch screen, no built-in database | Quick start, with touch screen, built-in database |
| Offline Operation | No | Yes |
| Dedicated App | Yes | Yes |
| Protecting Mask | Simple protective cover | Comprehensive protection |
| VVDI MB Binding | Yes. After binding, VVDI MB is one token free everyday. | Yes. After binding, VVDI MB is one token free everyday. |
| Cutting Speed | 1X SPEED | 2X SPEED |
| Weight | 18KG | 24KG |
| Warranty | 1 year | 3 years |
| Update | Update online via Xhorse Update Kit | Update online via Xhorse Update Kit |

Product Specifications:
| | |
| --- | --- |
| Series | DOLPHIN Key Cutting Machine Series |
| Model | XP-005 |
| Working temperature | -10~50℃ |
| Working Humidity | 10%~90% |
| Input voltage | 12-24V |
| Battery capacity | 64.75w.h |
| Cutting power | 100W |
| Standby power | 15W |
| Motor Rotation Speed | 10000-13000RPM |
| Rated torque | 0.15N.m |
| USB Port | USB2.0 |
| Machine Dimension | 315*218*270mm |
| Package Dimension | 510*315*345mm |
| Net Weight | 15kg |
| Gross Weight | 18kg |

Package Includes:
1pc x Condor Dolphin Machine Body
1pc x M1 Clamp for Single/Double sided keys
1pc x M2 Clamp for Channel-track keys
1pc x 1.5mm Cutter
1pc x 2.5mm Cutter
2pc x 1.0mm Probe
1pc x Power cord
1pc x Power Supply Adapter
1pc x USB cable
1pc x Brush

---
Xhorse XDKR00GL Key Reader Blade Skimmer Key Identification Device Work with Xhorse APP and Xhorse Key Cutting Machine Ship from UK/EU

Highlights
Supports Xhorse APP Control, Free Upgrading
Supports WiFi and Bluetooth
Support Plastic & Aluminum Key
Identify Key Bitting, Avoid Probe breaking
Accurate and efficient identification of key bittings
Work with key cutting machines: Condor XC-Mini Plus,Condor MINI Plus II, Dolphin XP-005, Dolphin XP-005L ,etc.
Package List:
1pc x Key Reader Main Unit
1pc x Power Adapter
1pc x User Manual