Product Description
This Fetrotech tool is mainly based on the Bench mode (that is, reading and writing ECU flash and eeprom without opening the cover). The silver color Fetrotech tool is designed to be used with PCMtuner. It can be mounted on PCMtuner devices to make up for pcmtuner's lack of some protocols in the market.
Product Introduction:

The Fetrotech tool supports ECU function repair, ECU clone, or support chiptuning modification.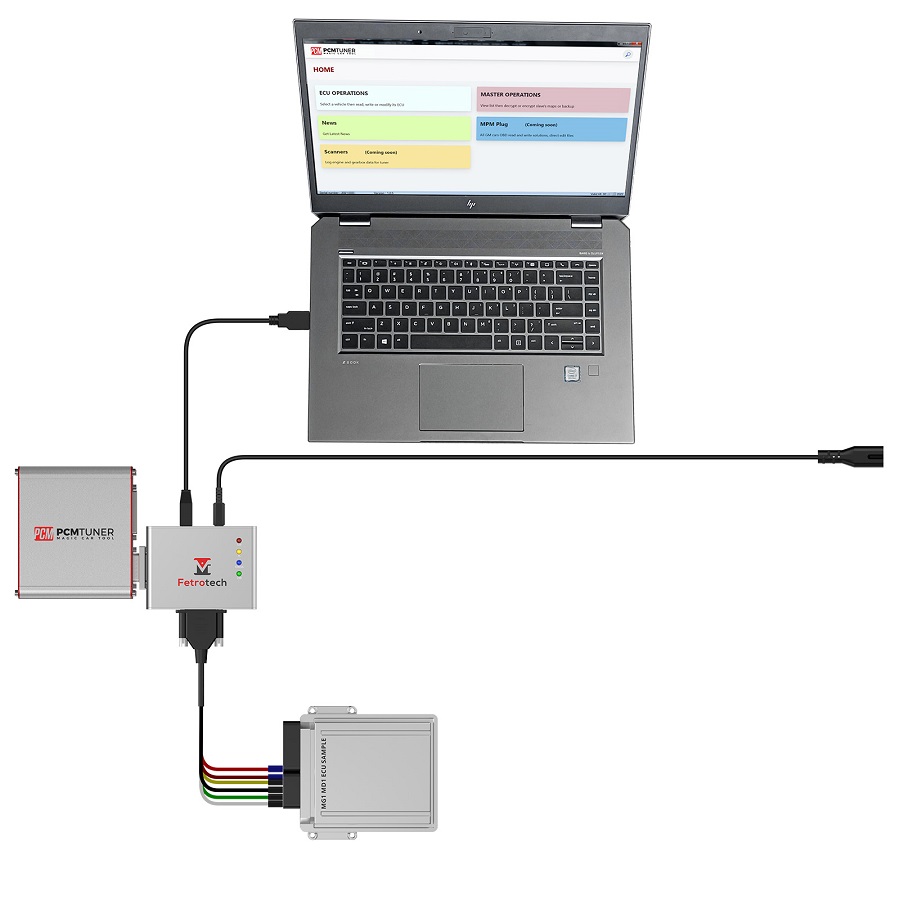 Product Highlights:
Support MG1 MD1 ECU and BENCH Read MED9 and EDC16, and also support MEDC17 series
No annual fee required
Free online technical support
Free access to VZ-performance tuner account
Free access to PCMtuner account
Get virtual files for free
Get free mapackage A2L and damaos
Enter the technical exchange group
365days technical support except legal holidays
Tuner face to face
Facebook technical exchange groups with 20,000 persons

Supported ECU Types:
MG1 Series:
BMW_SPC5777_MG1CS003
BMW_SPC5777_MG1CS024
BMW_SPC5777_MG1CS201
MERCEDES_SPC5777_MG1CP001
MERCEDES_SPC5777_MG1CP002
OPEL-TC298_MG1CS042
PORSCHE_SPC5777_MG1CP007
PORSCHE_TC298_MG1C007
PORSCHE_TC298_MG1CS047
PSA_TC298_MG1CS042
VAG_SPC5777_MG1CS001
VAG_SPC5777_MG1CS002
VAG_SPC5777_MG1CS008
VAG_SPC5777_MG1CS011
VAG_SPC5777_MG1CS111
VAG_TC298_SPC5777_MG1CS008
MD1 Series:
BMW_SPC5777_MD1CP002
BMW_SPC5777_MD1CP032
BMW_TC298_MD1CS001
BMW_TC298_MD1CS024
BMW_TC298_MD1CS201
BMW_SPC5777_MD1CS001
FORD_TC298_MD1CS005
HYUNDAI_TC298_MD1C012
MERCEDES_SPC5777_MD1CP001
OPEL_TC298_MD1CS003
PSA_TC298_MD1CS003
VAG_SPC5777_MD1CP004
VAG_SPC5777_MD1CP014
VAG_SPC5777_TC298_MD1CP004
VAG_SPC5777_TC298_MD1CP014
VAG_TC298_MD1CS004
RENAULT_NISSAN_TC298_MD1CS006
EDC16 Series:
BMW_EDC16C1
BMW_EDC16C31
BMW_EDC16C35
FAL_EDC16C8
FAL_EDC16C39
MERCEDES_EDC16C2
MERCEDES_EDC16C32
MERCEDES_EDC16CP31
OPEL_EDC16C9
OPEL_EDC16C39
PSA_EDC16C34
RENAULT_EDC16C36
RENAULT_EDC16C41
RENAULT_EDC16CP33
VAG_EDC16CP34
VAG_EDC16U1
VAG_EDC16U31
VAG_EDC16U34
VOLVO_EDC16C31
MED17 Series:
ASTONMARTIN_MED17.8.3
FAL_MED17.3.1
FAL_MED17.3.3
FAL_MED17.3
FERRARI_MED17.3.5
FORD_MED17.0.1
FORD_MED17.0.7
FORD_MED17.0
FORD_MED17.2
HYUNDAI_MED17.9.30
JAGUAR_MED17.8.31
JAGUAR_MED17.9.7
MASERATI_MED17.3.4
MERCEDES_MED17.7.2
MERCEDES_MED17.7.3
MERCEDES_MED17.7.5
MERCEDES_MED17.7.7
MERCEDES_MED17.7.8
MINI_MED17.2
PORSCHENMED17.1.11
PSA_MED17.4.4
PSA_MED17.4
SUZUKI_MED17.9.63
VAG_MED17.1.1
VAG_MED17.1.6
VAG_MED17.1.10
VAG_MED17.1.21
VAG_MED17.1.27
VAG_MED17.1.61
VAG_MED17.1.62
VAG_MED17.1
VAG_MED17.5.1
VAG_MED17.5.2
VAG_MED17.5.5
VAG_MED17.5.20
VAG_MED17.5.21
VAG_MED17.5.25
VAG_MED17.5
VOLVO_MED17.2
HONDA_MED17.9.3
MERCEDES_MED17.7.1
ME17 Series:
ASTONMARTIN_ME17.8.31
BMW_ME17.2.4
BMW_ME17.2
DUCATI_ME17.9.21
FAL_ME17.3
HYUNDAI_ME17.9.11
HYUNDAI_ME17.9.21
MCLAREN_ME17.8.3
MCLAREN_ME17.8.32
MERCEDES_ME17.7
OPEL_ME17.9.5
PSA_ME17.9.7
PSA_ME17.9.52
PSA_ME17.9.71
RENAULT_ME17.9.20
RENAULT_ME17.9.23
SKODA_ME17.5.26
SUZUKI_ME17.9.5
SUZUKI_ME17.9.6
SUZUKI_ME17.9.61
SUZUKI_ME17.9.64
VAG_ME17.1.1
VAG_ME17.5.6
VAG_ME17.5.20
VAG_ME17.5.22
VAG_ME17.5.24
EDC17 Series:
BMW_EDC17C06
BMW_EDC17C41
BMW_EDC17C50
BMW_EDC17C76
BMW_EDC17CP02
BMW_EDC17CP09
BMW_EDC17CP45
BMW_EDC17CP49
EDC17CV54
FAL_EDC17C49
FAL_EDC17C69
FAL_EDC17C79
FAL_EDC17CP27
FAL_EDC17CP52
FORD_EDC17C10
FORD_EDC17C70
FODE_EDC17CP05
FORD_EDC17CP42
FORD_EDC17CP65
GMC_EDC17CP18
HONDA_EDC17C58
HONDA_EDC17CP16 HONDA_EDC17CP50
HYUNDAI_EDC17C53
HYUNDAI_TC298_MD1C012 HYUNDI_EDC17C08
ISUZU_EDC17C83
JAGUAR_MEDC17.9
JMC_EDC17C55
KIA_EDC17CP62
LANDROVER_EDC17C11
LANDROVER_EDC17CP55
MERCEDES_EDC17C43
MERCEDES_EDC17C57
MERCEDES_EDC17C66
MERCEDES_EDC17CP01
MERCEDES_EDC17CP10
MERCEDES_EDC17CP46
MERCEDES_EDC17CP57
MERCEDES_EDC17CP60
OPEL_EDC17C18
OPEL_EDC17C19
OPEL_EDC17C59
OPEL_EDC17CP47
PSA_EDC17C10
PSA_EDC17C60
PSA_EDC17CP52
RENAULT_EDC17C11
RENAULT_EDC17C42
RENAULT_EDC17C45
RENAULT_EDC17C84
RENAULT_EDC17CP11
RENAULT_EDC17CP19
RENAULT_EDC17CP42
RENAULT_EDC17CP58
TOYOTA_EDC17C47
TOYOTA_EDC17C73
TOYOTA_EDC17CP07
TOYOTA_EDC17CP37
VAG_EDC17C46
VAG_EDC17C54
VAG_EDC17C64
VAG_EDC17C74
VAG_EDC17CP04
VAG_EDC17CP14
VAG_EDC17CP20
VAG_EDC17CP24
VAG_EDC17CP44
VAG_EDC17PC54
VAG_EDC17CP74
VAG_EDC17U01
VAG_EDC17U05
VOLVO_EDC17CP22
VOLVO_EDC17CP48
VOLVO_EDC17CP68
MED9 Series:
VAG_MED9.1.2
VAG_MED9.1
VAG_MED9.5.10
VOLVO_ME9.0
Package Includes:

1pc x Fetrotech tool host
1pc x USB cable
1pc x BENCH line
1pc x power adapter
1pc x set of software
---
Customer Service:
Mrs.Bella
Email: sales@obd16shop.com
Whatsapp:+8615271813909
Skype: eobd11

About Shipping Way
1.DHL Shipping: 5-7 working days. With DHL shipping, we will declare lowervalue on invoice for customers to help customs clearrance .If customer have special requirements on declaring, please contact salesman on order page, online chat,email, skype or whatsapp. Usually we can reply in 24 hours on workingg days.
2.Yanwen express: 7-10 working days.We usually ship orders by Yanwen to European countries like German,Greece,Romania,Sweden,France,etc.By yanwen express, customer dont need to pay for tax. Tax is pre-paid. If customer needs faster shipping, please contact salesman.
3.US, UK, EU shipping directly fast and no tax : 3-5 working days.We have stocked up hot sale items in US, UK, EU Warehouse ,which is more convenient for you. Free TAX, faster shipping with cheaper price.
Click and check items in US Warehosue UK Warehouse

About Cancellation Policy
1.You can get a full refund if you make cancellation within 24hours. Because usually we will ship out package within 24 hours, for get full refund, please send us a cancellation note via order center or email.
2.If your cancellation made after 24 hours, please contact our customer service first, you can easily get touch with our customer service via email or any online contact method like skype, whatsapp or online chat. If customer service confirm your order have not been ship out, you can get a full refund
3. If your order has been proceed but have not get out of China(including Hongkong area), you can still cancel our order but you have to pay for the cancellation fee.(Detail fee please consult customer service for your order)
4. If the order already out of China, the order can not be canceled. If you want cancel it, you need send it back after you receive the package and you will need to undertaken the return fee.