Product Description
GoDiag GT100 Auto Tool OBD II Break Out Box ECU Connector
US Warehouse -Fast Ship & NO TAX
How to choose between SO537-US,SO537-EU and SO537-UK?
SO537-US: US standard,110V 60HZ
SO537-EU: European standard,220V 50HZ
SO537-UK: UK standard,240V 50HZ
Godiag GT100 Features:
1. Latest testing platform for OBDII protocol communication detection and ECU maintenance / diagnosis / programming / coding.
2. Convert the car OBD2 interface into 16 pin for signal detection and electrical level conversion.
3. Able to connect the single modules or multiple modules of the vehicle.
4. Connecte with any diagnostic tool to tell whether the car communication is good or not.
5. Able to supply power to the car when you change the battery to avoid the vehicle control module data being lost, automatically locked, the key remote control
fails and the fault light turns on.
6. Warranty: One Year.
7.Can work with most device to do test, will make your operation much easier , such as xhorse vvdi2, Autel Scanner, Launch Scanner, Vident Scanner, and so on.
8. BMW CAS4 Test Platform function will be coming soon, and also will develop the connection cable for Benz and Chrysler, please wait.

GODIAG GT100 function and operation guide

- By connecting the vehicle and diagnostic tool via OBDII, Godiag GT100's LED will indicate whether the OBDII diagnostic interface has a good communication with the car.

- Monitor the voltage of vehicle OBDII interface and display it in real time. If it is less than 11V, please stop the diagnosis and programming to avoid the vehicle being unable
to start/data loss/module locked.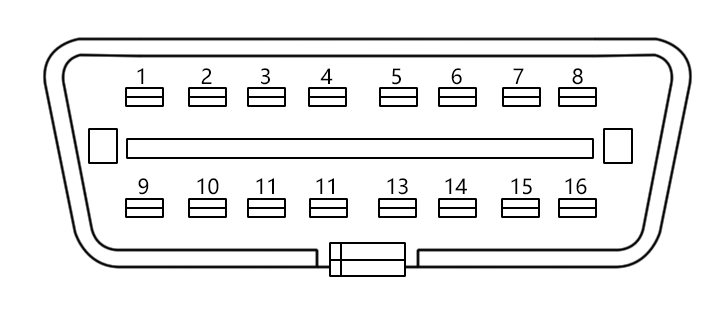 Indicator Meaning:
1. Manufacturer custom
2. SJE1850 wire
3. Manufacturer custom
4. Power grounding
5. Signal grounding
6. SAEJ2284《CAN》high
7. ISO9141-2&iso, DIS4230-4K wire
8. Manufacturer custom
9. Manufacturer custom
10. SJE1850 wire《bus->
11. Manufacturer custom
12. Manufacturer custom
13. Manufacturer custom
14. SAEJ2284《CAN》low
15. ISO9141-2 & ISO/DIS 4230-4L wire
16. Car battery positive
1. OBDII Protocol Detector & communication detection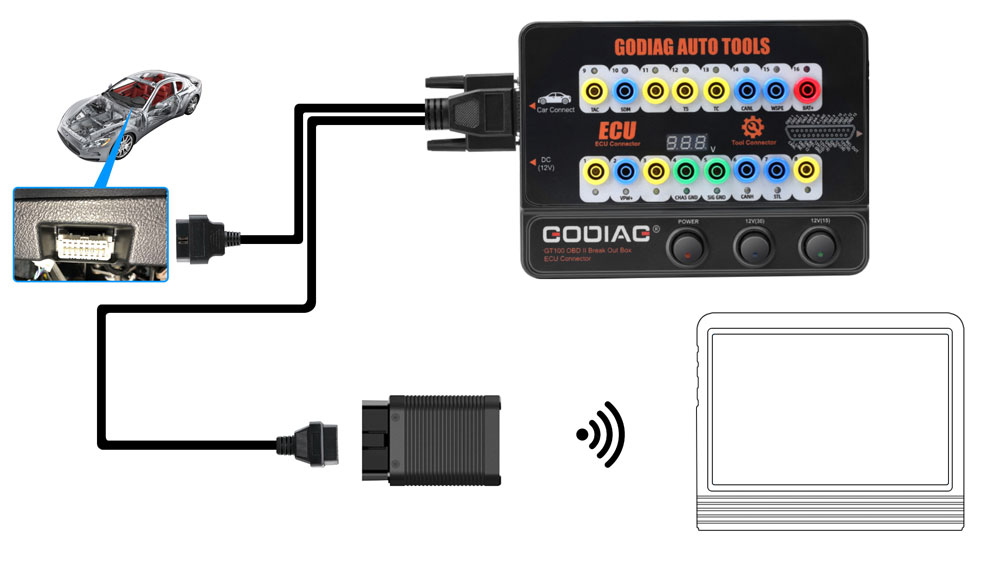 1). Connect GODIAG GT100 to the OBDII diagnostic port of the car.
2). When the device displays the voltage, turn on the power switch of GODIAG GT100.
3). Then connect to the diagnostic tool, when the tool is communicating with the car, the LED indicator of corresponding protocol will light up or flash. ( If the CAN protocol is detected, it will have the maximum brightness. When the communication is successful, the corresponding CAN-H and CAN-L will dim or twinkling weakly)
2. ECU connection: single module connection

GODIAG GT100, connected to a single ECU module, is convenient for a user to do the single-module diagnosis and programming.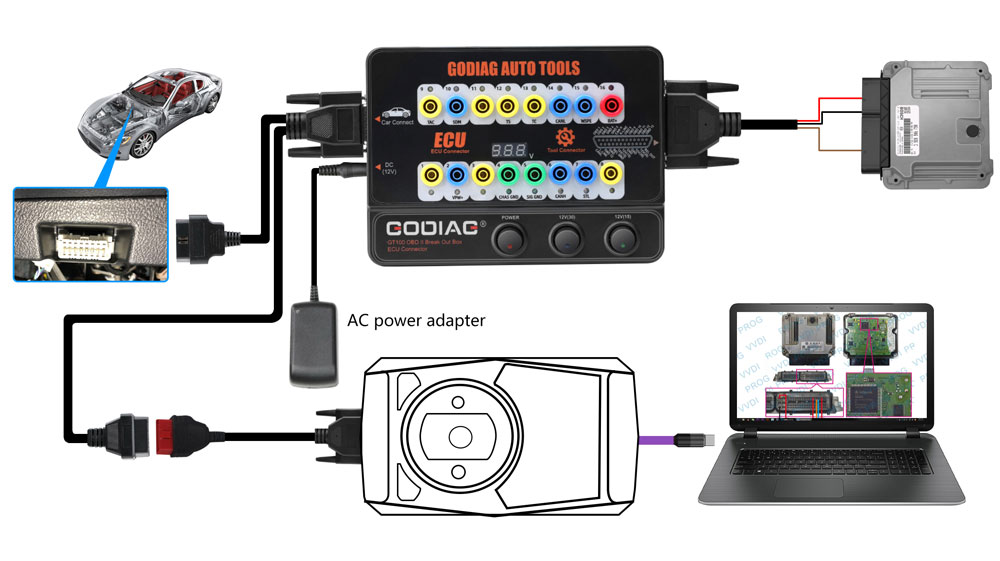 1). Connect the ECU with the color jumpers. (If the ECU is CAN protocol, please check whether you will need to connect a 120 ohm resistor.)
2). The Godiag GT100 can be powered by connecting to the OBDII diagnostic interface of car, or by an AC power adapter.
3). To diagnose and program for a single ECU by connecting the diagnostic tool or ECU programmer.

3. Banana plug extension connection:
Extend the car's OBDII 16pin interface to tell you whether the OBDII interface connection is good or not, which is convenient for the test of OBDII interface voltage waveform.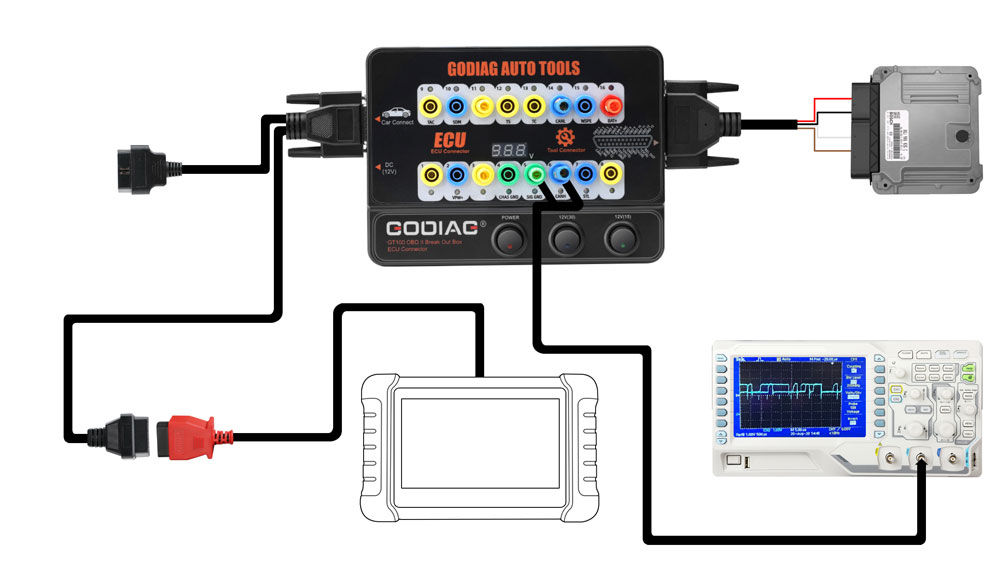 4. Convert OBD1 diagnostic interface to the standard OBD2
Use the connector to convert the OBD1 interface into obd2 interface according to the diagnostic interface communication protocol.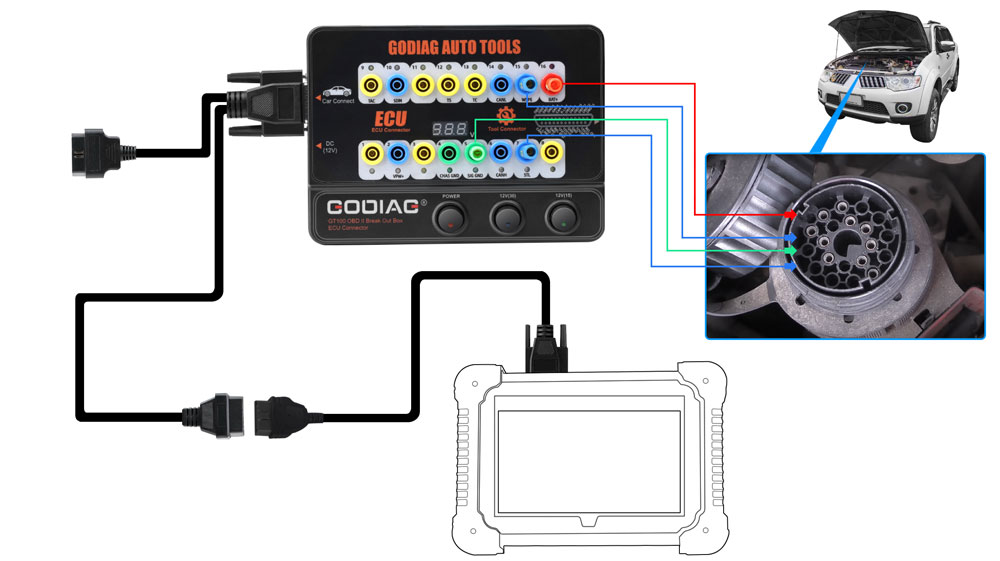 5. Connect multiple ECU control modules at the same time, which is convenient for the professional engineers to detect and maintain.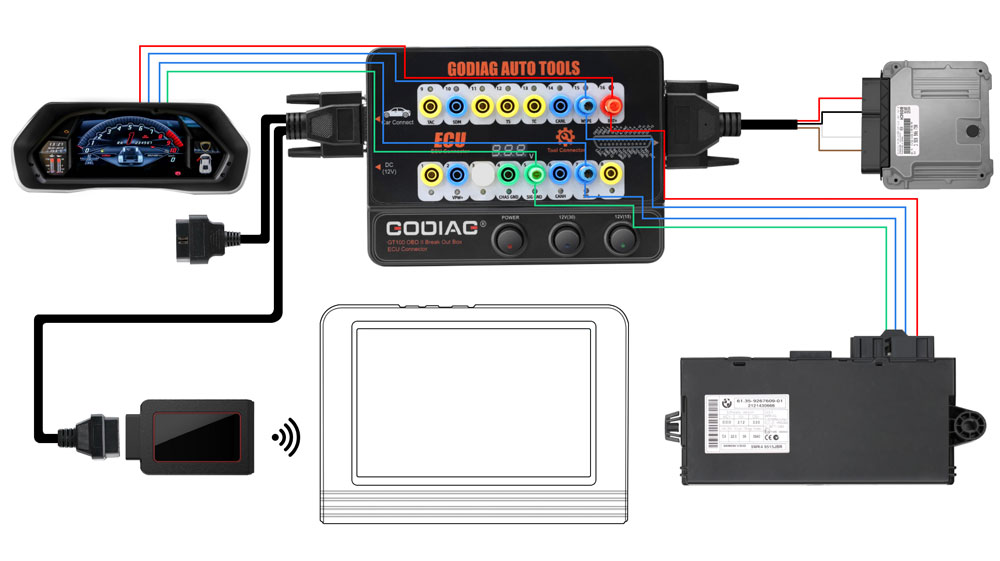 6. When to use the extension cables:
The space of the diagnostic interface location is too narrow to connect to the diagnostic tool, or the user find that the diagnostic cable is not long enough during maintenance. It can be extended by 1.2 meters.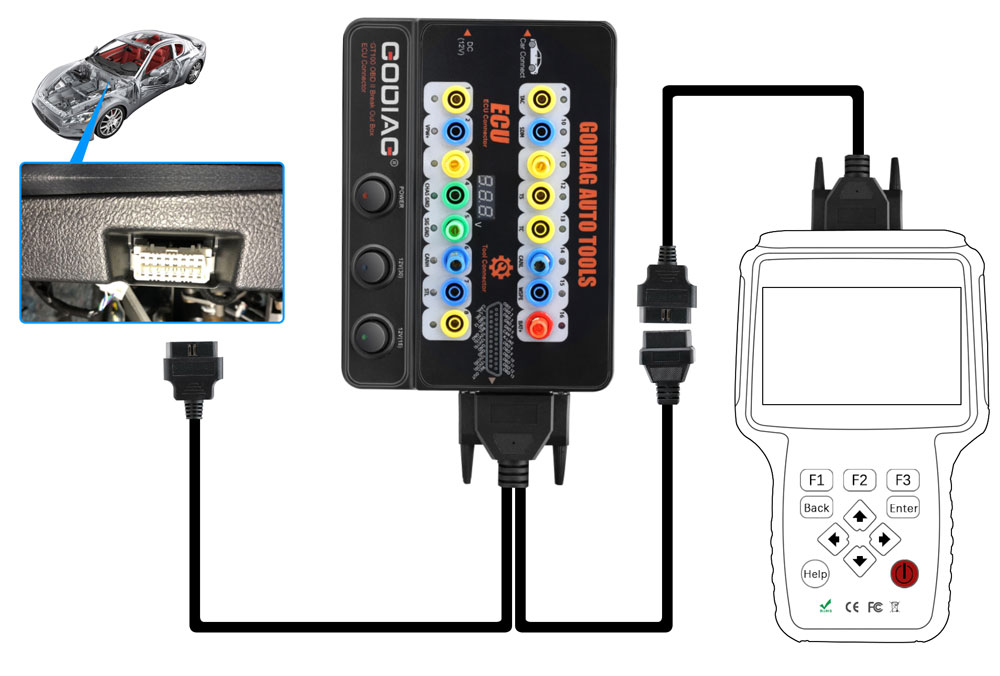 7. Able to power the car when replacing the used battery.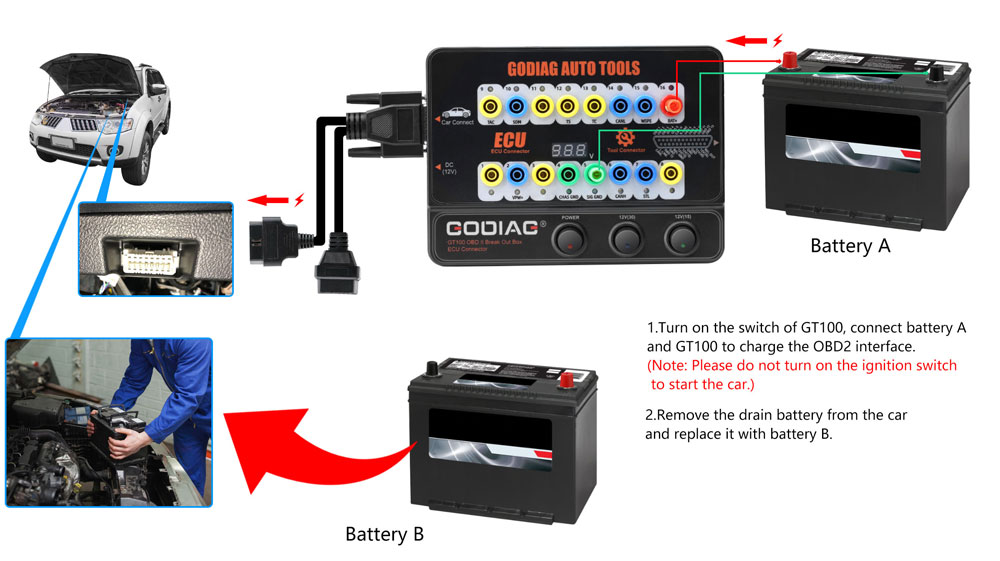 1). Prepare battery A to supply power by connecting to No. 16 / 4 / 5 holes of Godiag GT100 & to the OBD2 diagnostic interface of the car.
[Notice 1. Turn on the power switch of Godiag GT100. 2. Don't turn on the ignition switch, don't start the car]
2). Then replace the brand-new battery B with the used battery in the car, which will ensure that the car has fully power to prevent data loss and audio lock-up or the malfunction due to lack of power to the ECU control module.

8. The dedicated adapter will be released (help GT100 connect to the special ECU module)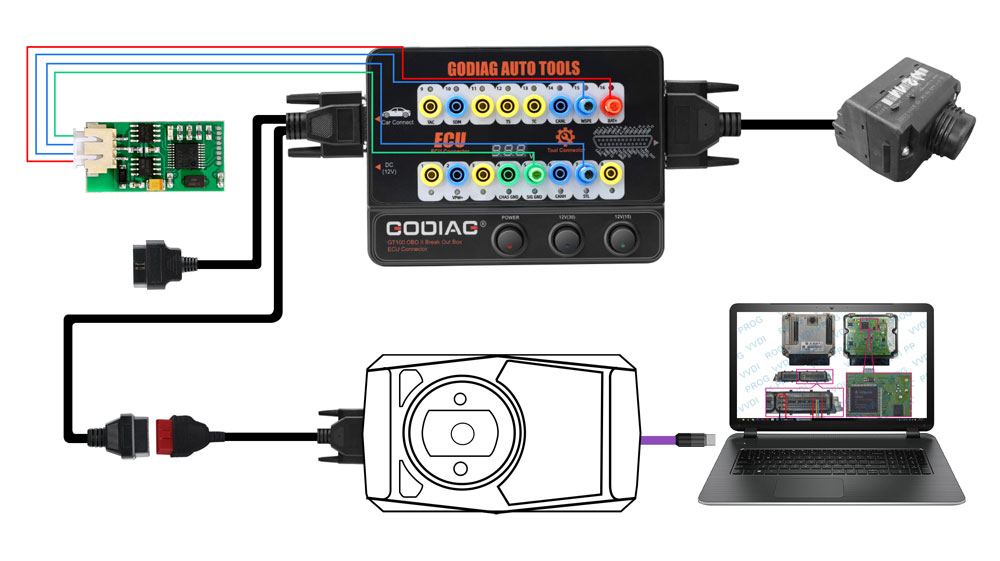 Hardware Connection Diagram:
Godiag GT100 cable guiding
Godiag GT100 Parameter
| | |
| --- | --- |
| Item | Specification |
| Diagnostic port | OBDII |
| Working voltage | DC 9V-24V |
| Work and power | 0.5-0.6W |
| Adapter power | Input AC100v-240v, Output DC12V 1A |
| Operating temperature range | -20 to 70 °C ( -4 to 158 °F ) |
| Storage temperature range | -40 to 85 °C ( -40 to 185 °F ) |
| Dimension | L: 23cm, W:18cm, H:7cm |
Package includes:
1pc x
OBD 2-in-1 extension cable
1pc x
Colored jumper cable
24pcs x
Wire accessories, Dupont 2.54mm connector female pins
---
Customer Service:
Mrs.Bella
Email: sales@obd16shop.com
Whatsapp:+8615271813909
Skype: eobd11

About Shipping Way
1.DHL Shipping: 5-7 working days. With DHL shipping, we will declare lowervalue on invoice for customers to help customs clearrance .If customer have special requirements on declaring, please contact salesman on order page, online chat,email, skype or whatsapp. Usually we can reply in 24 hours on workingg days.
2.Yanwen express: 7-10 working days.We usually ship orders by Yanwen to European countries like German,Greece,Romania,Sweden,France,etc.By yanwen express, customer dont need to pay for tax. Tax is pre-paid. If customer needs faster shipping, please contact salesman.
3.US, UK, EU shipping directly fast and no tax : 3-5 working days.We have stocked up hot sale items in US, UK, EU Warehouse ,which is more convenient for you. Free TAX, faster shipping with cheaper price.
Click and check items in US Warehosue UK Warehouse

About Cancellation Policy
1.You can get a full refund if you make cancellation within 24hours. Because usually we will ship out package within 24 hours, for get full refund, please send us a cancellation note via order center or email.
2.If your cancellation made after 24 hours, please contact our customer service first, you can easily get touch with our customer service via email or any online contact method like skype, whatsapp or online chat. If customer service confirm your order have not been ship out, you can get a full refund
3. If your order has been proceed but have not get out of China(including Hongkong area), you can still cancel our order but you have to pay for the cancellation fee.(Detail fee please consult customer service for your order)
4. If the order already out of China, the order can not be canceled. If you want cancel it, you need send it back after you receive the package and you will need to undertaken the return fee.