Product Description
Godiag GT105 can converter power source from a battery to a DC 12V power supply.
Activate/wake up instrument or immo ECU when all keys lost
Indicate data communication.
GODIAG GT105 OBD II Break Out Box ECU IMMO Prog AD ECU Connector
A full-protocol ECU connection line for ECU programming power adjustment
OBD2 independent PIN 4 body GND, PIN5 signal GND for special programming of some modules.
PIN4 and PIN5 can be switched between short-circuit and non-short-circuit. 
Standard OBD2 independent PIN4, PIN5.
Pure copper female seat supports repeated insertion and removal, and has a long service life.
Battery clip treated with environmentally friendly salt spray, with a thickness of 0.5mm.
The DC car battery cable adopts 0.75mm² 2-core sheathed cable, which supports DC5.5*2.5/ DC5.5*2.1 interface.
The DC connector has a resettable 7A fuse.
DC power interface, dedicated laboratory power connector.
Product Introduction:
GODIAG ECU IMMO Prog AD GT105 is a special connection adapter developed for automobile maintenance technicians, anti-theft matching technicians, ECU programming engineers, etc. It is used for
short-circuiting OBD2 in the car for anti-theft activation matching, ECU diagnosis and programming connection, and drawing power from the vehicle's battery for outdoor on-site vehicle maintenance. 
The product is equipped with PWM+(PIN2), CANH(PIN6), CANL(PIN14), K-line(PIN7) signal communication indicators. When there is data communication, the corresponding protocol indicator will flash, therefore the communication status can be judged and you can also determine whether the diagnostic programming device is able to communicate.
The product is suitable for
outdoor work, taking power from the car battery
and
converting it into a DC12V power supply for 12V charging, programming power,
or independent power supply for diagnostic equipment.
The device provides OBD2 independent PIN4 body GND, PIN5 signal GND, which is convenient for some modules to be used for special programming. In addition, with the OBD2 full protocol ECU programming cable, users can also connect the ECU in the studio to adjust the ECU programming power. The device has PWM+(PIN2), CANH(PIN6), CANL(PIN14), K-line(PIN7) signal communication indicators. When there is data communication, the corresponding protocol indicator will flash. Users can judge the communication status, and also can judge whether the diagnostic programming device can communicate.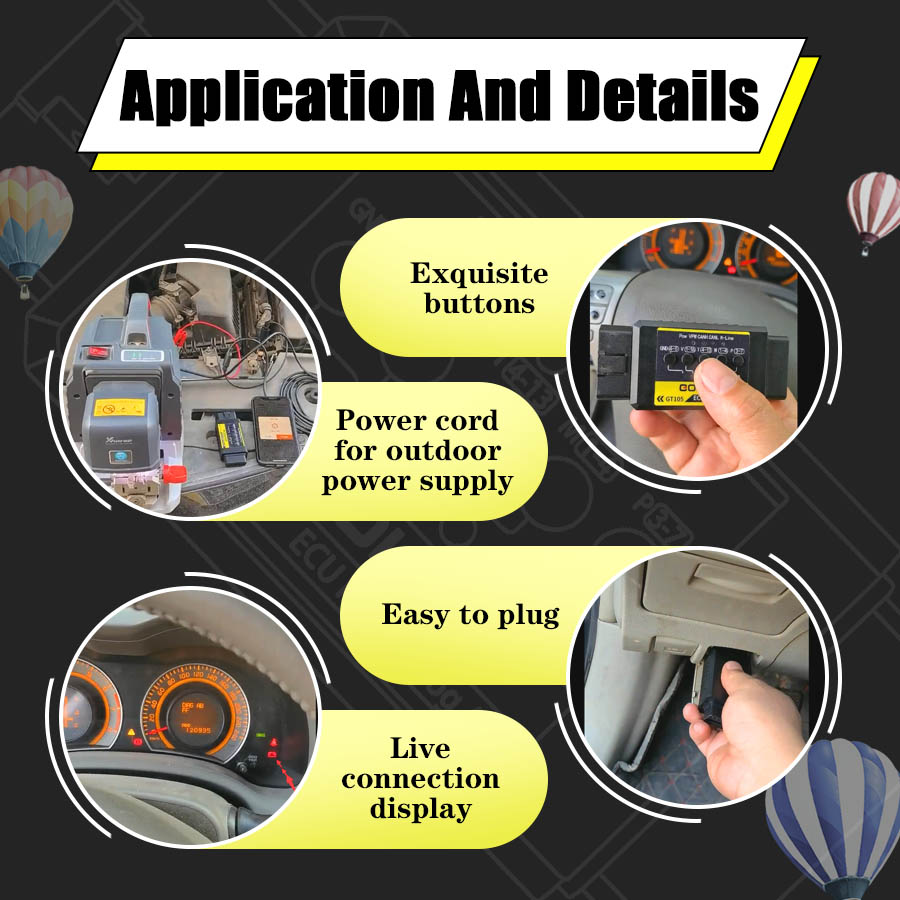 Product Functions:
IMMO AD power adapter function. After 2016,  for Ford all smart keys lost, GT105 cooperates with VVDI equipment (OBDSTAR, AUTEL,) and other anti-theft matching equipment to program the keys.
All car keys lost matching---wake up the meter or wake up the anti-theft ECU. (Support VAG 4th and 5th generation anti-theft, Toyota ECU synchronization, auxiliary Mitsubishi all key lost matching or all lost remote control key setting, old Porsche Cayenne car for anti-theft key learning.)
VPW, CANH, CANL, K-Line indicator lights can judge the communication status between the vehicle and the diagnostic programming device.  (If the product is used to connect the device, the user can simply judge whether the diagnostic programming is normal or not according to whether the device can send communication.)
The GT105 power adapter cable obtains 12V power from the car battery. (For programming equipment such as Xhorse Key Tool Plus Pad, VVDI Prog, CGDI Prog, IM608, etc., it provides 12V power supply when they need power outdoors, so as to read the data of BMW BENZ anti-theft ECU, or other car ECUs, and finally realize the on-site maintenance of outdoor faulty vehicles. )
Provide 12V power supply for the key cutter (12V).
Standard OBD2 full protocol ECU programming line. (With MPPS, FGTech, Kess v2, etc., for ECU data reading and writing, ECU cloning, ECU tuning, etc.) (Note: OBD2 full protocol ECU programming line is purchased separately)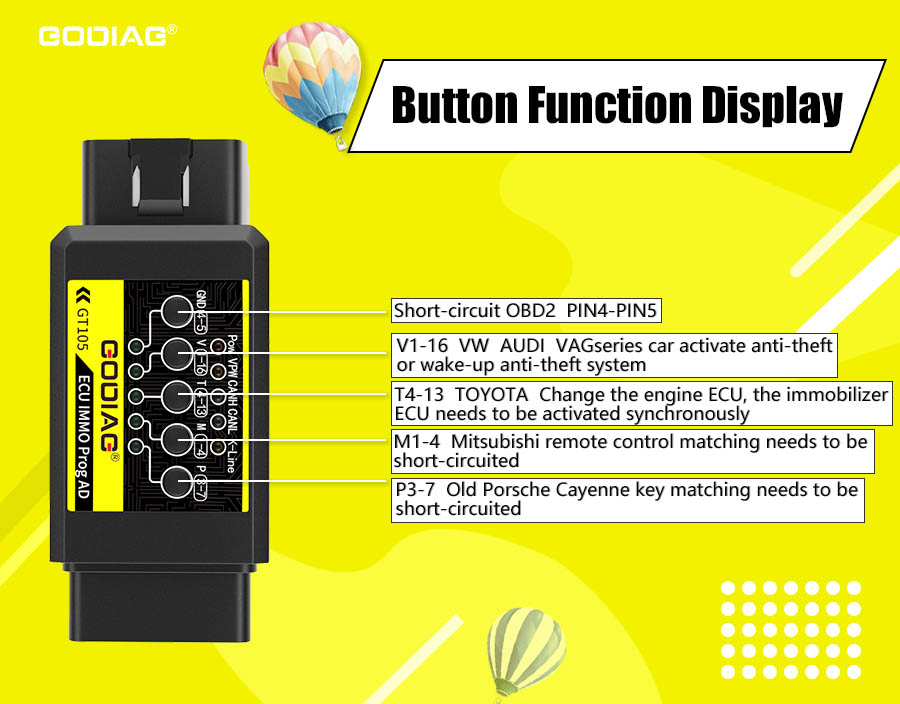 Indicator Light Meaning: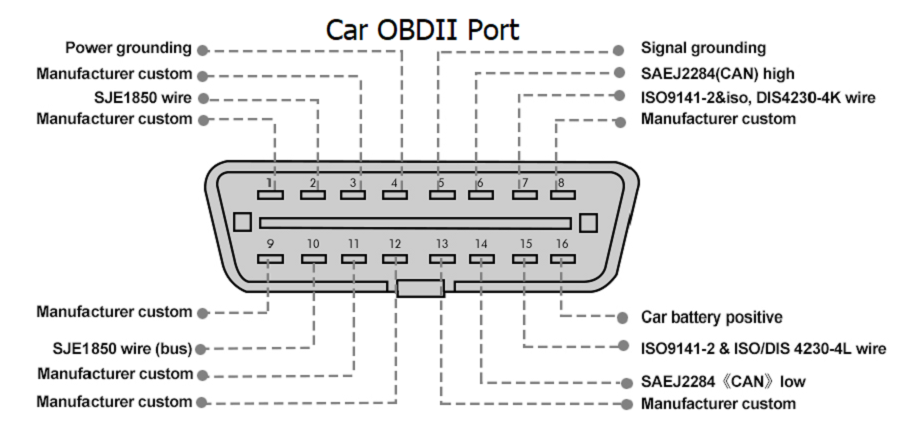 Package Includes:
1pc x GT105 host 
1pc x Power cord with battery clip 
---
Customer Service:
Mrs.Bella
Email: sales@obd16shop.com
Whatsapp:+8615271813909
Skype: eobd11

About Shipping Way
1.DHL Shipping: 5-7 working days. With DHL shipping, we will declare lowervalue on invoice for customers to help customs clearrance .If customer have special requirements on declaring, please contact salesman on order page, online chat,email, skype or whatsapp. Usually we can reply in 24 hours on workingg days.
2.Yanwen express: 7-10 working days.We usually ship orders by Yanwen to European countries like German,Greece,Romania,Sweden,France,etc.By yanwen express, customer dont need to pay for tax. Tax is pre-paid. If customer needs faster shipping, please contact salesman.
3.US, UK, EU shipping directly fast and no tax : 3-5 working days.We have stocked up hot sale items in US, UK, EU Warehouse ,which is more convenient for you. Free TAX, faster shipping with cheaper price.
Click and check items in US Warehosue UK Warehouse

About Cancellation Policy
1.You can get a full refund if you make cancellation within 24hours. Because usually we will ship out package within 24 hours, for get full refund, please send us a cancellation note via order center or email.
2.If your cancellation made after 24 hours, please contact our customer service first, you can easily get touch with our customer service via email or any online contact method like skype, whatsapp or online chat. If customer service confirm your order have not been ship out, you can get a full refund
3. If your order has been proceed but have not get out of China(including Hongkong area), you can still cancel our order but you have to pay for the cancellation fee.(Detail fee please consult customer service for your order)
4. If the order already out of China, the order can not be canceled. If you want cancel it, you need send it back after you receive the package and you will need to undertaken the return fee.