Product Description
NexzDAS Lite Diagnosis Tool breaks the traditional limitations with the modality of VCI+APP. It is compatible with Android phone, which achieves convenient and efficient diagnosis. It maximumlly offer the perfect diagnostic solution for shops and technicians who demand unrivalled smart technology and smart repairs.
HUMZOR NexzDAS Lite Full-System Diagnosis Tool
Top 6 reasons to get Humor MexzDAZ lite:
1.
.Full-system diagnosis, quick scan for all the electronic systems of the car,read/clear codes, live data, freeze frame, etc.
2..
Free download for 80+ vehicle models
in our APP Store of the software , including American, European, Asian...
3.
Support full system OBD2 diagnosis and 9 special resetting functions
like Oil Reset ,TPMS reset, Injector Adjust, EPB, SRS, ABS Bleeding,Battery Change,Throttle Sensor
,
and so on, can meet all your need.
4. One-click update online / One-Key Car Inquire / One-Key Feedback
5. VCI+APP portable device,Android phone available
.
Support Bluetooth connection
6.
We have both company tech and original factory tech behind to support our customers. What's more, customer can return package in 1 month after receiving order if they have problem on using
HUMZOR NexzDAS Lite Auxiliary Functions
One-Key DTC Query: nearly 40,000 database available for you to search code definition and description.
One-Key Data Manage: check the stored information at anytime and anywhere, both images and videos.
One-Key Car Inquire: search the car information online. Input the VIN or scan it directly.
One-Key Feedback: Multi methods to contact us and feedback your questions by clicking the button at the top right corner.
One-Key Update: No PC, no SD card. Get new version upgrade information in time and choose to update it at fast speed within App
HUMZOR NexzDAS Lite Diagnosis Tool highlights:

1.High cost-effective configuration with VCI+App.
2.Bluetooth 4.2 connection, Android phone available.
3.Multi-model coverage for free download, Asia, Europe, America, etc. included.
4.Full-system diagnosis, quick scan for all the electronic systems of the car.
5.Professional diagnosis report offer you detailed inspection result for each DTC.
6.Customized special function provided for extra demand , such as Oil reset, ABS, TPMS, EPB, etc.
7.Powerful database supports online DTC inquiry.
8.Intelligent operation, one key record/ feedback/ update within App.
HUMZOR NexzDAS Lite
Vehicle Coverage(Download 170+ models for free in App Store)
American: GM, GMC, CHEVROLET, BUICK, HUMMER, SATURN, PONTIAC, CADILLAC, OLDSMOBILE, ASIAGM, FORD(EUROPE), FORD(AMERICA), Ford, Mercury, Lincoln, FORD(AUSTRALIA), MAZDA, CHRYSLER, JEEP, SCION,ACURA

European: VW, CVVW, AUDI, SEAT, SKODA, Bently, BUGATTI, LAMBORGHINI, BENZ, Smart, MAYBACH, BWM, MINI, ROLLS ROYCE, PORSCHE, PEUGEOT, CITROEN, OPEL, VAUXHALL, Renault, Dacia, Renault Samsong, JAGUAR, LANDROVER, SAAB, VOLVO, FIAT, LANCIA, ALFA ROMEO, ABARTH, ASTON MARTIN, FERRARI, MASERATI
Asian:TOYOTA, LEXUS, HONDA, Nissan, Infiniti, MITSUBISHI, SUBARU, SUZUKI, ISUZU, FUSO, HYUNDAI, KIA, DAEWOO, SSANGYONG, PERODUA, PROTON, TATA, Mahindra, Maruti
Chinese:
BYD, CHANGAN, CHANGHE, FOTON, GWM, HBSH, HUACHEN, WULING, CHERY, EMGRAND, ENGLON, GEELY, GLEAGLE, LIFAN, YUAN, RIICH, ZOTYE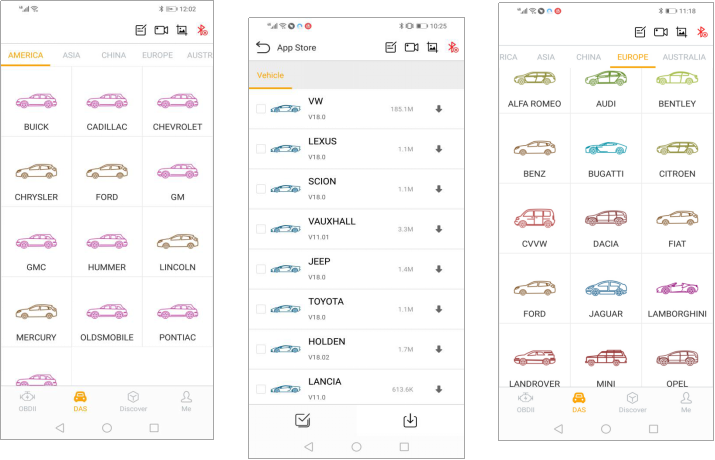 HUMZOR NexzDAS Lite Function Display
Full-system Diagnosis:
Select vehicle model --- Select vehicle type --- Select Year --- Auto Scan --- Full-system Scan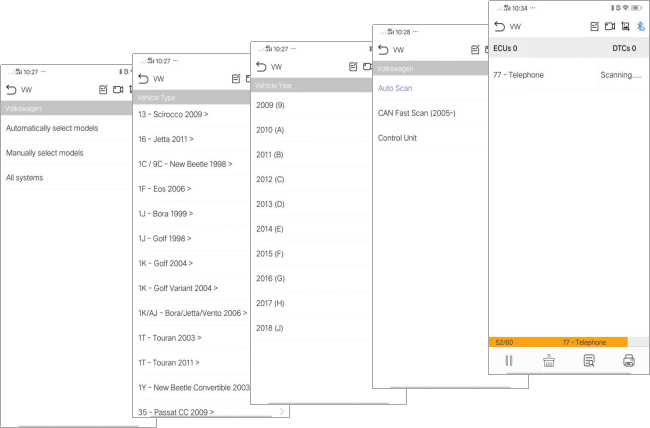 Complete OBD2 Diagnosis
Read Code, Clear Code, Live Data, Freeze Frame, Smog Check, O2 Sensor, Mode 6, MIL Status, Vehicle Information, Battery Test
Resetting ( $10 for each one)
Oil Reset: Baic, BYD, Chery, FAW CAR, Greatwall, JAC, Luxgen, Soueast, Rover, ACURA, AUDI, BENZ, BESTURN, BENTLEY, BUICK, BUGATTI, BMW, CADILLAC, CHRYSLER, CITROEN, DACIA, DAEWOO, DODGE, FERRARI, FIAT, FORD, GM, HOLDEN, HONDA, HUMMER, HYUNDAI, INFINITI, ISUZU, JAGUAR, JEEP, KIA, LANDROVER, LAMBORGHINI, LEXUS, LINCOLN, MASERATI, MERCURY, MINI, MITSUBISHI, NISSAN, OLDSMOBILE, OPEL, PEUGEOT, PORSCHE, PONTIAC, RENAULT, ROLLS-ROYCE, ROMEO, ROVER, SAAB, SATURN, SCION, SEAT, SKODA, SMART, SUBARU, SUZUKI, TOYOTA, VAUXHALL, VOLVO, VW
TPMS: AUDI, BENZ, BUICK, BMW, CADILLAC, CHRYSLER, DODGE, FORD, GM, GMC, HONDA, HUMMER, HYUNDAI, INFINITI, JAGUAR, JEEP, KIA, LANDROVER, LEXUS, LINCOLN, MERCURY,MITSUBISHI,
NISSAN, PORSCHE, PONTIAC, SATURN, SCION, SGM, SUBARU, TOYOTA, VW
Injector Adjust: CITROEN,FIAT,HYUNDAI,JAGUAR,KIA,LANDROVER,MITSUBISHI,OPEL,SUBARU,VAUXHALL
EPB: BMW, CITROEN, DAEWOO, GM, HONDA, HYUNDAI, JAGUAR, KIA, LANDROVER, OPEL, PEUGEOT, RENAULT, SAAB, SUBARU, TOYOTA, VAUXHALL, VOLVO, VW
DPF: BMW, CITROEN, DAEWOO, JAGUAR, LANDROVER, OPEL, PEUGEOT, SUBARU, VAUXHALL
Battery Change: FORD, JAGUAR, LANDROVER, LEXUS, TOYOTA, VOLVO
ABS Bleeding: DAEWOO, JAGUAR, LANDROVER, OPEL, RENAULT
SAS: BAIC, BAOJUN, BYD, ZOTYE, Soueast, Haima, DF_FENG_XING, DF_FENG_SHEN,DF_XIAO_KANG, Chery, ROEWE, TRUMPCHE, Geely Emgrand, Geely Englon, Geely Gleagle, JAC, JMC, LIFAN, Greatwall, DAEWOO, SsangYong
Throttle Sensor:
Baojun, BYD, ACURA, BMW, CHRYSLER, DAEWOO, BUICK, Cadillac, Chevrolet, Holden, Pontiac, Saturn, HONDA, JEEP, KIA, NISSAN, TOYOTA,VOLVO
HUMZOR NexzDAS Lite Specifications
| | |
| --- | --- |
| Operating System | Android 5.0 and above |
| Communications | Bluetooth 4.2 |
| Operating Voltage | 9~30V DC |
| Operating Temperature | -20~70°C(14-158℉), Relative Humidity: < 90% |
| Storage Temperature | -40~85°C(-40-185℉), Relative Humidity: < 90% |
| Average Power Consumption | <2W |
| Dimension | 97mm*47mm*26mm |
HUMZOR NexzDAS Lite
Package includes:
1pc x HUMZOR NexzDAS Lite Main Unit
1pc x USB Cable
1pc x Password
1pc x User Manual


HUMZOR NexzDAS Lite FAQ

1.Where to download APP?
--For NexzDAS APP, please kindly search 'NexzDAS' on Google Play or kindly scan the QR code below to download.
2.How to connect the Bluetooth?
--After plug into the VCI, open the NexzDAS App and click the Bluetooth icon at the upper right corner within App to connect it directly, the icon light will turn into blue which means connection succeeds. If it can not be connected the first time,please kindly exit the software completely and try again.
3.Why cannot I binding the product, it shows serial number does not exist?
--Please make sure you download the right software "NexzDAS". If the problem still exists, please contact us and offer your S/N for a check.
4.Do I need to connect the PC to update?
--No, just click 'Me' 'Upgrade' to complete the process within APP.
5.Why there is nothing listed when I login, no models or functions?
--Please click 'Discover' 'APP store' and choose download the models and functions you need.

---
Customer Service:
Mrs.Bella
Email: sales@obd16shop.com
Whatsapp:+8615271813909
Skype: eobd11

About Shipping Way
1.DHL Shipping: 5-7 working days. With DHL shipping, we will declare lowervalue on invoice for customers to help customs clearrance .If customer have special requirements on declaring, please contact salesman on order page, online chat,email, skype or whatsapp. Usually we can reply in 24 hours on workingg days.
2.Yanwen express: 7-10 working days.We usually ship orders by Yanwen to European countries like German,Greece,Romania,Sweden,France,etc.By yanwen express, customer dont need to pay for tax. Tax is pre-paid. If customer needs faster shipping, please contact salesman.
3.US, UK, EU shipping directly fast and no tax : 3-5 working days.We have stocked up hot sale items in US, UK, EU Warehouse ,which is more convenient for you. Free TAX, faster shipping with cheaper price.
Click and check items in US Warehosue UK Warehouse

About Cancellation Policy
1.You can get a full refund if you make cancellation within 24hours. Because usually we will ship out package within 24 hours, for get full refund, please send us a cancellation note via order center or email.
2.If your cancellation made after 24 hours, please contact our customer service first, you can easily get touch with our customer service via email or any online contact method like skype, whatsapp or online chat. If customer service confirm your order have not been ship out, you can get a full refund
3. If your order has been proceed but have not get out of China(including Hongkong area), you can still cancel our order but you have to pay for the cancellation fee.(Detail fee please consult customer service for your order)
4. If the order already out of China, the order can not be canceled. If you want cancel it, you need send it back after you receive the package and you will need to undertaken the return fee.