Product Description
Launch CRP123X Four-System OBD2 Code Reader
Top Reasons to get Launch Creader CRP129X:
1.Covers most vehicles after 2006 compliant with OBD2 protocols, more than 30 brands
2.Update online lifetime freely and multi-languages.
3.AutoVIN Technology Available for Efficient Analysis,automatically read and store your vehicle's VIN number
4.5 most commonly used services: Oil Reset,SAS Reset,EPB Service, TPMS Service,Throttle Adaptation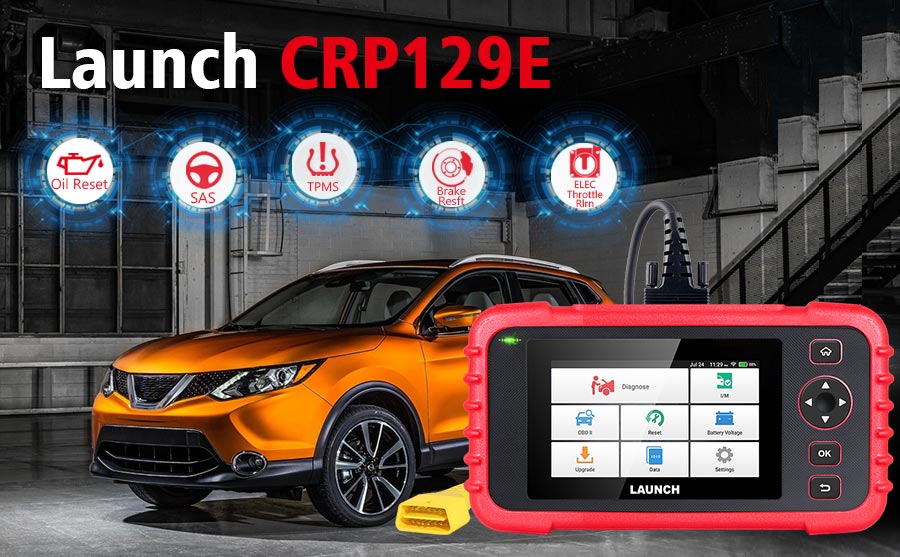 LAUNCH Creader CRP129X BULLET POINTS:
• UPGRADED VERSION:
Based on CRP129, this scanner CRP129X features a larger 5" touchable screen, two more reset services (TPMS & Throttle Adaptation), AutoVIN technology and Automatic Inspection Report for more quick and precise diagnostic work.For any small repair auto stores, and DIY mechanics involved in the technical work to rectify the car fault issues more precisely and efficiently.
• 4 SYSTEMS COVERED:
This diagnostic scanner supports Engine, Transmission, ABS and SRS diagnoses, thus reading/clearing diagnostic trouble codes, showing the live data stream, turning off the warning light related.
• 5 RESET SERVICES:
This diagnostic scan tool features 5 most commonly used special reset capabilities including oil reset, EPB/SAS/TPMS service, and Throttle Adaptation, which are used for the safety and efficient maintenance of vehicle systems.
• FULL OBD2 COMPLIANT:
This automotive scanner supports all modes of OBDII functions as I/M Readiness Status, Live Data Stream, MIL turn-off, etc., and works on most vehicles after 2006 compliant with OBD2 protocols, more than 30 brands.
• WARRANTY & LANGUAGE:
This LAUNCH diagnostic tool provides the 12-month warranty for any quality problems, free updates on internet for lifetime along with multilingual support: English, Spanish, French, German, Italian, Russian, Portuguese, Japanese, Korean.
LAUNCH, in line with the enterprise culture of "innovation, quality, efficiency, specialty and competition", dedicates itself to be a leading position in the automotive diagnostic equipment industry with the support of powerful technology and considerate service to offer superior user experience for customers worldwide.
Four System Diagnoses for Insight Into the Crisis
LAUNCH CRP129X primarily diagnoses the engine, ABS, airbag and transmission systems. It reads and clears codes for those systems. That, in turn, makes it possible to clear the MIL, SRS and ABS service lights. You will know what the problem is any time your car breaks down. And that will help you determine whether it needs immediate attention, and how much you should expect to spend on repairs.
•
For Engine System:
The diagnostic tool can help detect the engine ignition, fuel injection, air and fuel ratio, and exhaust emission conditions in Engine system to enhance vehicle performance, save energy and reduce exhaust emission.
•
For Transmission:
It makes great sense in the safe driving when your car is slipping or difficult to shift. This diagnostic scanner can figure the problems out via reading codes in the Transmission system, or check the health status via live data viewing.
• For ABS System:
Diagnosing an ABS problem should always start with a visual inspection of all brake components, next you will need to retrieve ABS codes to tell you where the problem is, and this is what this scanner does for you.
• For SRS System:
SRS, safety restraint system, is made up of impact sensors, a control module, and the airbags themselves, and this diagnostic device can detect every electronic parameter to check its health status.
5 most commonly used services accessible for complete diagnoses
The LAUNCH OBD2 diagnostic scan tool CRP129X has been made to work effectively with 5 most commonly used services accessible for complete diagnoses and maintenance:
• Oil Reset:
It is also enabled with an oil service and lamp reset mechanism, a function which ensures that the vehicle engine is maintained in its rightful healthy self.
• SAS Reset:
It helps clear the faulty steering angle sensor memories and plays an important role in the steering angle sensor calibration.
• EPB Service:
Reset the brake pad after the repairs in electronic parking brake system are done. By using this system, the braking process is therefore made much simpler and easier.
• TPMS Service:
Looks up the tire sensor IDs from the vehicle's ECU, and performs TPMS programming and reset procedures after tire sensors are replaced.
• Throttle Adaptation:
Initialize the throttle actuators to the default state for regulating throttle (or idle engine) operations accurately.
They are sufficient to assure the user of the high quality standards the product has been taken through.
AutoVIN Technology Available for Efficient Analysis
The diagnostic tool equips with the AutoVIN technology which means that it will automatically read and store your vehicle's VIN number, in one touch. It immediately identifies your car, and you don't have to enter the year, make, engine, etc. of your car.
This will allow you:
• Firstly, you can automatically identify the vehicle and perform a quick scan, to easily read and retrieve diagnostic trouble codes related.
• Secondly, you can quickly match the right software that will enhance the diagnostic capabilities and resolve compatibility issues. AutoVIN retrieval plays an important role when choosing the correct firmware when performing an update.
• Besides, being able to retrieve VIN will help you to easily track the previous records of a vehicle. The records will show the performance of the vehicle and other important aspects such as mileage. As a result, you will be able to make a more informed choice when purchasing a used car.
Automatic Inspection Report Uploaded for Convenience
There might arise certain problems which would be beyond your level of understanding while diagnosing a vehicle. LAUNCH CRP129X allows you to save the Inspection Report and transfer the report to the Cloud Server, or even print the data via the PC.
The Inspection Report includes two parts:
• Vehicle Information (Year, Make, Model, VIN, Engine Size, Odometer, Vehicle Software Version, Diagnostic Application Version, Diagnostic Path)
• Inspection Result
Hence, if you would like to make your mechanic understand about the current problem at hand, then you are able to explain it in details. Rather than taking the additional hassle and confusing things, you would easily be able to hand the diagnostics report to anyone concerned. They would take a look at the whole thing and would then understand about what would need to be done.
All Modes of OBDII Functions for Repair Work
This scanner supports all 10 test modes for OBD-II cars which are great for daily repair work. The table below describes the purpose of each mode of operation:
1 - Request Current Powertrain Diagnostic Data
2 - Request Powertrain Freeze Frame Data
3 - Request Emission-Related Diagnostic Trouble Codes
4 - Clear/Reset Emission-Related Diagnostic Information
5 - Request Oxygen Sensor Monitoring Test Results
6 - Request On-Board Monitoring Test Results for Specific Monitored Systems
7 - Request Emission-Related Diagnostic Trouble Codes Detected During Current or Last Completed Driving Cycle
8 - Request Control of On-Board System Test or Component
9 - Request Vehicle Information
10 - Request Emission-Related Diagnostic Trouble Codes with Permanent Status
Wide Coverage of Global Mainstream Vehicle Models
LAUNCH CRP129X has wide compatibility rates with several modes of the OBD2 motor vehicles. The scanner works on pretty much any car made from 2006 and forward, as long as the car has a 16-pin OBD-II port
:
• Asian:
Daewoo, Honda, Hyundai, Kia, Mazda, Mitsubishi, Nissan, Subaru, Suzuki, Toyota, ISUZU
• European:
Audi, BMW, Smart, VW, Benz, Volvo, Opel, LandRover, SAAB, Seat, Peugeot, Citroen, Skoda, Porsche, Sprinter, Jaguar, Fiat
• USA:
Ford, GM, Chrysler
In addition, this diagnostic device is also known to support vehicles falling within the controller area network (CAN) category. In this regard, it is said to have the capacity to retrieve both the generic and manufacturer specific codes. Its use is therefore widespread.
If you work on different vehicles regularly, then you really should consider getting this scanner.
Multilingual Data Support System in Nature
The scanner has a multilingual functionality including:
English, Spanish, French, German, Italian, Russian, Portuguese, Japanese, Korean,
which can enable the technician get the information in any language in real-time. This is important in helping decipher the codes and understanding the area of fault.
Advanced Hardware in Strong and Aesthetic Design
• Inner: The LAUNCH OBDII Android based Diagnostic Scanner is internet enabled and can have automatic data updates for real time transmission.
• Screen: The tool equips with a bright 5-inch screen, which is an important element in displaying the diagnostic information.
• Button Layout: It has a dedicated button for selecting things and for getting back to the homepage. The control pad also has four arrow buttons, so you can scroll in whatever direction you need to.
• Size & Weight: Within the size specification of 228*125*34.5mm, and a favorable weight of 565g, one can surely say that the scan machine can be rather manipulated with ease.
• 4000mAh Battery: With a 4000mAh battery also being equipped as a backup system, the device could also be easily used in the event that the engine of the vehicle would be switched off. This would thus help to increase the efficiency and also making it possible for data to be transmitted from a switched-off engine.
NOTICE:
Please close the anti-virus software in your PC when updating the device.
LAUNCH Creader CRP129X SPECIFICATIONS:
| | |
| --- | --- |
| LCD | 5" Touch Screen, 720P |
| OBDII Interface Input Voltage | 9V-18V |
| DC Input Voltage | 5V |
| Battery | 4000mAh Lithium Battery |
| Storage Temperature | -20℃ ~ 70℃ |
| Operating Temperature | -10℃ ~ 50℃ |
| Size | 228*125*34.5mm |
About Shipping Way
1.
DHL Shipping:
5-7 working days. With DHL shipping, we will lower declare order value on invoice for customers to help customs clearrance .If customer have special requirements on declaring, please contact salesman on order page, online chat,email, skype or whatsapp. Usually we can reply in 24 hours on workingg days.
2.Yanwen express:
7-10 working days.We usually ship orders by Yanwen to European countries like German,Greece,Romania,Sweden,France,etc.By yanwen express, customer dont need to pay for tax. Tax is pre-paid. If customer needs faster shipping, please contact salesman.
3.US, UK, Canada, Austrilia shipping
directly fast and no tax : 3-5 working days.We have stocked up hot sale items in US, UK, Canada and Australia Warehouse ,which is more convenient for you. Free TAX, faster shipping with cheaper price.
Click and check items in
US Warehosue UK Warehouse About Cancellation Policy
1.You can get a full refund if you make cancellation within 24hours. Because usually we will ship out package within 24 hours, for get full refund, please send us a cancellation note via order center or email.
2.If your cancellation made after 24 hours, please contact our customer service first, you can easily get touch with our customer service via email or any online contact method like skype, whatsapp or online chat. If customer service confirm your order have not been ship out, you can get a full refund
3. If your order has been proceed but have not get out of China(including Hongkong area), you can still cancel our order but you have to pay for the cancellation fee.(Detail fee please consult customer service for you order)
4. If the order already out of China, the order can not be canceled. If you want cancel it, you need send it back after you receive the package and you will need to undertaken the return fee.
Customer Service:
Email: sales@obd16shop.com
Skype: eobd11
yahoo: obd16com@yahoo.com
Phone:+8615387120030
Scan obd16shop QRcode, convinent and faster
Any problems, please feel free to contact us.
Kindly Note: pls leave your telephone number for shipping arrival when you make payment for this product on our website and make sure that your paypal shiping address is the same with the address you want us to sent.Before signing,pls confirm everything is good.