Product Description
Launch CRP429 is a qualified and utilitarian diagnostic tool with faster and more accurate diagnoses for the vehicle health status. It supports all systems diagnosis and 8 time-and-money-saving reset functions for car running and safety.
Launch X431 CRP429 Full-System OBDII Auto Diagnostic Tool
Advanced Functions:
This diagnostic tool can read and clear DTCs, retrieve live data of ALL systems within 1 minute. You can handle many problems yourself and turn off related warning light, saving the trip to the dealership
Superior Features:
This scan tool has special service of oil reset, EPB/SAS/DPF/BMS/IMMO and injector reset Service(more than CRP Touch Pro), so that you can delete stored faulty memories on your own and turn off the bothersome warning lights
Quick Response:
Installed A5 quad-core processor, this scanner greatly saves the booting and scanning time with quick data retrieving and analyzing; the touchable screen is as light as mobile phones, significantly improving the user experience
Convenient Service:
Designed with Gear+ future community, you will get notification of new software availability, new promotions and other information releasing ; supported Wi-Fi connection is applicable to one-click update, no USB or card reader needed
Professional in ALL Systems' Diagnosis:
1. Read all kinds of DTCs from vehicle's control systems to locate problem areas and offer possible solutions;
2. Erase the codes easily after DTCs retrieving and certain repairs have been carried out;
3. Live data of each parameter item displayed in analog, text, waveform graph, digital, or full screen display modes;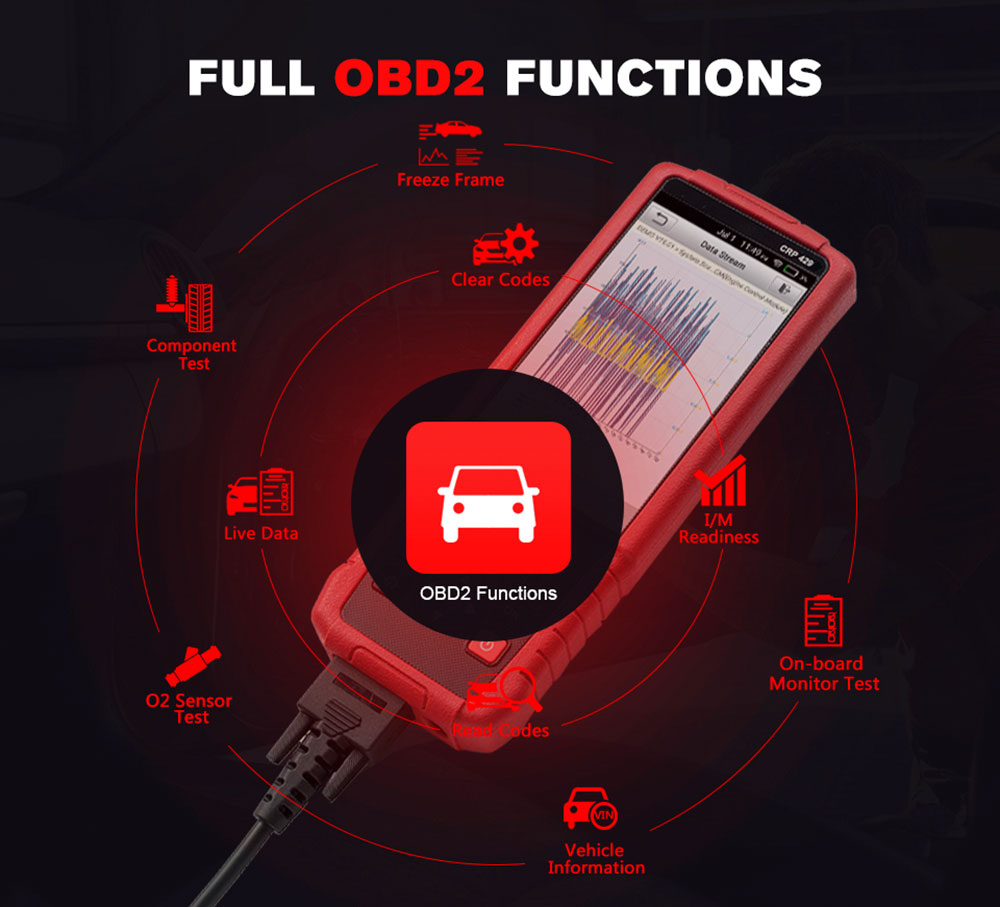 Basic Functions:
1. Read Codes - read generic (P0, P2, P3, and U0), manufacturer specific (P1, P3, and U1) codes, and pending codes;
2. Clear Codes - clear detected trouble codes and turn off the MIL/Check Engine Light;
3. Live Data - view graphically real-time parameters of vehicle's computer modules;
4. Freeze Frame - view the vehicle's operating parameters when a DTC is detected;
5. I/M Readiness Status - have a vehicle inspected before the State Emissions Test;
6. O2 Sensor Test - check the oxygen sensors for fuel efficiency and emissions;
7. On-board Monitor Test - determine if each monitor is OK by comparing values;
8. Component Test - initiate a leak test for EVAP system to test components or modules;
9. Vehicle Information - retrieve the vehicle information of VIN, CINs, and CVNs.
Special Functions:
Oil Reset Service
– If you got an oil lamp on the dashboard, you can finish oil change and use the scan tool to reset the vehicle service mileage for the engine oil life system;
EPB Service
–EPB calibration is to maintain the electronic braking systems safely and effectively, which should be performed after real work has been completed on the EPB or vehicle braking system;
SAS Service
–SAS reset is used to clear the stored memories of replaced steering angle sensor when the replacement or the calibration of steering angle sensor is completed;
ABS Bleeding
– When your brake pedal becomes soft and inconvenient to control, this diagnostic tool can perform bi-directional tests to check the Anti-lock Braking System;
BMS Service
– After finishing Battery change, you can use this scanner to clear the fault memory of original battery and perform the battery matching;
DPF Regeneration
–This function is mainly used for diesel to efficiently purify 70%-90% particles in the exhaust by reset the temperature to a certain value;
IMMO Service
– If you lost your key, this diagnostic tool can add new keys and delete the keys via reading vehicle information to match the password of anti – theft.;
Injector Coding
– make the cylinder better identify injector after ECU or injector is replaced.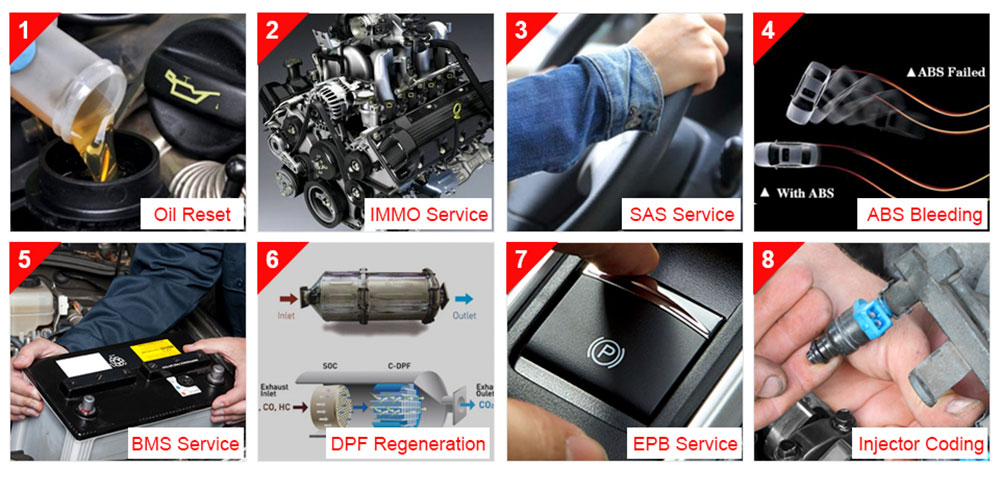 Languages Available:
English, French, Spanish, Russian, Japanese, German, Italian, Portuguese
Warranty & Update:
Provided with quality related services within 12 months warranty
12 months free online update for the latest bug fixes and newly added parameters and car models
(the update frequency is the same as X431 V+)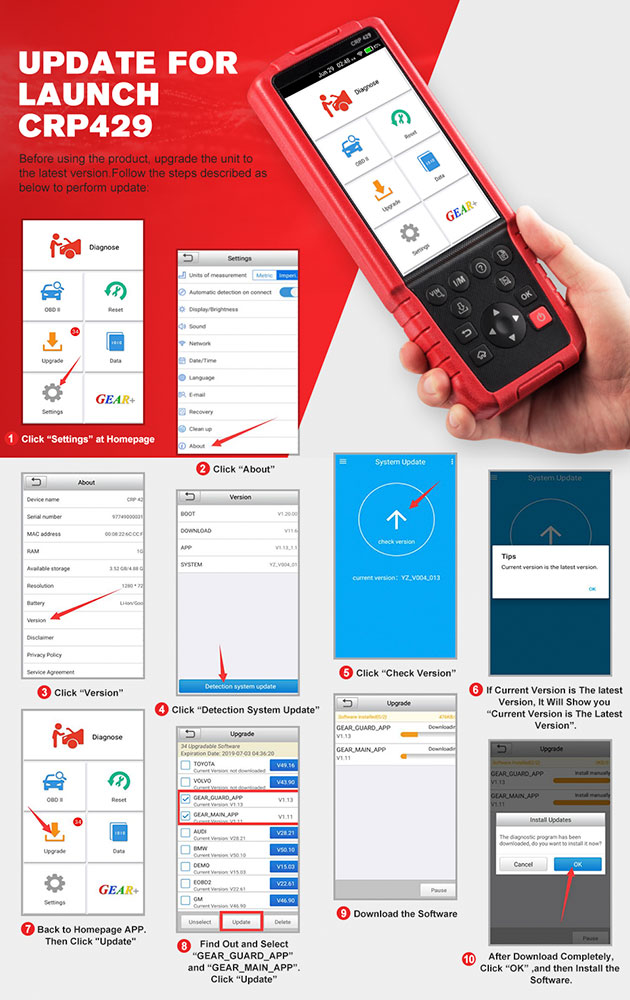 Vehicle Coverage

:
For Hyundai,For Daewoo, For KIA, for Chrysler, for Dodge, for Jeep, for GM, for Buick, for Cadillac, for Chevrolet, for AUDI, for SAAB, for SEAT, for SKODA, for SMART, for Transporter&V-Class, for BMW, for Mini Cooper, for BMW-Brilliance, for Rolls-Royce, for Porsche, for Benz, for Maybach, for Peugeot, for DongFeng Peugeot, for Volkswagen, for Bentley, for Bugate, for Fiat, for Abbas, for Lancia, for Alfa Romeo, for Nanjing Fiat, for Volvo, for Renault, for DACIA, for Landrover, for Jaguar, for Citroen, for FuKang, for Opel, for Opel South Africa, for VAUXHALL, for Isuzu Japan, for Isuzu Thailand, for SUBARU, for TOYOTA, for TOYOTA China, for Lexus, for SUZUKI, for Mazda, for NISSAN, for Infiniti, for DongFeng Nissan, for Lincoln, for Ford, for Acura, for Honda, for JAGUAR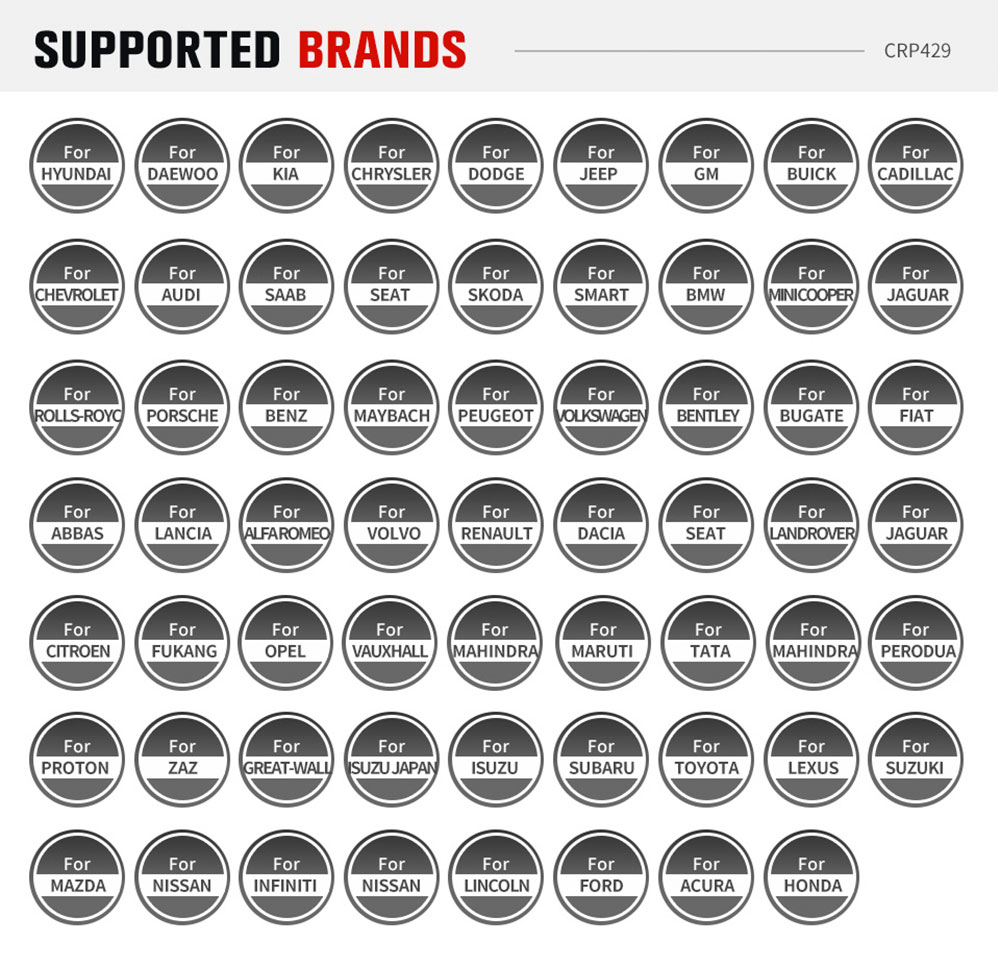 Specifications:
Operating System: Android 7.0
Processor: Cortex-A5 processor (1.5 GHz)
RAM: 1GB
ROM: 8GB
Display: 5 inch IPS touch screen
Connectivity: Mini USB 2.0/USB 2.0/Wi-Fi
Micro SD card (supports up to 32GB)
Power and Battery: 4000 mAh lithium-polymer battery
Charges via DC 5 V/OBD2 16-pin 12V/Android Micro UBS power supply
Tested Battery Life: Around 4.5 hours of continuous use
Battery Charging Input: 5 V/ 1.5 A
Working temperature: -10 to 50°C (14 to 122 F°)
Dimensions (W * H * D): 248.7mmx93.5mmx36mm
Net Weight: 530 g (1.17 lb.)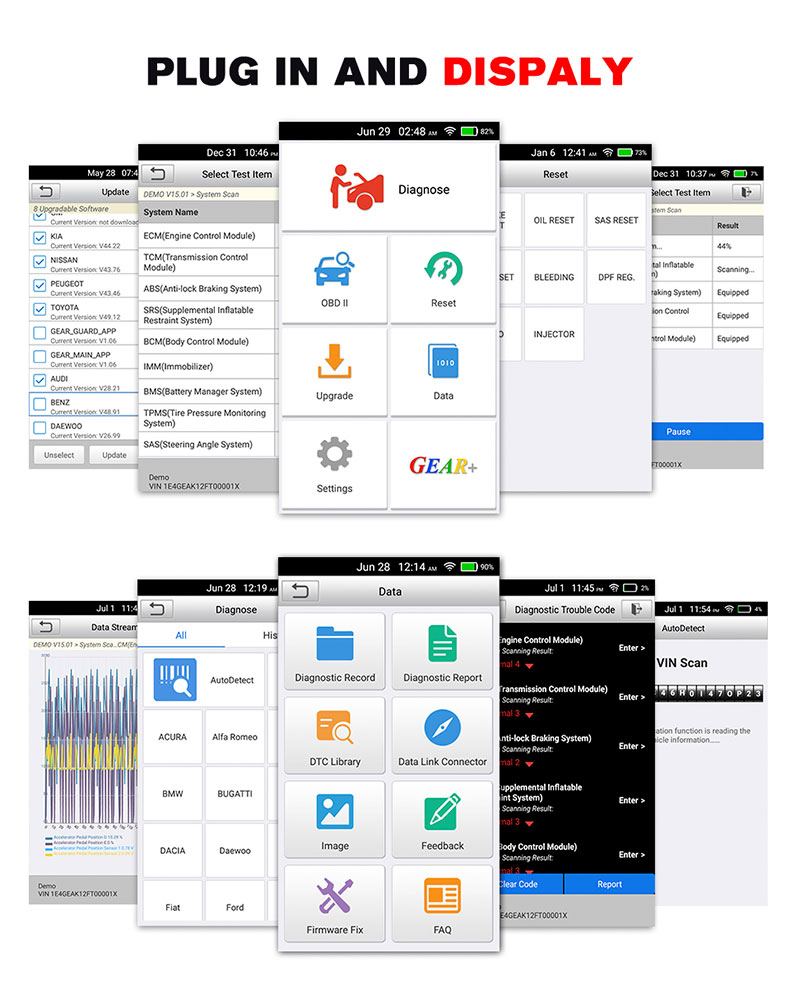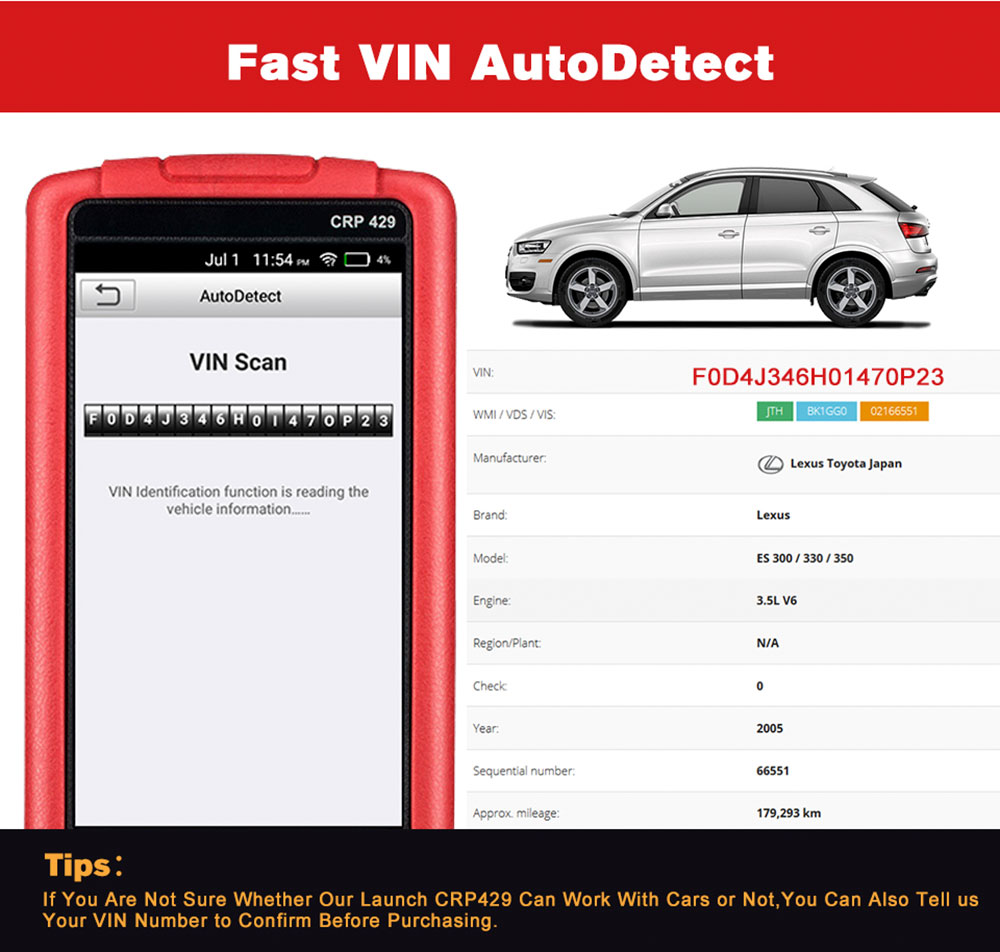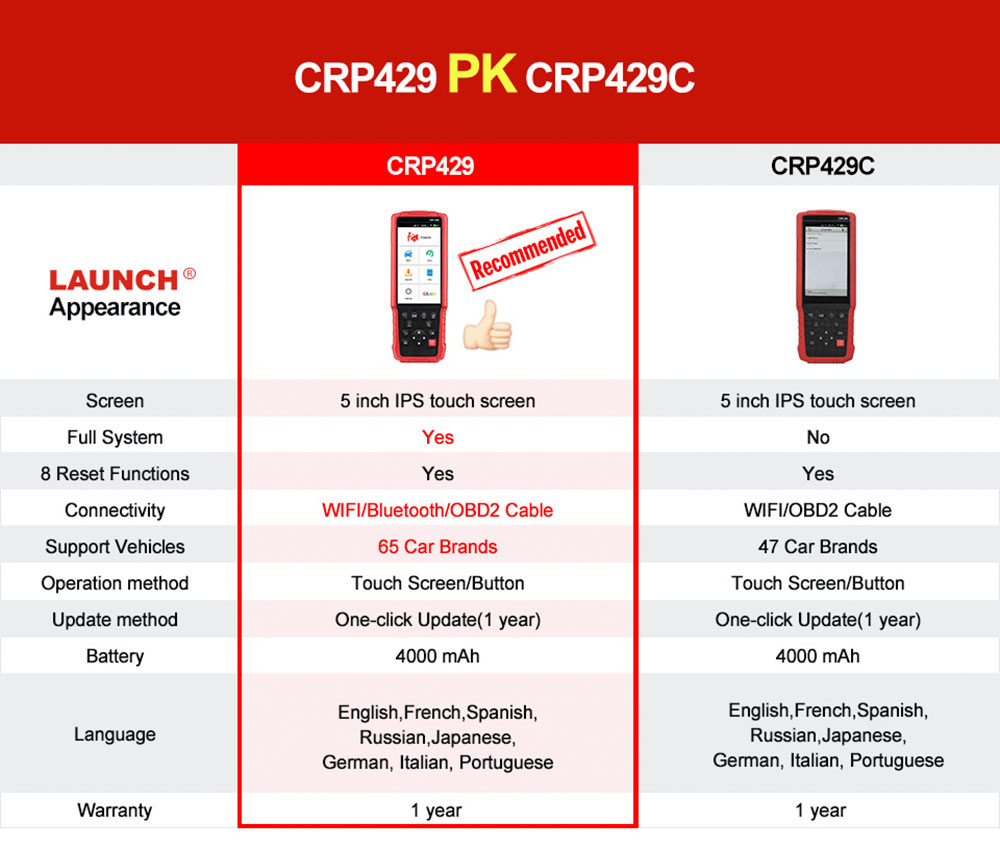 Package includes:
1pc x Main Unit
1pc x OBDII Diagnostic Cable
1pc x DC 5V Charging Cable
1pc x User Manual
About Shipping Way
1.
DHL Shipping:
5-7 working days. With DHL shipping, we will lower declare order value on invoice for customers to help customs clearrance .If customer have special requirements on declaring, please contact salesman on order page, online chat,email, skype or whatsapp. Usually we can reply in 24 hours on workingg days.
2.Yanwen express:
7-10 working days.We usually ship orders by Yanwen to European countries like German,Greece,Romania,Sweden,France,etc.By yanwen express, customer dont need to pay for tax. Tax is pre-paid. If customer needs faster shipping, please contact salesman.
3.US, UK, Canada, Austrilia shipping
directly fast and no tax : 3-5 working days.We have stocked up hot sale items in US, UK, Canada and Australia Warehouse ,which is more convenient for you. Free TAX, faster shipping with cheaper price.
Click and check items in
US Warehosue UK Warehouse About Cancellation Policy
1.You can get a full refund if you make cancellation within 24hours. Because usually we will ship out package within 24 hours, for get full refund, please send us a cancellation note via order center or email.
2.If your cancellation made after 24 hours, please contact our customer service first, you can easily get touch with our customer service via email or any online contact method like skype, whatsapp or online chat. If customer service confirm your order have not been ship out, you can get a full refund
3. If your order has been proceed but have not get out of China(including Hongkong area), you can still cancel our order but you have to pay for the cancellation fee.(Detail fee please consult customer service for you order)
4. If the order already out of China, the order can not be canceled. If you want cancel it, you need send it back after you receive the package and you will need to undertaken the return fee.
Customer Service:
Email: sales@obd16shop.com
Skype: eobd11
yahoo: obd16com@yahoo.com
Phone:+8615387120030
Scan obd16shop QRcode, convinent and faster
Any problems, please feel free to contact us.
Kindly Note: pls leave your telephone number for shipping arrival when you make payment for this product on our website and make sure that your paypal shiping address is the same with the address you want us to sent.Before signing,pls confirm everything is good.