Product Description
2023 Newest LAUNCH X431 PRO3S+, Bi-Directional Scan Tool, 31+ Reset Service, OE-Level Full System Bluetooth Diagnostic Scanner, ECU Coding, AutoAuth
Highlights:
2 Years Free Update
Update version of Launch X431 V Pro
OBDI + OBDII Diagnosis, Full Set Car Connector and Cable Kit
Optimized Hardware Configuration
Bi-Direction Control+ECU Coding+Over 31 service Functions+Active Test
Support Wifi Printer/ Videoscope/ TSGUN TPMS/ X431 PROG3/ ADAS Addons
25 Multi-language Supported: English, French, Spanish, German, Russian, Korean, Japanese, Portuguese, Italian, Polish, Dutch, Hungarian, Finnish, Simplified, Czech, Turkish, Greek, Arabic, Danish Persian, Romanian, Serbian, Swedish, Simplified Chinese, Traditional Chinese.
Open the Hidden Features: Make full use of hidden features or disable car's annoying functions
Compatible 24V Heavy Truck Module with the HD III module
Features:
1. ALL-System ALL-Function Diagnostics
2. Full Bi-directional Control ((Active Test))
3. ECU Coding & Online Coding & Key Programming
4. Support OBD I & OBD II Vehicels
5. Remote Diagnoses
6. 31+ OE-LEVEL Relearn Reset Service
7. ADAS Calibration(optional)
8. Health Report Generate & Share & Print
9. Guided Function for compatible with VW, AUDI, SKODA, SEAT (Step-by-Step Guide)
10. Stable WIFI Connection
11. Anti-Theft IMMO Service
12. Refresh Hidden Features
13. Cover 10,000+ models
14. Full Set Car Connector and Cable Kit
15. Work with HDIII Heavy Duty to Test 24V Truck.(need extra-buy)
16. 2 Years Free Software Subscription
17. 5 Years WARANTY+ LifeTime Tech Support and more ...
18. Multi-language Supported: English, French, Spanish, German, Russian, Korean, Japanese, Portuguese, Italian, Polish, Dutch, Hungarian, Finnish, Simplified, Czech, Turkish, Greek, Arabic, Danish Persian, Romanian, Serbian, Swedish, Simplified Chinese, Traditional Chinese.
Warm Tip: The factory presets the language and the model software in English. Please contact us to change the language.


Product Introduction:
LAUCNH X431 PRO3S+ is the new coming scan tool upgraded on X431 V PRO 4.0, and it has the camera scan functionality that V PRO 4.0 doesn't have. It features advanced IMMO functions, TPMS functions and battery test, etc. Moreover, LAUNCH X431 PRO3S+ is a professional diagnostic scan tool which can diagnose full systems on the ECU.

Product Functions:
1)ECU Coding
ECU Coding function is used to re-flash the vehicle control modules, it allows you to reprogram adaptive data for certain components after making repairs or replacements, providing ways for the issues of driveability, fuel efficiency, power loss, fault codes, durability of mechanical parts
2)Actuation Test (BI-Directional Control )
LAUNCH X431 PRO3S+ car scanner diagnostic tool features full bi-directional control ability, to send commands to vehicle's systems/components, to verify system input/output without using the vehicle's controls, e.g. turn on the radiator fan, modulate the throttle, open/close windows, operate mirrors, Injector Buz Test, turn on interior & exterior lights, sound horn, test door lock actuators and such.
3)2022 New Added OE-LEVEL Advanced Functions:
Guided Functions: Compatible with Volkswagen / Audi / Skoda / Seat etc.
AutoAuth for FCA/ SGW,:Use the latest software update function AutoAuth to provide OBDII diagnosis, active testing, calibration, etc. for modern FCA/SGW vehicles, making the diagnostics more secure. Applicable to FCA vehicles equipped with a security gateway module (SGW) in 2017 and later (NOTE: FCA Americas can be registered and used for free)
Cylinder Balance Test/Cylinder leakage test/Cylinder Pressure variations.
Component Matching: Compatible with Volkswagen / Skoda / Seat / BMW / GM / Ford / Opel / Mazda / Fiat / Honda / Nissan / Hyundai / Kia / Subaru etc.
Online Coding: Compatible with Volkswagen / Audi / Benz / BMW / Seat / Porsche etc.
Online Account Login Service: Compatible with Volkswagen / Audi / Skoda / Seat etc.
Online Calibration: Compatible with Volkswagen / Audi / Skoda / Seat etc.
Online Parameterization: Compatible with Volkswagen / Audi / Skoda / Seat etc.
Anti-theft IMMO Service: Compatible with Volkswagen / Audi / Skoda / Seat etc.
Power Balance: Compatible with Chrysler / GM / Ford etc.
Programmable Module Installation: Compatible with Ford / Mazda etc.
Flash Hidden Functions: Compatible with BMW / Porsche / Toyota / Subaru etc.
Key Programming : Add, Delete & Reprogram Keys, Rewrite smart keys, Replace smart key ECU, Replace KNOB IGNITION; Reset Key: Relearn a key.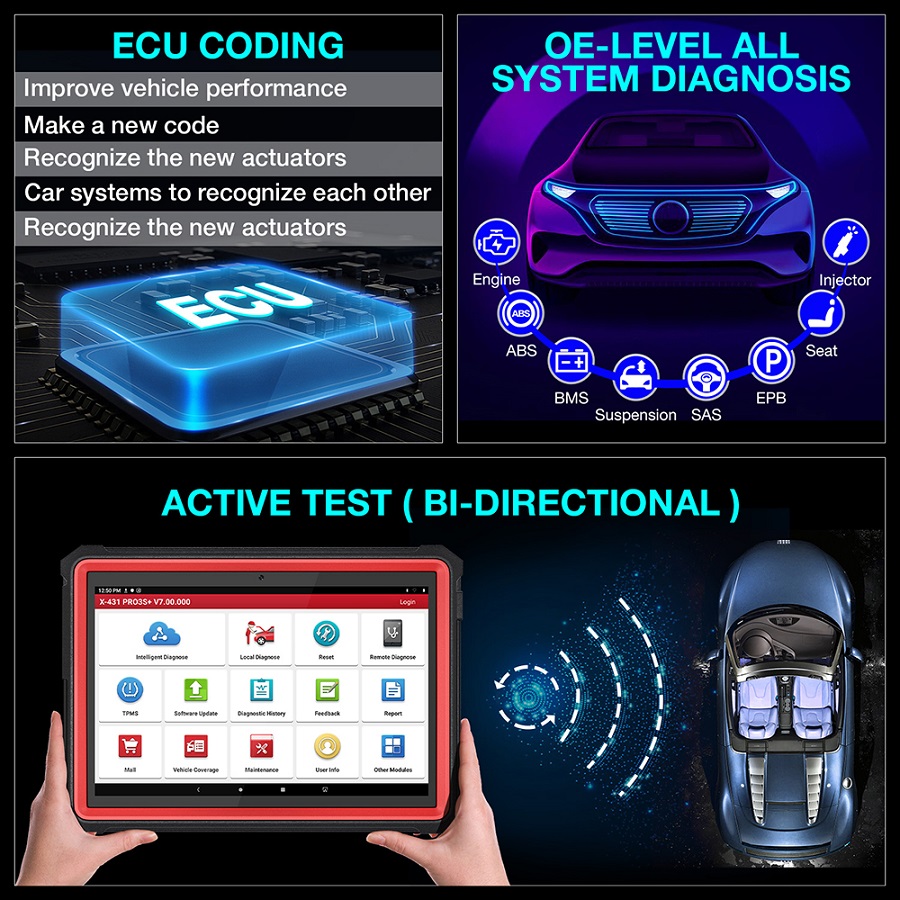 4)31+ Professional Special Functions
LAUNCH X431 PRO3S+ provides many powerful special functions for precise test of the vehicle's health status.
Note: You can find 21 kinds of commonly used reset functions in the reset menu, and other special functions in the car brand diagnostic software menu.
1.OIL RESET–Reset the oil life systems every time the oil and oil filter are changed;
2. FUEL INJECTOR CODING–Code new injector numbers to replace the previous one when fitting the new injectors or after the replacement is completed;
3.BRAKE RESET–Deactivate and activate the brake control system, assist with brake fluid control, open and close brake pads, etc.;
4.SAS RESET–Perform steering angle sensor calibration and clear records;
5.BAT RESET–Evaluate the battery charge state, monitor the closed-circuit current, register the battery replacement, etc.;
6.ABS BLEEDING–When the ABS contains air, the ABS bleeding function must be performed to bleed the brake system to restore ABS brake sensitivity;
7.ELEC.THROTTLE RLRN–Initialize the throttle actuators so that the "learned" values stored on ECU are returned to the default state;
8.TPMS RESET–Tire pressure resetting is required to be performed after maintenance is performed;
9.Key CODING: Help ECU to recognize the new keys when you need to add new keys.
10.DPF REG–Clear PM (Particulate Matter) from the DPF filter through continuous combustion oxidation mode to stabilize the filter performance;
11.GEAR(Crank Position Sensor Adaptive) LEARN–Perform gear learning for the car when the engine ECU, the crankshaft position sensor, or the crankshaft flywheel is replaced. (Available in the system menu and free.Depending on the specific car models, not for all cars, ). and more and more function will be improved and optimized.
12.EPB RESET–Help replace and reset the brake pad.
13.AFS HEADLAMP RESET–Initialize the adaptive headlamp system.
14.SUNROOF INITIALIZATION–The sunroof needs to be reset when the sunroof control unit have communication problem or changed.
15.SUSPENSION RESET–Adjust the vehicle body height sensor for level calibration.
16.GEARBOX RESET–Help complete the gearbox self-learning to improve gear shifting quality.
17.TIRE RESET–Set the size parameters of the modified or replaced tire.
18.A/F RESET–Set or learn Air/Fuel ratio parameters.
19.ADBLUE RESET(Diesel Engine Exhaust Gas Filter)–Reset urea after the diesel exhaust treatment fluid is replaced or filled up.
20.COOLANT BLEEDING - Activate the electronic water pump.
21.NOX SENSOR RESET - Reset catalytic converter learned value stored in ECU.
22.STOP/START RESET - Set up the automatic start-stop function in ECU.
23.SEAT CALIBRATION - Calibrate the memory in replaced or repaired seats.
24.TRANSPORT MODE - Deactivate the transport mode.
25.WINDOWS CALIBRATION - Perform door window matching to recover ECU initial memory.
26.AC SYSTEM RELEARN/INITIALIZATION.
27.EGR RESET.
28.RESET FUEL ALCOHOL LEVEL.
29.RESET FUEL TRIM.
30.HIGH VOLTAGE BATTERY DIAGNOSTICS.
31.GPF REGENERATION.
32.LANGUAGE CHANGE - Change vehicle system language, etc.
(Available in the system menu and free. Depending on the specific car models,
NOT
for all cars. ) More and more function will be improved and optimized.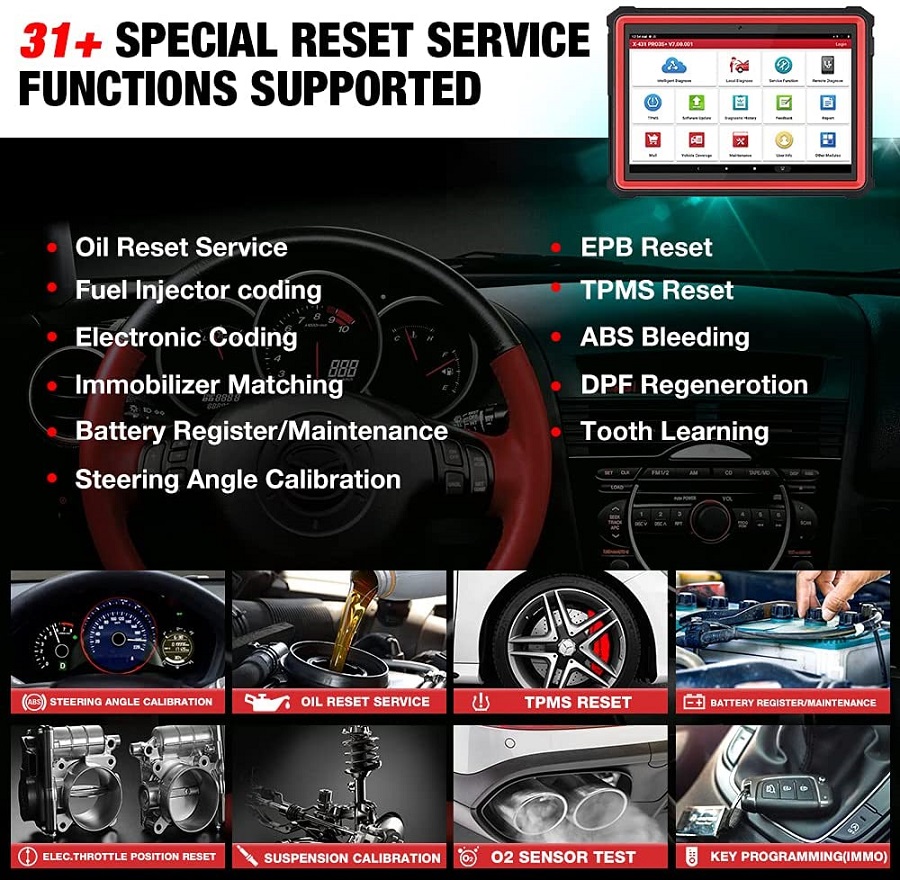 Supported Vehicles List:
- European Cars:
For Audi, For Mercedes-Benz, For Maybach, For BMW, For Mini, For HCBMW, For Rollsroyce, For Citroen, For Fukang, For Ferrari, For Fiat, For Abbas, For Lancia, For Romeo, For NanjingFiat, For GAZ, For LandRover, For Jaguar, For Martha Lahti, For Open, For GMSA, For Vauxhall, For Peugeot, For DFPeugeot, For Porsche, For Renault, For Dacia, For Rover, For SAAB, For Skoda, For Seat, For Smart, For Transporter&V-Class, For VAZ, For Volvo, For VW, For Bingley, For Bugatti
- American Cars:
For Brazil Fiat, For Brazil GM, For Chrysler, For Dodge, For Jeep, For GM, For Buick, For Cadillac, For Chevrolet, For Ford, For ChinaFord, For Lincoln, For EuropeanFord
- Asian Cars:
For Daewoo, For Daihatsu, For Honda, For Acura, For DFHonda, For GZhonda, For Hyundai, For Ikco, For India Mahindra, For India Maruti, For India Tata, For JPIsuzu, For TLIsuzu, For Kia, For Luxgen, For Mahindra, For Malaysia Asia Pacific Perodua, For Malaysia Asia Pacific Proton, For Maruti, For Mazda, For YQMazda, For Mitsubishi, For Nissan, For Infiniti, For DFNissan, For Perodua, For Proton, For SAIPA, For Ssangyong, For Subaru, For Suzuki, For TATA, For Toyota, For Lexus, For TJToyota
- Australian Cars:
For Australia Ford, For Australia Horton
- Chinese Cars:
For Chang'an, For ChangCheng, For Chenghe, For DR automotive, For ECUADI, For BYD, For Foton, For Hafei, For Haima, For Brilliance, For Jiangling, For Iveco, For Jac JAC refine general, For Gonow Auto, For Xiamen Golden, For Kowloon, For Lifan auto, For GSMW, For SAIC Chase, For MVW Automotive, For Chery, For SAIC and MG, For SGM, For CHCHEVROLET, For CHBuick, For CHCadillac, For Tianjin FAW, For XinKai, For ZhongShun, For ZOTYE, For Zhongxing
(Note: Some car brands can only be used after the payment, please contact us before purchase.)
Product Specifications:
The screen size of X431 PRO3S+ (10.1 inches) based on Andoird 9.0 is larger. One screen can display 15 data stream (Graphic and textual), which is easy to navigate.
X431 PRO3S+ with 2.4GHz&5GHz dual-band Wi-Fi, the transmission rate is 4 times faster than the old version.
7000mAh rechargeable battery (up to 15 hours or more of battery life) to avoid frequent charging.
32+ 128GB (expandable) storage to save more vehicle documents and customer data.
CPU processor updated from 1.4GHz to 1.8GHz eight-core to perform diagnostics quickly and efficiently.
Multi-PID Live Data Graphing IN 1 Screen: One screen can display 15 data stream (Graphic and textual), which is easy to navigate.
8X FAST AUTO VIN technology
Package Includes:
1pc x Display tablet
1pc x VCI connector
1pc x OBD II extension cable
1pc x Password envelope
1pc x USB cable
1pc x Power adaptor(Optional)
1pc x Battery clamps cable(Optional)
1pc x Cigarette lighter cable(Optional)
1pc x OBD I adaptor box(Optional)
1pc x Non-16pin adaptor cable kit(Optional)
---
Customer Service:
Mrs.Bella
Email: sales@obd16shop.com
Whatsapp:+8615271813909
Skype: eobd11

About Shipping Way
1.DHL Shipping: 5-7 working days. With DHL shipping, we will declare lowervalue on invoice for customers to help customs clearrance .If customer have special requirements on declaring, please contact salesman on order page, online chat,email, skype or whatsapp. Usually we can reply in 24 hours on workingg days.
2.Yanwen express: 7-10 working days.We usually ship orders by Yanwen to European countries like German,Greece,Romania,Sweden,France,etc.By yanwen express, customer dont need to pay for tax. Tax is pre-paid. If customer needs faster shipping, please contact salesman.
3.US, UK, EU shipping directly fast and no tax : 3-5 working days.We have stocked up hot sale items in US, UK, EU Warehouse ,which is more convenient for you. Free TAX, faster shipping with cheaper price.
Click and check items in US Warehosue UK Warehouse

About Cancellation Policy
1.You can get a full refund if you make cancellation within 24hours. Because usually we will ship out package within 24 hours, for get full refund, please send us a cancellation note via order center or email.
2.If your cancellation made after 24 hours, please contact our customer service first, you can easily get touch with our customer service via email or any online contact method like skype, whatsapp or online chat. If customer service confirm your order have not been ship out, you can get a full refund
3. If your order has been proceed but have not get out of China(including Hongkong area), you can still cancel our order but you have to pay for the cancellation fee.(Detail fee please consult customer service for your order)
4. If the order already out of China, the order can not be canceled. If you want cancel it, you need send it back after you receive the package and you will need to undertaken the return fee.