Product Description
With Smart Box 3.0 J2534 interface, Supports DoIP and CAN FD Protocol
Supports FCA AutoAuth, VAG Guided function
Upgraded from X431 V+, Pros Mini, PRO3, TURBO, Throttle
Add Modules to Expand Features, IMMO, TPMS, ADAS, Battery Tester, Videoscope etc
Product Introduction:
Launch X-431 PRO5 opens the era of innovative dual diagnostic modes (local diagnosis and SmartLink remote diagnosis). It inherits the powerful diagnostic strength of PRO series and comes with multiple advantages, such as wide vehicle model coverage, numerous special functions, strong diagnostic functions, accurate diagnostic data and more.
The hardware of X-431 PRO5 is greatly improved. It adopts the Android 9.0 system, a 8-core 1.8GHz processor and a 1920x1200 IPS HD display screen, providing 3GB RAM memory and 32GB ROM storage which ensures faster and more stable running. It also comes with a bracket, making it more convenient to use.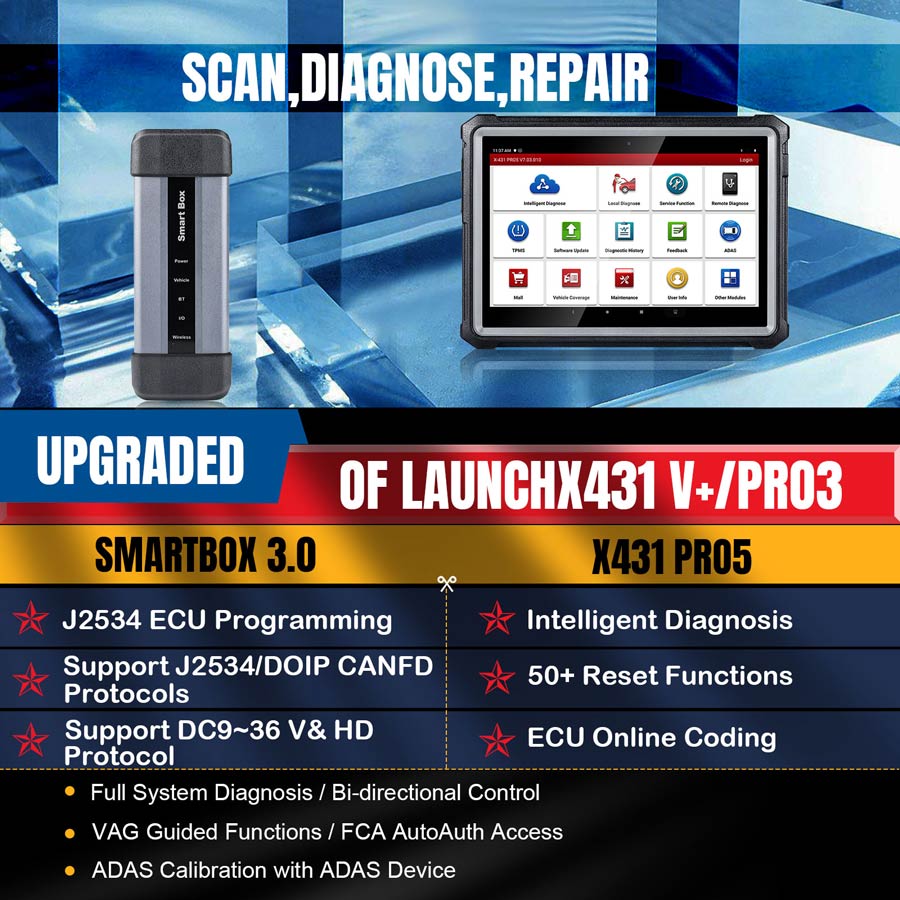 Product Features:
1. 2022 New Arrivals, NO IP limited, 1 Years Free Update
The genuine X431 diagnostic scanner officially authorized from LAUNCH; no IP restrictions; 1 year software update at no costs.
2. Multilingual Support
Chinese Simplified, English, Traditional Chinese, Japanese, Korean, French, Spanish, Portuguese, Italian, Russian, German, Polish, Romanian, Dutch, Arabic, Czech, Danish, Greek, Persian , Finnish, Hungarian, Swedish, Turkish, Serbian, Croatian
3. Upgraded from X431 V+/Pros Mini/PRO3/TURBO/Throttle
A rich array of future-proof functions for productive works:
1) SmartBox 3.0, J2534 ECU Programming, Intelligent AutoVIN & AutoScan, Active Tests, All System Diagnostics, VAG Guided Function, FCA AutoAuth Access, etc.;
2) Advanced Online ECU Coding & Adaptations brings more personal settings;
3) 50+ service functions with more frequent updates to support more vehicles.
4. SmartBox 3.0 -- Multifunctional Connector
1)Fix the most vehicles with OE-level vehicle coverage; meet SAE standards for J2534-1 & -2, CANFD, DOIP;
2) Serves as a wireless VCI.
5. OE-level Car Coverage
OE-level Car Coverage - 100+ car brands, 20,000+ models from the US, European, and Asian car markets; still expanding.
6. Intelligent Diagnoses
AutoVIN & AutoScan powers all-systems DTC scans that clock in at an average of < 3 minutes.
7. Full Bidirectional Active Test
Effectively test car components on demand.
8. FCA AutoAuth Access
Bypass SGM in FCA vehicles seamlessly and within seconds; works on 2017 and later Chrysler, Dodge, Jeep, Alfa Romeo, Fiat, etc. *Need AutoAuth subscriptions.
9. VAG Guided Function
Skip the routine procedure of entering the security access code & channel number for VW, Audi, Skoda, Seat vehicles.
10. Add Modules to Expand Features
ADAS Calibration Toolkit; VSP-600 VideoScope; X431 TPMS TSGUN; BST360 Bluetooth Battery Tester; X-PROG & X-PROG3 Immobilizer.
11. Non-16pin Connectors & Cables Kit
Enable to work on varied vehicles across the world.
12. User-Oriented - One-touch software updates
24/7 online feedback; save, record data, and automatically generate reports to share via email; 12-channel graphic live data stream displayed in one screen with max. 4 streams can be merged; 25 languages menu.
13. Great Combination
Android 9.0 OS, 8-core 1.8GHz processor, 4GB RAM & 64GB ROM (128G expandable), 10.1" HD 1920*1200 touchscreen, 8MP rear & 5MP front camera, 7000 mAh battery, etc.
Product Functions:
J2534 ECU Programming
---- coming soon
Serve as J2534-Compliant VCI - compatible with Toyota, Honda, Volvo, VW, GM, Chrysler, Benz, Jaguar, Land Rover; offering cost-effective access to data and OE programming downloads from vehicle manufacturers.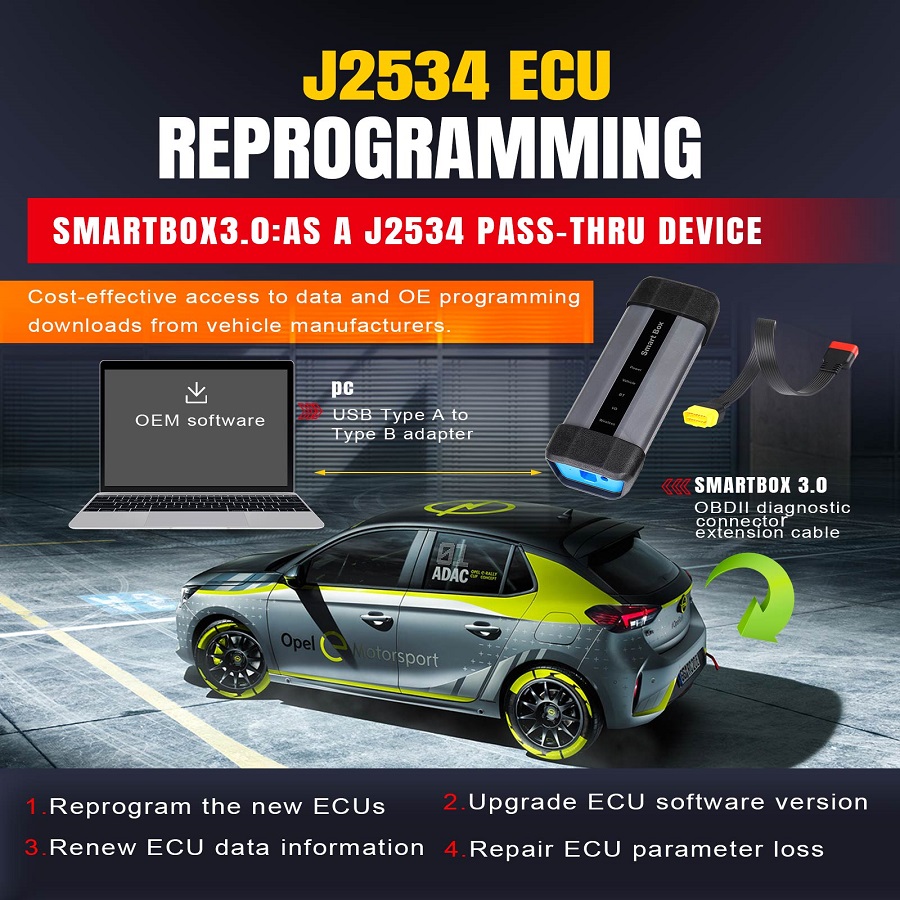 ECU Coding
: Alter the Car on Your Demand
From manufacturer-specific reprogramming to full diagnostic capability, this LAUNCH diagnostic scanner also has the magic power "ECU Coding" to keep you on the cutting edge:
1)You can match, relearn, and code the newly installed ECU module after making repairs or replacements.
2) You can change the market-specific settings to activate higher-level car functions and disable unneeded features, breaking limitations.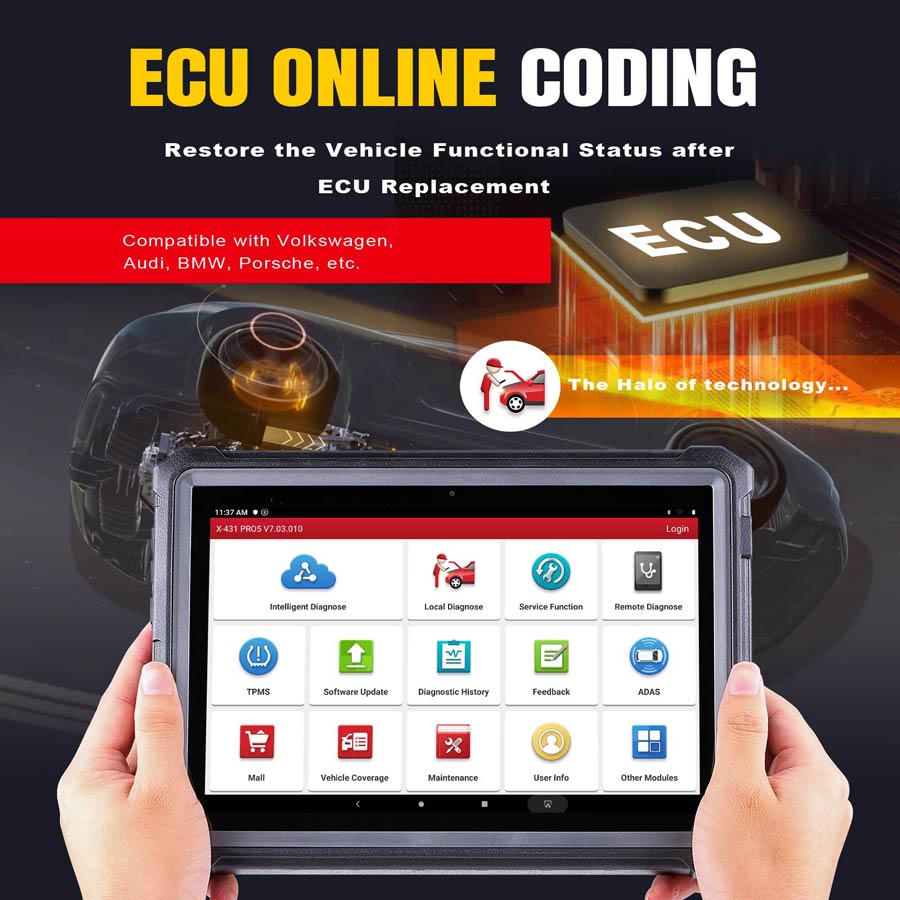 Active Test
----Enhance Your Experience.
This X431 scan tool also functions as a bi-directional car scanner to perform specific tests and functions without using the vehicle's own controls to save time. For example: using the diagnostic tool to command the fuel pump on. If the fuel pressure gauge shows proper fuel pressure, you'd know the fuel pump circuit and pump are functioning properly. The process just takes < 5 minutes. If test manually? Three times as long!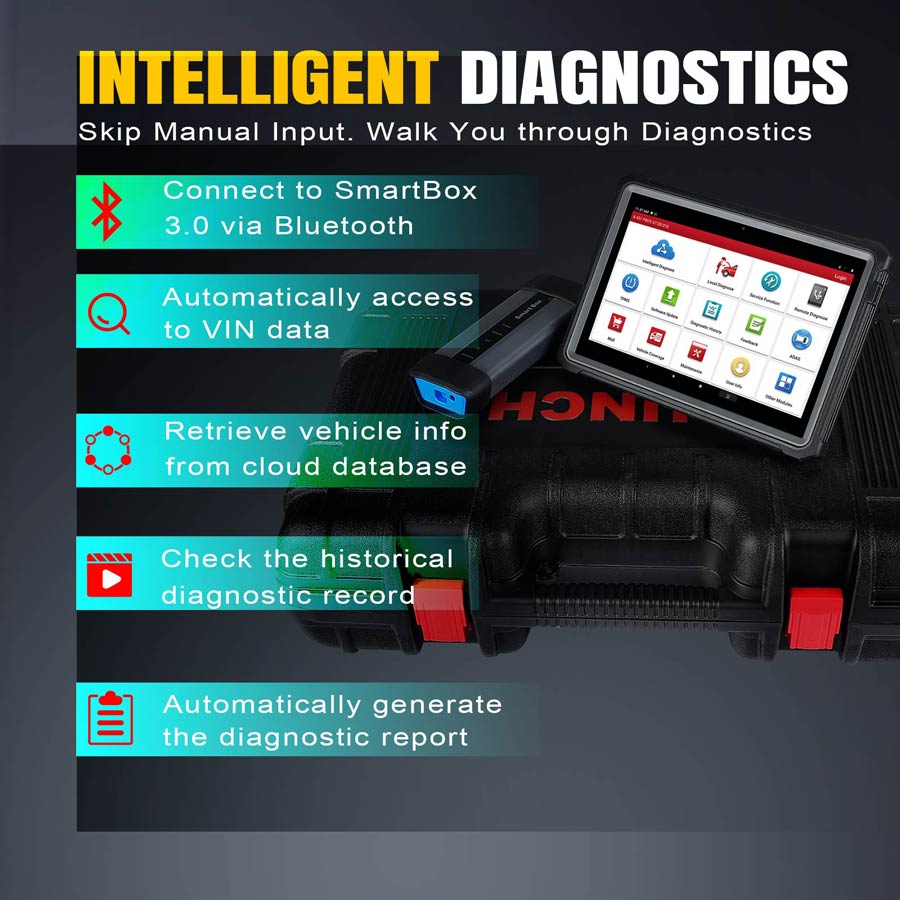 Guided Functions
Guiding you to be an expert in automotive diagnostic.
Compatible with Volkswagen / Audi / Skoda / Seat etc.
Advanced All Systems Diagnoses
This LAUNCH diagnostic scanner can establish a data link to all systems and subsystems of the vehicle being serviced to:
1) Retrieve ECU information including unit type, version numbers, and other specifications, etc.
2) Read & erase DTCs to locate problem areas and clear the codes.
3) View Live Data of each parameter item.
4) This comprehensive scanning process is able to locate the faulty systems and retrieve the DTCs related easily. So you can work on all parts of the vehicle systems to enhance performance, save energy, reduce emissions, and everything else.
50+ Hot Reset & Relearn Maintenance Services
You can easily choose multiple commonly-used service functions, follow their clear and precise instructions to complete complex projects much faster, including but not limited to the following:
-Oil Maintenance Light Reset: reset the oil service lamp; re-calculate the optimal oil life change interval.
-Steering Angle Reset: reset the steering angle to zero to keep the car running straight.
-Injector Coding: write the new injector code into the system to correct cylinder injection quantity.
-Electronic Parking Brake Reset: help replace and reset the brake pad.
-ABS Bleeding: help exhaust the air in ABS system in an easy way.
-Throttle Matching: initialize the throttle actuators to the default state.
-Battery Matching: register the battery after replacement.
-DPF Regeneration: help remove the particulate matter to keep the trap stable.
-Anti-theft Matching (IMMO Service): disable lost keys to prevent the car from being stolen, and add new keys. *Limited in default; can be fully upgraded with X-PROG & X-PROG3.
-Tire Pressure Reset: reset the tire pressure.
-Suspension Level Calibration: adjust the vehicle body height sensor for level calibration.
-Headlight Matching: initialize the adaptive headlamp system.
-Gearbox Matching: help complete the gearbox self-learning to improve gear shifting quality.
-Sunroof Initialization: initialize the sunroof when to be locked off, or closed.
-Tooth Learning: help to finish tooth learning after changing crankshaft in the car engine.
And many more with expanding. Function menus vary by manufacturer, year, and model. Reach us for compatibility check.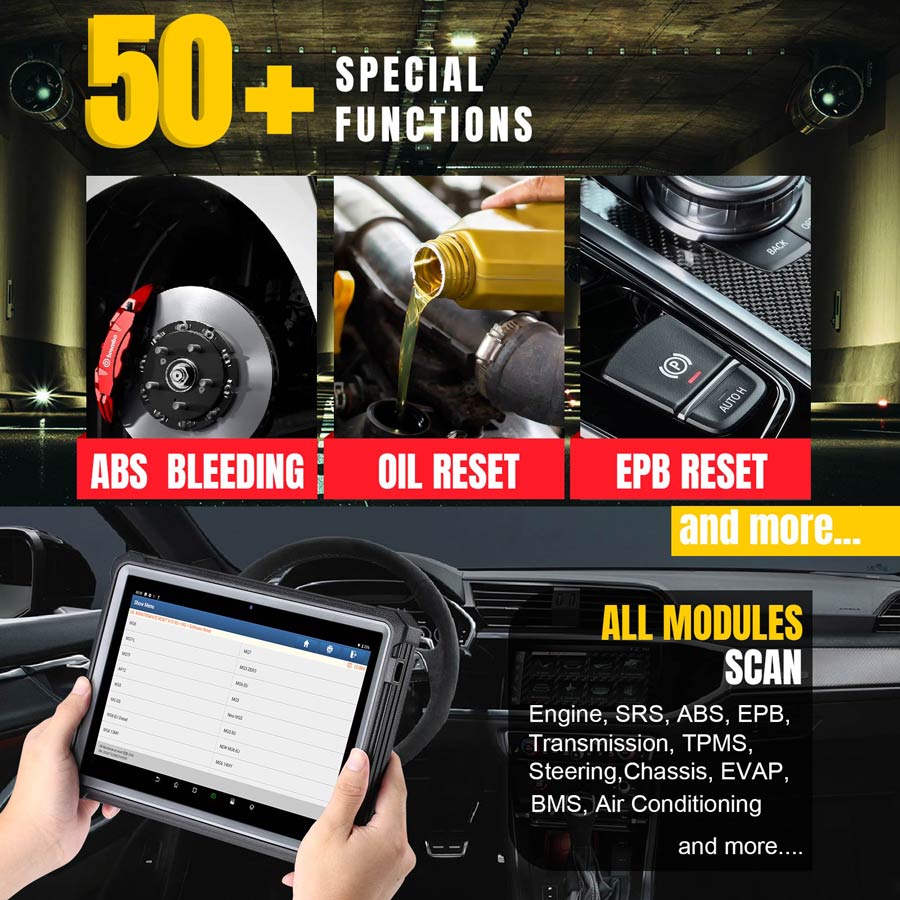 TPMS Programming
Activate all sensors,TPMS relearn,Program
AUTOVIN--- Maximize Your Intelligence
This intelligent scanner will automatically identify the make, model, and manufacture year in one touch; help you match the right software so the diagnosis will be carried out fast and efficiently. You will also enjoy how smart it would be to record the test results as Inspection Report, being done by itself, letting you maintain vehicle health logs and share the information easily.
Remote Diagnosis
Users can carry out the remote diagnosis to ask for the remote control from other LAUNCH diagnostic tools (including but not limited to V+ 4.0), which are equipped with the remote diagnosis module as well, or from a PC client technician. This has realized the reality that a mechanic can diagnose an abnormal vehicle, which is even thousands of miles away.
Health Report Generate and Share
With LAUNCH X431 pro 5, you can generate a full system Diagnostic Report by ONE-CLICK. The reports can be emailed to the office or directly to your customer. You can also print out the vehicle health report card.
Print Diagnostic Result
You can share car diagnostic data via email ,then print it via PC, or optional wifi , and you can order Launch x431 mini wifi printer , then one-key printing.
Wide Vehicle Coverage across the Global -American Cars
Boost Your Efficiency
See what your car is doing in real time; get car performance, sensor data and more at one glance! This diagnostic scanner presents the live data stream in 3 modes: a. Numbers and lists (default); b. Wave patterns (max. 12 channels in one screen); c. Merged graph (max. 4 data can be merged) for you to quickly identify if the data are in normal conditions, ranges or not.、
Product Specifications
:
Specification for Launch X431 PRO5 Tablet
Display: 10.1-Inch ,1920x1200 FHD IPS
CPU: 8-Core Processor, 1.8 GHz
Camera: 500,800
WI-FI: 2.4GHz /5GHz
Android 9.0
RAM: 4G, ROM 64G
Battery: 7000 mAh / 3.8V
Operating voltage: 9~36V
Storage Temperature:-20℃~70℃ (-4℉~158℉)
Working Temperature:0℃~50℃ (32℉~122℉)
Dimension: 267*191*33 mm (10.51*7.52*1.30 inch)
Package size: 594*164*410 mm (23.39*6.46*16.14 inch)
Specification for VCI Connector
RAM: 256M
ROM: 8G
Wi-Fi: 2.4GHz/5GHz dual-band
Working Temperature: 0℃~50℃ (32℉~122℉)
Operating voltage: DC9~36 V
Dimension: 200*75*40 mm (7.87*2.95*1.57 inch)
New protocol support: J2534, CANFD, DOIP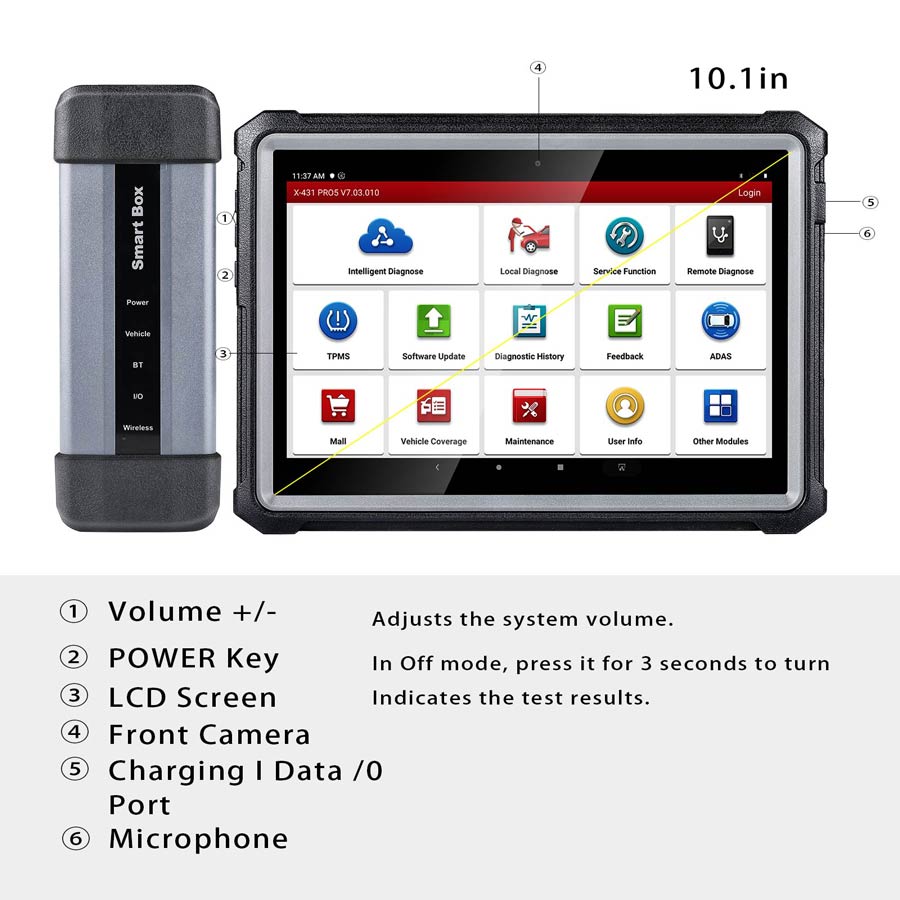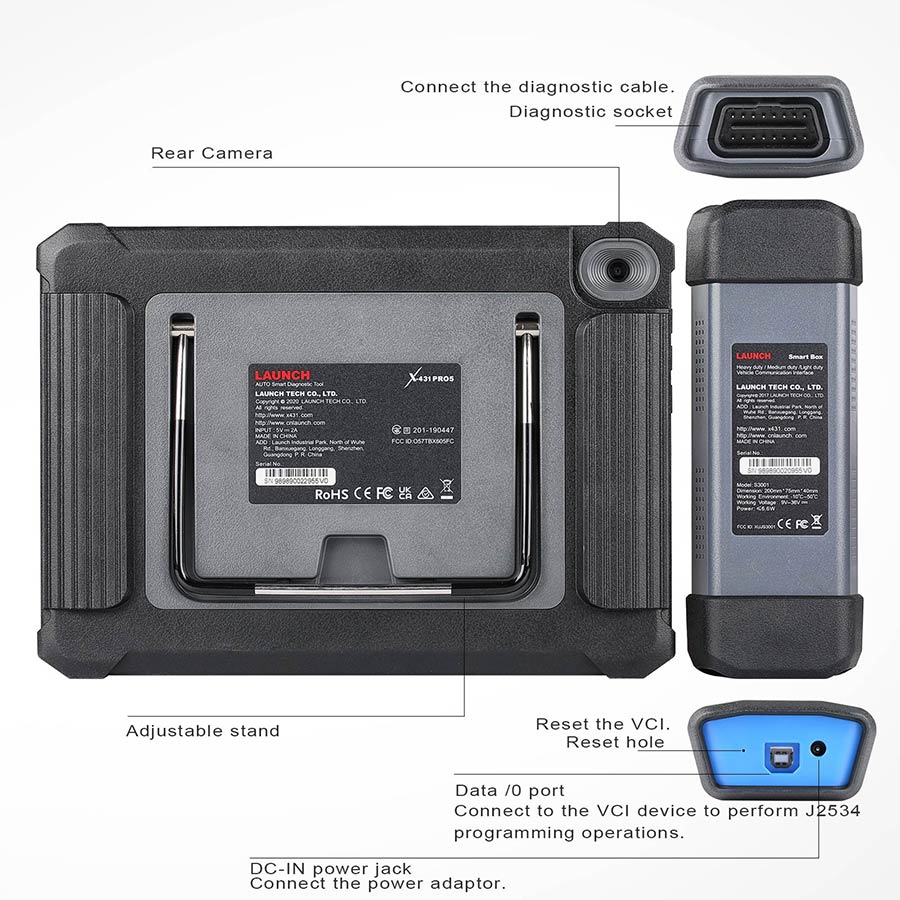 Package Includes:
1pc x Display tablet
1pc x SmartLink C device
1pc x Power adaptor
1pc x OBD II extension cable
1pc x Charging cable (Type A-Micro)
1pc x Data cable (Type A- Type B)
1pc x Crossover cable
---
Customer Service:
Mrs.Bella
Email: sales@obd16shop.com
Whatsapp:+8615271813909
Skype: eobd11

About Shipping Way
1.DHL Shipping: 5-7 working days. With DHL shipping, we will declare lowervalue on invoice for customers to help customs clearrance .If customer have special requirements on declaring, please contact salesman on order page, online chat,email, skype or whatsapp. Usually we can reply in 24 hours on workingg days.
2.Yanwen express: 7-10 working days.We usually ship orders by Yanwen to European countries like German,Greece,Romania,Sweden,France,etc.By yanwen express, customer dont need to pay for tax. Tax is pre-paid. If customer needs faster shipping, please contact salesman.
3.US, UK, EU shipping directly fast and no tax : 3-5 working days.We have stocked up hot sale items in US, UK, EU Warehouse ,which is more convenient for you. Free TAX, faster shipping with cheaper price.
Click and check items in US Warehosue UK Warehouse

About Cancellation Policy
1.You can get a full refund if you make cancellation within 24hours. Because usually we will ship out package within 24 hours, for get full refund, please send us a cancellation note via order center or email.
2.If your cancellation made after 24 hours, please contact our customer service first, you can easily get touch with our customer service via email or any online contact method like skype, whatsapp or online chat. If customer service confirm your order have not been ship out, you can get a full refund
3. If your order has been proceed but have not get out of China(including Hongkong area), you can still cancel our order but you have to pay for the cancellation fee.(Detail fee please consult customer service for your order)
4. If the order already out of China, the order can not be canceled. If you want cancel it, you need send it back after you receive the package and you will need to undertaken the return fee.