Product Description
Orange 5 super pro programmer is a professional programming device for memory and micro-controllers. Unique feature of the current series programmers is its built-in macro language to write down protocols, which gives fast and easy capability to add new types of micro schemes, precisely meeting manufacturers' requirements to read/write algorithms.
[ Flash Sale][Full Actived] Orange 5 Super Pro V1.36 Professional Programming Device With Full Adapter OBD2 Auto Programmer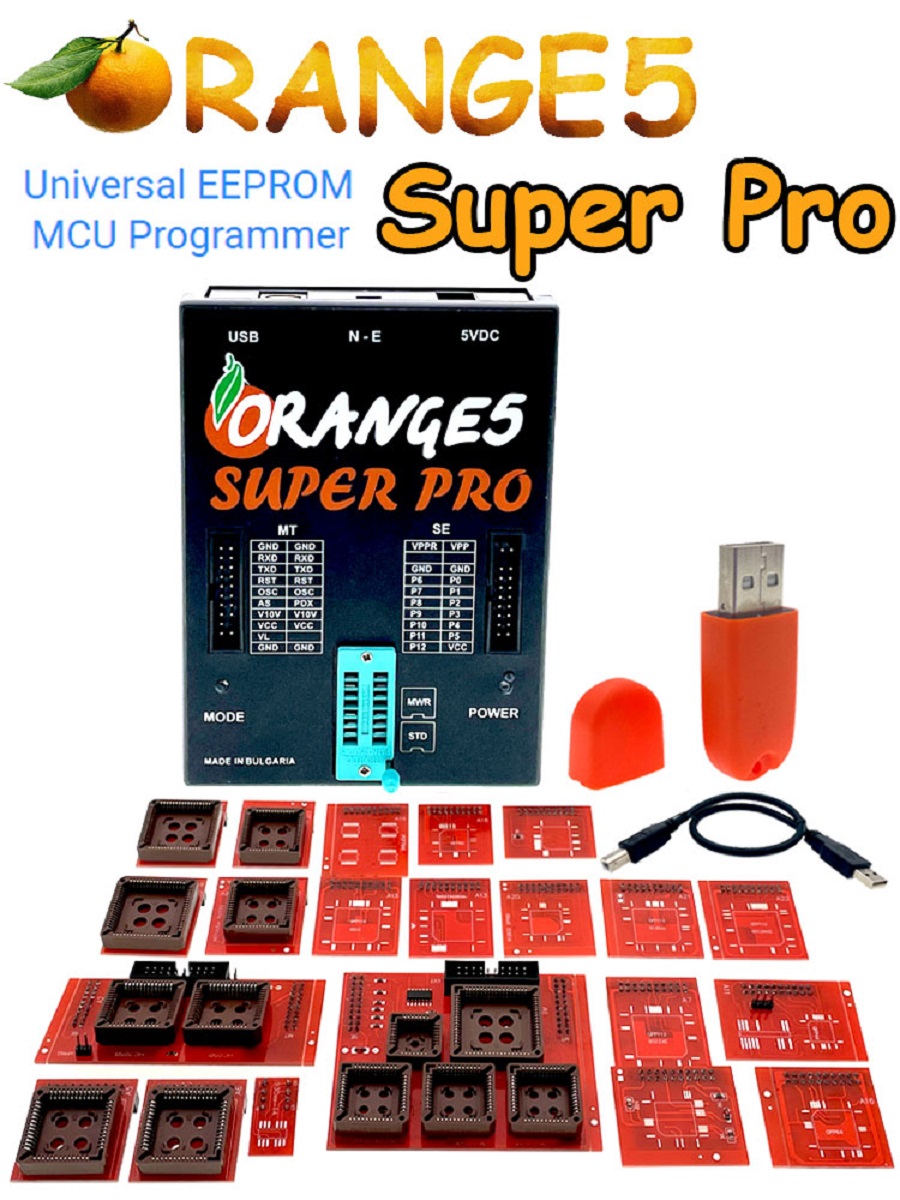 Software Version:
v1.35 full function + V1.36.
Language:
English, Russian
Systems:
WIN XP/ WIN7/ Win10(32bit and 64-bit)
Oragne5 SUPER PRO Software V1.35 Free Download
Orange 5 Super Pro Software V1.36 Free Download
Product Features:
Software Version:V1.36 and orange 5 super pro v1.35 full function.
Language:English,Russian
Systems: WIN XP/ WIN7 (32bit and 64 bit)
Note: Dongle use to 08-airbag and 09-dashboard modules.
Supports any COM ports, incuding virtual ones from 1 to 20
Works with text (ASCII) and HEX mode
Creating a list of commands that allows editing and fast sending
Fine-tuning the exchange rate
Saving files including command and port settings.
Saving incoming data in binary files
File transfer via serial port.
Delay settings for bytes and blocks
"Echo" mode
Delay settings between incoming data
Management of DTR, RTS chains, visualizing DSR, CTS, CD, RI
Program doesn't need to be installed
Supports Orange5 programmer in emulation mode.
OEM Orange5 user review:
Confirmed that OEM orange 5 comes with immo hpx 9.0 and adapter set. very easy to install
All functions open 1 - 10 except car radio get error
Tested reading usual eeproms all good
Tested immo login code from dump, tms vw works
The adaptor solder
Read 1d69j adapter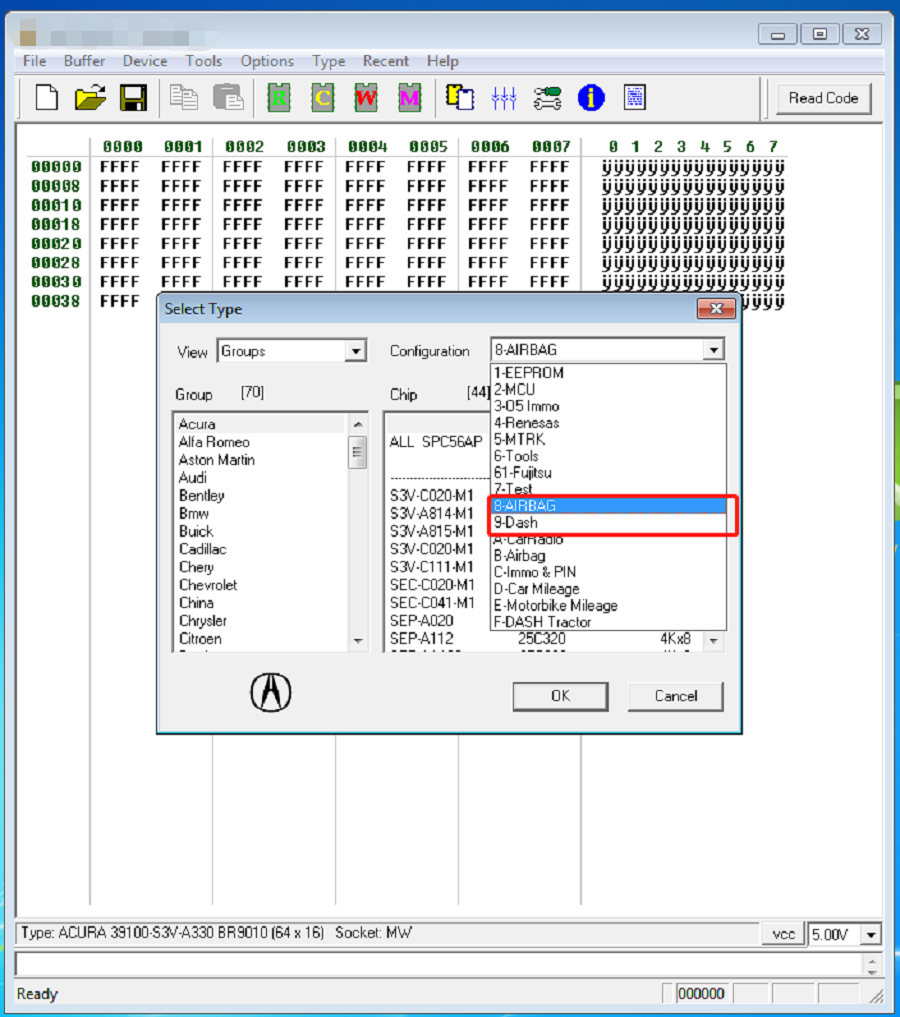 Top 3 Reasons to Choose Orange 5 Super Pro:
1.If you buy our orange 5 super pro ,we will send orange 5 v1.36 software as a gift.
2.It support more scripts and Wiring diagrams,v1.36 just about 60MB ,but super pro is 2GB .
3.Orange 5 super pro add many new licenses : 08-airbag and 09-dashboard.A-car radio,B-airbag,C- immo&pin,D-car mileage,E-motorbike mileage,F- dash tractor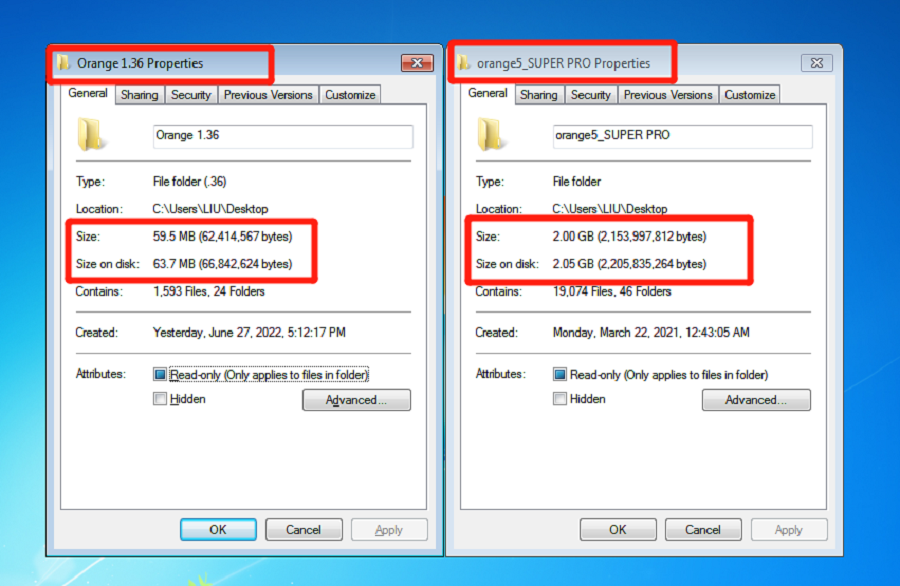 Software Licenses:
MTRK (Included in Orange-5 base)
TMS (Included in Orange-5 base)
M08V NEW
Immo HPX 9V0
NEC V850ES/SJ3 V850ES/SG3 UART
NEC V850E2 NEW
New Licenses:
MCU ( Infineon,ST and MicroChip)
Renesas: H8SX,HD64F,V850 UART,V850 SPI,RH850 V3,RL78
Special_05
AIRBAG
Dash
Fujitsu
F-DASH Tractor
EEPROM
A/B/C/D/E moudels
The Differences Between Orange 5 Plus and Orange 5 Super Pro :
We have more chip models than others in Infineon, ST and MicroChip of MCU, as shown in the figure:
Renesas: We have more licenses for H8SX, HD64F, V850 UART, V850 SPI, RH850 V3, RL78 than others
Our 17 models have activated the license and can be used normally, more than others, such as H8SX, V850 UART, V850 SPI, RH850, etc.
We guarantee that everything displayed can be used, no fake stuff, so we will not show this module option in the file we send to customers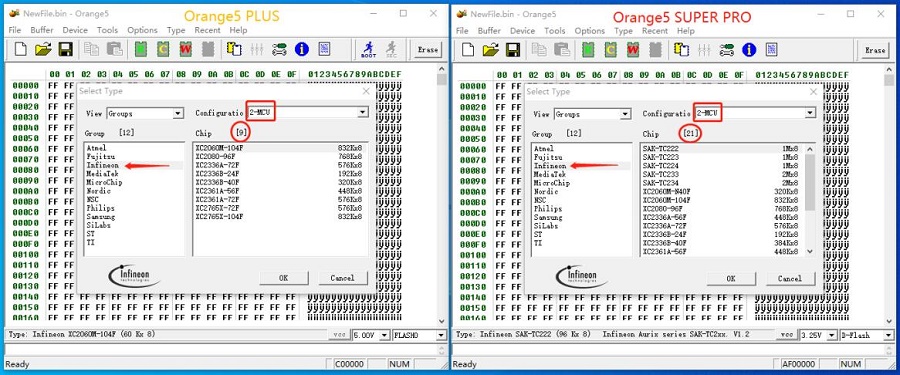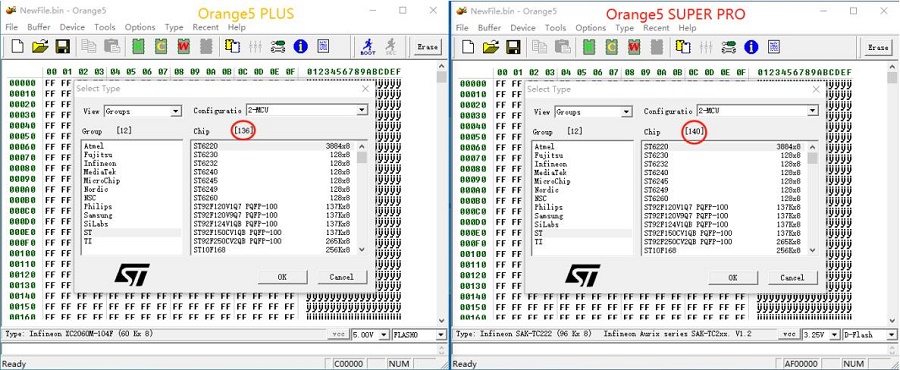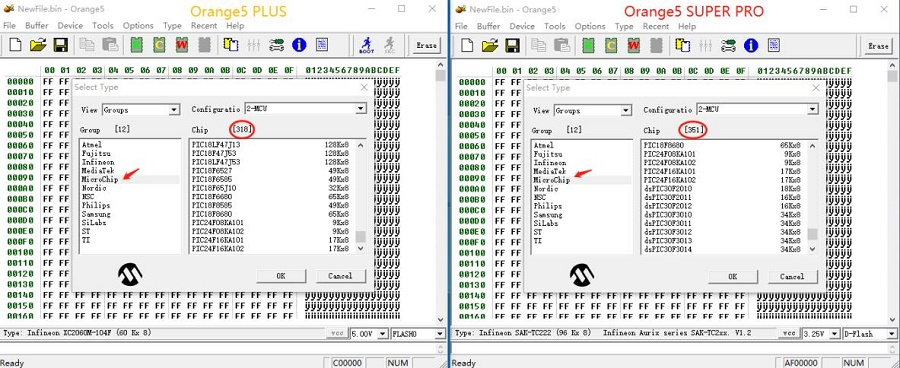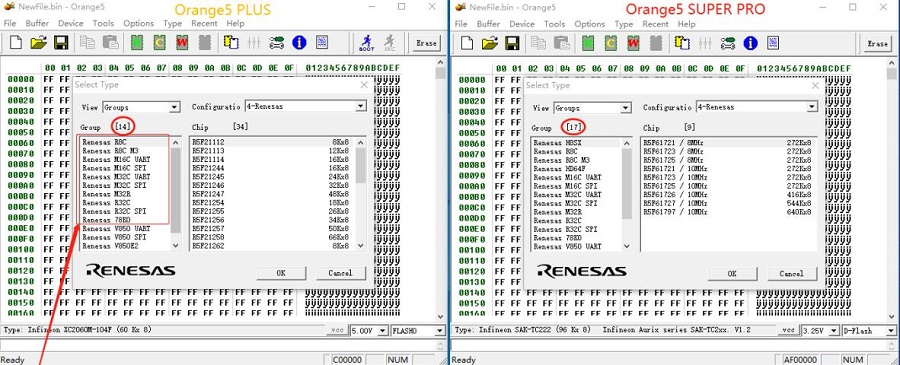 Although Orange5 plus has 14 models, but only 10 modules in the red frame can work, meanwhile, Orange 5 Super Pro's 17 models have activated the license and can be used normally, more than others, such as H8SX, V850 UART, V850 SPI, RH850, etc.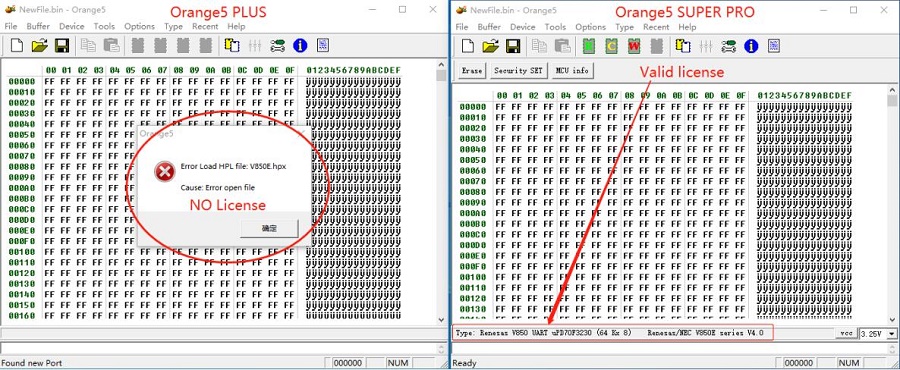 Orange 5 plus has these buttons,but there is no licenses, so it can't work!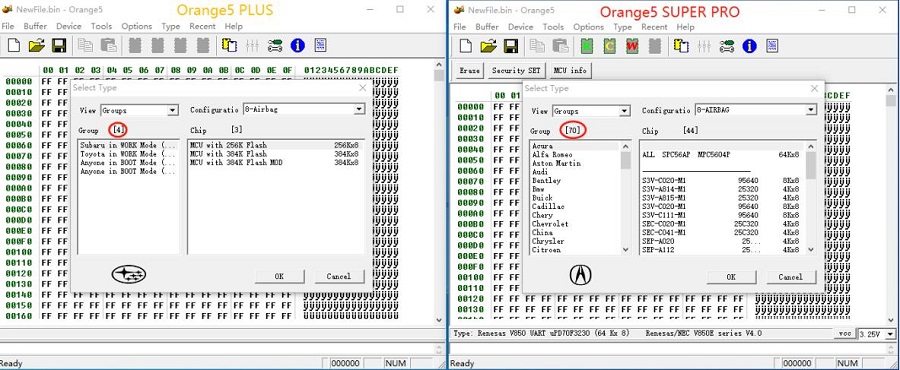 The Greatest Advantages of Orange 5 super Pro Programmer:
AIRBAG: 2020 database, 70 car brands, mostly with help files (wiring diagrams, etc.) ✔
Dash: 2020 database, 70 car brands, including cars, trucks, motorcycles, snowmobiles, tractors, construction machinery, etc., and most of them have help files such as wiring diagrams✔
The following screenshot shows part of Dash's model list:
Fujitsu: We have this module, but other products do not have this moduleWe have 61-Fujitsu series, MB90 series, 91/95/96 series DASHBOARD ECT. Others has no these moudels
F-DASH Tractor: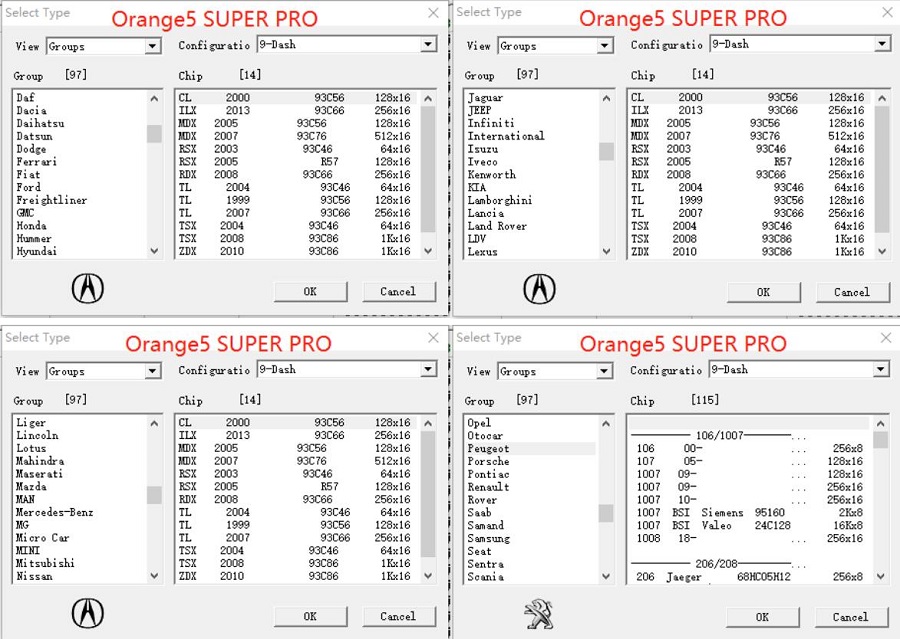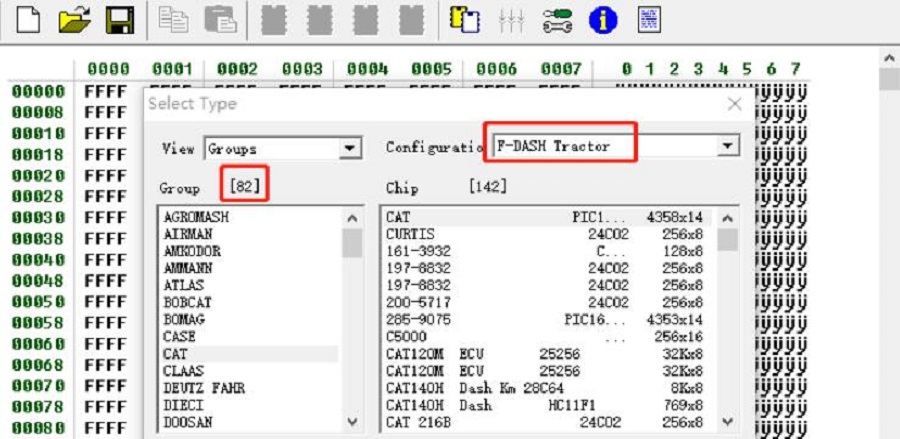 Orange 5 Super Pro Technical Info:
USB power supply (USB2.0/3.0)
Universal easy to plug panel ZIF16 for EEPROM
Control of contacts in the sockets
Two expansions compatible with Orange4 and Omega MTRK
Protection against overcurrent
Overload voltage protection
Two types of power supply: Standart (USB) and enhanced (USB + external power supply)
Three 3 adjustable voltage and current control: Voltage of power supply ( 2.0...5.0V ), programming voltage (2.0...21.0V), additional static 10V for microcontrollers
High-speed bidirectional pin drivers with adjustable voltage (2.0...5.0V)
Wave cycle generator with frequency ( up to 24 Mhz) and out voltage(2.0...5.0V) adjustment
Capability of functional emulation of class CDC USB devices
Built-in 32-bit virtual machine
Supported interface: I2C, SPI, MicroWire, JTAG, UART, BDM, ISO7816, K-LINE (via adapter), CAN (via adapter)
Programmer is encolsed in a functional box. Supported working under Windows XP/7 32bit. [*Win8.1]
- Installation and Work with Orange-5 under Windwos 7 and Windows 8.1
CnCterm - Terminal program for work with COM ports.
Orange5 Super Pro Software Download URL:
https://mega.nz/file/6c4nBQJb#StikKVtqZ0ucFEP1WqDkCOlKeI5PwbD7ZslH70rt3ZQ
Orange5 Super Pro Programmer Chip List:
IMMO HPX 9V0
EEPROM: MicroWire, 4Wire, Adesto, AKM, Altera, Amic, Atmel, BOSCH, Catalyst, Chingis, Dallas/Maxim, EON, ESMT, EXEL, Fairchild, Fujitsu, GI, GigaDevice, Grundig, HOLTEK, Hynix, ITT, KHIC, Macronix, MicroChip, Micron, for Mitsubishi, for Motorola, NEC, NSC, Numonyx, OKI, PCT, Philips, Pioneer, PMC, Ramtron, Rohm, Samsung, Seiko, for Siemens, Sony, Spansion, SST, ST, Winbond, Xicor, XUSSR, YMC, MCU, Atmel, Infineon, MediaTek, MicroChip, Nordic, NSC, Philips, for Renesas, for Samsung, SiLabs, ST, TI, for Motorola, for Freescale, MC68HC11, MC68HC12
Package Includes:
1pc x Orange 5 Super Pro Programmer
1pc x TMS375C006/TMS370CX36/TMS370CX32/X42 A1
1pc x HC05B/HC705B A2
1pc x Adapter 11EA9/PLCC52 A5
1pc x Adapter 908AS60 PLCC52 A6
1pc x Adapter QFP112/9S12XE QFP80/9S12XE/9S12XS A7
1pc x HC11A/EXX PLCC52 A8
1pc x Adapter HC11F1 A9
1pc x Adapter 908AS60/AZ60 QFP64 A10
1pc x 705E6/705P3/05P3 A11
1pc x Adapter 68HC11L6 A12
1pc x Adapter TMS374C003A A13
1pc x Adapter 05B/X_705B/X QFP64 V2 A14
1pc x Adapter QFP112/9S12 QFP80/9S12DXX A15
1pc x Adapter QFP64 A16
1pc x Adapter 68HC05H12 A17
1pc x Adapter QFP64/QFP80 A18
1pc x Adapter PCF7941 A19
1pc x Adapter 912B32 QFP80 A20
1pc x Adapter 912Dxx A21
1pc x Adapter 9S12HZ/QFP80 1 9S12XHZ /QFP112 A22
1pc x Adapter 93CXX-14
1pc x USB Cable
---
Customer Service:
Mrs.Bella
Email: sales@obd16shop.com
Whatsapp:+8615271813909
Skype: eobd11

About Shipping Way
1.DHL Shipping: 5-7 working days. With DHL shipping, we will declare lowervalue on invoice for customers to help customs clearrance .If customer have special requirements on declaring, please contact salesman on order page, online chat,email, skype or whatsapp. Usually we can reply in 24 hours on workingg days.
2.Yanwen express: 7-10 working days.We usually ship orders by Yanwen to European countries like German,Greece,Romania,Sweden,France,etc.By yanwen express, customer dont need to pay for tax. Tax is pre-paid. If customer needs faster shipping, please contact salesman.
3.US, UK, EU shipping directly fast and no tax : 3-5 working days.We have stocked up hot sale items in US, UK, EU Warehouse ,which is more convenient for you. Free TAX, faster shipping with cheaper price.
Click and check items in US Warehosue UK Warehouse

About Cancellation Policy
1.You can get a full refund if you make cancellation within 24hours. Because usually we will ship out package within 24 hours, for get full refund, please send us a cancellation note via order center or email.
2.If your cancellation made after 24 hours, please contact our customer service first, you can easily get touch with our customer service via email or any online contact method like skype, whatsapp or online chat. If customer service confirm your order have not been ship out, you can get a full refund
3. If your order has been proceed but have not get out of China(including Hongkong area), you can still cancel our order but you have to pay for the cancellation fee.(Detail fee please consult customer service for your order)
4. If the order already out of China, the order can not be canceled. If you want cancel it, you need send it back after you receive the package and you will need to undertaken the return fee.