Product Description
Xhorse BCM2 solder-free adapter is the best affordable choice when all your keys are lost or when you want to add keys. It works with Key Tool Plus/ VVDI2+VVDI Prog. It's able to provide a simple and safe way to add keys as well as a solution when all keys are lost for AUDI vehicles. 
Xhorse VW Solder-Free Adapter Set for Audi Add Key and All Key Lost Solution Work with Key Tool Plus Pad and VVDI2
Product Introduction:
This adapter is used to read Audi's encrypted BCM computer data. There is no need to solder anymore while reading AUDI BCM2 module, therefore, it is friendly to the people without soldering techniques. Being solder-free it creates a safer environment and also protect users' money by avoid damaging AUDI BCM2 modules.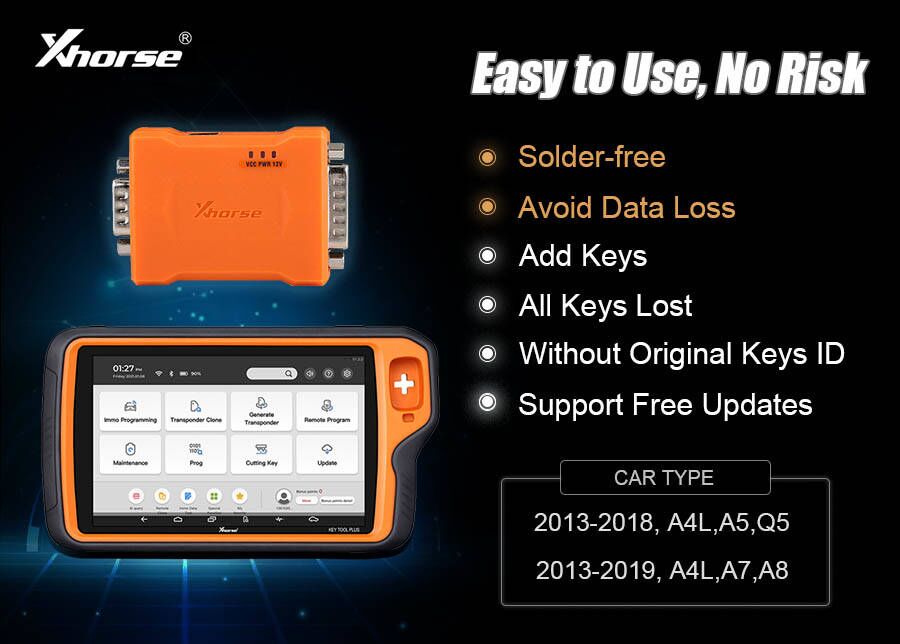 Xhorse BCM2 solder-free adapter brings convenience for locksmiths to greatly improve efficiency during key programming. With the adapters, users no longer need to disassemble and solder modules, which will surely save you much time.
2. Key Features of Xhorse BCM2 Solder-free Adapter Set For Audi:
I. All Key Lost, No Soldering Techniques Required.
II. No Need to Connect VW Server to Compute Data(Save Your Money).
III. Obtain BCM2 Immo Data Without Original Key ID
IV. Compatible with VVDI Key Tool Plus Pad and VVDI2 + VVDI Prog ( VVDI Prog is Used to Read BCM2 Data).
V. Real Free Update Online as other Xhorse tools.
VI. Use A Regular 754J Key on the market to Program. No Special Requirement on the Keys Used.
VII. Share BCM2 function in the Future Updates.
3. Product Details:
Xhorse BCM2 Adapter:
Xhorse PCB Connector:
Xhorse AUDI BCM2 Adapter Wiring Diagram:
​Connect the Device with VVDI2 + VVDI Prog (VVDI Prog is Used to Read BCM2 Data).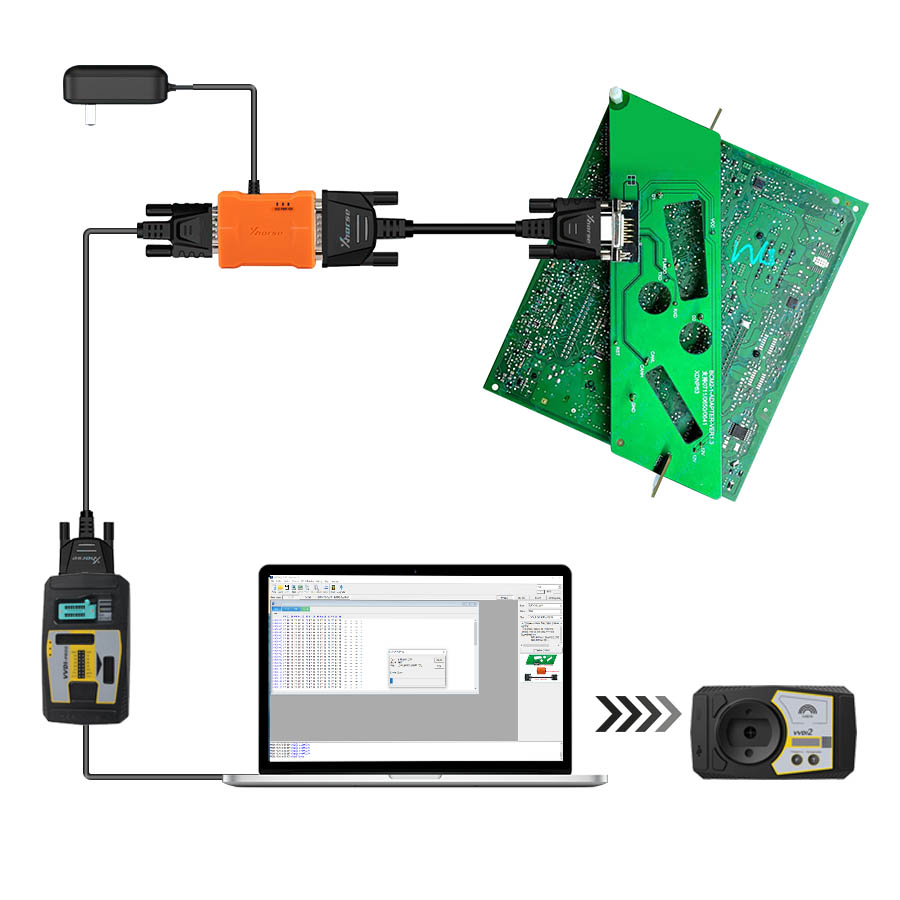 Connect the Device with VVDI Key Tool Plus Pad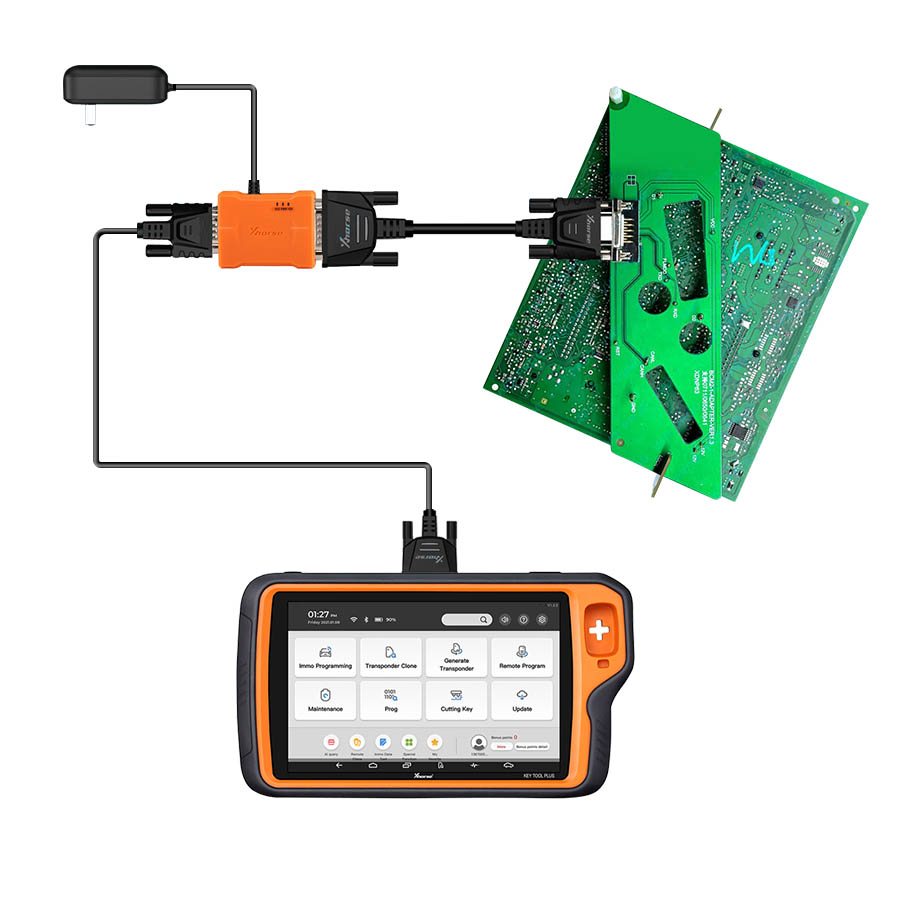 4. Supported Vehicles
Add Key
All Keys Lost
Read BCM2 Data
Synchronize Data
Read BCM2 Data
Synchronize Data
A4L/A5/Q5 -2013
OBD
No
OBD/some need remove BCM2
No
A4L/A5/Q5 2013-2019
Xhorse BCM2 Adapter
No
VVDI BCM2 Adapter
No
A6L/A7/A8 -2013
OBD
Obtain from the Working Key
OBD/some need Remove BCM2
Obtain from the Third Party
A6L/A7/A 2013-2019
OBD
Obtain from the Working Key
VVDI BCM2 Adapter
Obtain from the Third Party
FAQ:
Q1. Does it support A6L all key lost?
A1: A6L can't support yet. Currently, it only supports A4L, A5, and Q5 all key lost.
A6L supports reading BCM2 data in the all-lost state. You need to find a third party to synchronize the data.
Q2. Can it work with VVDI2 too instead of Key Tool Plus Pad?
A2: VVDI2 will also upgrade the software to support this function, while
it has to work together with VVDI Prog for reading BCM2 data.
Q3. Can I use OBD for A4L from 2013 to 2018?
A3: No. The 2013-2018 A4L needs to read BCM2 data through the Audi free
soldering adapter, while the A4L before 2013 can obtain BCM2 data by
OBD, and does not require a set of data.
Q4. Can I read BCM2 data directly by the solder-free adapters?
A4: The Audi kit-free solder-free adapter kit consists of 6 parts. Its
core component is the orange BCM2 adapter. As long as this adapter is
available, the BCM2 data can be read by soldering wires, but the adapter
is not currently sold separately. In addition, in order to prevent
welding damage to the BCM2 computer, we strongly recommend that novices
choose a solder-free adapter.
Q5. Is BCM2 easy to disassemble?
A5: It is more convenient, as long as people with a little hands-on
ability can do it, it is usually hidden behind the protective pad of the
car trunk, which is a buckle plastic box. You can take out the BCM2
circuit board by gently prying the buckle.
Q6. How much does it cost to synchronize data with a third party?
A6: Because there is currently no third party that specializes in
cooperation, you can consult a third party who can provide this service.
The specific cost is negotiated between you and the third party.
Q7. When is the delivery time?
A7: It is planned to ship in early September, and it will be shipped in
the order of booking submitted by the agent, first-order first-served.
Q8. Will there be any annual fees in the future? Will points be deducted?
A8: The adapter only charges a one-time fee, and it will be free for future use, and no points will be deducted.
Q9. Are there any special restrictions on the keys used?
A9: You can use the 754J key currently on the market.
5. Package List:
1 pcs* XDN63 BCM-1 Solder free Adapter
1 pcs* XDN64 BCM-2 Solder free Adapter
1 pcs* XDN67 BCM2-PROG Cable
1 pcs* XDN66 BCM-A2 Cable
1 pcs* XDN65 BCM-A1 Cable
1 pcs* XDN62 BCM2 Adapter
About Shipping Way
1.
DHL Shipping:
5-7 working days. With DHL shipping, we will lower declare order value on invoice for customers to help customs clearrance .If customer have special requirements on declaring, please contact salesman on order page, online chat,email, skype or whatsapp. Usually we can reply in 24 hours on workingg days.
2.Yanwen express:
7-10 working days.We usually ship orders by Yanwen to European countries like German,Greece,Romania,Sweden,France,etc.By yanwen express, customer dont need to pay for tax. Tax is pre-paid. If customer needs faster shipping, please contact salesman.
3.US, UK, Canada, Austrilia shipping
directly fast and no tax : 3-5 working days.We have stocked up hot sale items in US, UK, Canada and Australia Warehouse ,which is more convenient for you. Free TAX, faster shipping with cheaper price.
Click and check items in
US Warehosue UK Warehouse About Cancellation Policy
1.You can get a full refund if you make cancellation within 24hours. Because usually we will ship out package within 24 hours, for get full refund, please send us a cancellation note via order center or email.
2.If your cancellation made after 24 hours, please contact our customer service first, you can easily get touch with our customer service via email or any online contact method like skype, whatsapp or online chat. If customer service confirm your order have not been ship out, you can get a full refund
3. If your order has been proceed but have not get out of China(including Hongkong area), you can still cancel our order but you have to pay for the cancellation fee.(Detail fee please consult customer service for you order)
4. If the order already out of China, the order can not be canceled. If you want cancel it, you need send it back after you receive the package and you will need to undertaken the return fee.
Customer Service:
Email: sales@obd16shop.com
Skype: eobd11
yahoo: obd16com@yahoo.com
Phone:+8615271813909
Scan obd16shop QRcode, convinent and faster
Any problems, please feel free to contact us.
Kindly Note: pls leave your telephone number for shipping arrival when you make payment for this product on our website and make sure that your paypal shiping address is the same with the address you want us to sent.Before signing,pls confirm everything is good.