Product Description
XTOOL D7 is an all system bi-directional diagnostic scan tool with OE-level full diagnoses. It is 2022 newest model of automotive diagnostic tool. XTOOL D7 allows you to request information or command a module to perform specific tests and functions, while observing the resulting data to troubleshoot and get fast repair.
XTOOL D7 can save the mechanic/workshop loads of time and help them get through more jobs every day.
XTOOL D7 Automotive Diagnostic Tool , Bi-Directional Scan Tool with OE-Level Full Diagnosis, 26+ Services, IMMO/Key Programming, ABS Bleeding

Product Features:
Powerful OE level diagnostics for more than 80 US, Asian and European makes and models.
Complete capabilities for read & clean codes, live data, active test, ECU information, adaptation, matching, etc.
Powerful combination Bi-directional Control/OE-Level All Systems Diagnoses/Advanced maintenance services.
26+ special functions, auto bleed, injector coding, EPB, DPF, SAS, Oil reset, BMS, TPMS sensor ID relearn, etc.
7-inch LED capactive touch screen with 1024×600 resolution.
Quad-core 1.6GHz Processor
Microphone, dual speakers, 4-band 3.5mm stereo/standard headset jack
Internal reliable 32GB On-board Memory.
Dual Wi-Fi to access your favorite web resources faster.
85+ Brand Coverage & Growing: Broad vehicle coverage, work on more than 85 brands, 10000 cars, and it is still growing.
3-Year Software Update
2-Year Warranty

Support 16 menu languages
Product Functions:
Bi-Directional Controls (also referred to as Active Tests/Component Tests) : Receive information and send the commands to the system/components to perform active tests like EVAP Test, Fuel Pump Test, Fuel Injector Test, Cycling A/C Clutch On/Off, Cooling Fan Test, EGR Test, Window/Door Locks, etc.
26+ Maintenance Functions: Packed with all the common special functions, such as ABS Bleeding, Key Programing, Injector Coding, Oil Reset, EPB, etc.
Oil Reset: Reset the new calculation of Engine Oil Life System for an accurate reading of the next oil change.
EPB Reset: Reset the calipers, brake discs or pads after the electronic parking brake system is repaired.
BMS Reset: Reset after replacing the battery to clear the low battery fault information of the original battery and protect the new battery.
DPF Regeneration: Clear PM from the DPF filter through oxidation or combustion to stabilize the filter performance.
IMMO / Key Programming(Top Popular): Disable a lost vehicle key to protect the vehicle from being stolen and add the new key.
Injector Coding(Top Popular): Code a new injector to better identify injectors to accurately control fuel injection.
ABS Bleeding(Top Popular): Perform to bleed the brake system to restore ABS braking sensitivity and obtain a firm brake pedal .
SAS Adjustment: Clear the fault steering angle sensor memories, perform reset steering angle sensor, and turn off steering wheel warning light.
Throttle Relearn: Reset the throttle actuators to accurately regulate throttle (or idle engine) operations, helps keep your idling and acceleration smooth.
Airbag Repair: After replacing the Airbag, reset the Airbag data and clear the collision data.
Maintenance functions are also including TPMS Reset, Air Suspension, Gear Learning(Crankshaft Relearn), Gearbox Match, Headlight Adjustment, Window Initialization, Seat Configurations, Disable Transportation, Tire Upgrade, EEPROM, Electronic Pump Activation, Power Balance, A/F Reset, Start/Stop Reset, etc, are all available and continuously growing.
OE-Level Full System Diagnoses: Complete capabilities for codes, read live data stream in graphing/Text, Retrieve freeze frame, Read ECU information, Perform the active tests and etc on all available systems of vehicles.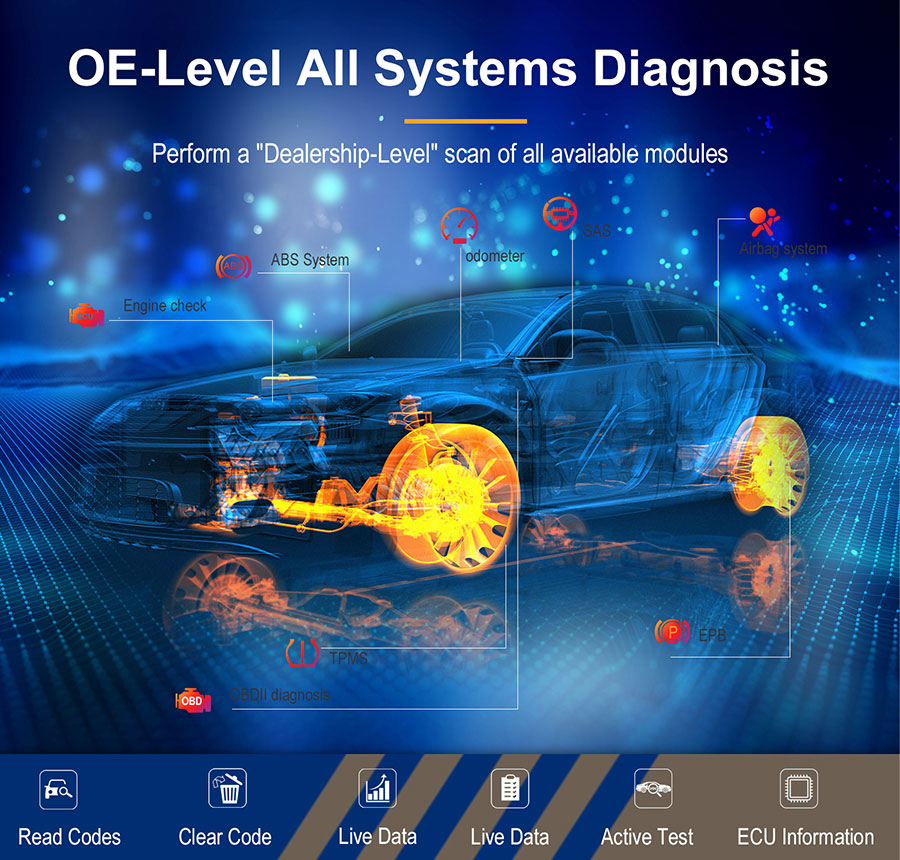 AutoVin & Auto Scan: Automatically retrieve the vehicle identification number for comprehensive all available systems scan for quick diagnoses.
Work with 8+12 Cable Adapter ( NOT included in the package) : Support for Chrysler 2018 and later vehicles.
Work with CAN FD Adapter (NOT included in the package): Support for GM/GMC/Cadillac/Chevrolet/Buick Cars after 2020.
Dual-Band WIFI Frequency: Both 2.4Ghz and 5Ghz WiFi for best signal or connection speed.
7'' Touch Screen with 1024*762 resolution for easily interpreting data.
Powerful Key Programming capabilities include Reading Pin~codes + Adding New Keys (Fob/Smart)+ Remote Learning + Key Matching, ALL-KEYS-LOST, etc.
XTOOL Product Comparison:
| | | | | | | |
| --- | --- | --- | --- | --- | --- | --- |
| Model | XTOOL D7 | XTOOL D8 | XTOOL D8BT | XTOOL D9 | XTOOL Anyscan A30M | XTOOL EZ400 Pro |
| OE Full System Diagnoses | √ | √ | √ | √ | √ | √ |
| Bidirectional Control Function | √ | √ | √ | √ | √ | √ |
| Special Functions | 26+ | 31+ | 31+ | 31+ | 21 | 16+ |
| Battery Capacity | 4,000mAh | 10,000mAh | 10,000mAh | 10,000mAh | × | 4,000mAh |
| OS | Android 5.1.1 | Android 5.1.1 | Android 5.1.1 | Android 5.1.1 | × | Android 5.1.1 |
| Storage | 2G+32G | 2G+64G | 2G+64G | 2G+64G | × | 1G+32G |
| Display | 7" Touch Screen with 1024*768 Resolution | 8" Touch Screen with 1024*768 Resolution | 8" Touch Screen with 1024*768 Resolution | 9.7" Touch Screen with 1024*768 Resolution | × | 7" Touch Screen with 1024*700 Resolution |
| Software Update | 3-Year Free Updates | 3-Year Free Updates | 3-Year Free Updates | 3-Year Free Updates | Lifetime Free Updates | 3-Year Free Updates |
Package Includes:
1pc x OBDII-16 ADAPTER
1pc x DB15 TOVGA MAIN CABLE
1pc x MICRO USB CABIE
1pc x CHARGER FOR TABLET CHARGER US ADAPTER
1pc x CHARGER EU ADAPTER
1pc x USER MANUAL
1pc x PACKING LIST
1pc x CERTIFICATE OF QUALITY
---
Customer Service:
Mrs.Bella
Email: sales@obd16shop.com
Whatsapp:+8615271813909
Skype: eobd11

About Shipping Way
1.DHL Shipping: 5-7 working days. With DHL shipping, we will declare lowervalue on invoice for customers to help customs clearrance .If customer have special requirements on declaring, please contact salesman on order page, online chat,email, skype or whatsapp. Usually we can reply in 24 hours on workingg days.
2.Yanwen express: 7-10 working days.We usually ship orders by Yanwen to European countries like German,Greece,Romania,Sweden,France,etc.By yanwen express, customer dont need to pay for tax. Tax is pre-paid. If customer needs faster shipping, please contact salesman.
3.US, UK, EU shipping directly fast and no tax : 3-5 working days.We have stocked up hot sale items in US, UK, EU Warehouse ,which is more convenient for you. Free TAX, faster shipping with cheaper price.
Click and check items in US Warehosue UK Warehouse

About Cancellation Policy
1.You can get a full refund if you make cancellation within 24hours. Because usually we will ship out package within 24 hours, for get full refund, please send us a cancellation note via order center or email.
2.If your cancellation made after 24 hours, please contact our customer service first, you can easily get touch with our customer service via email or any online contact method like skype, whatsapp or online chat. If customer service confirm your order have not been ship out, you can get a full refund
3. If your order has been proceed but have not get out of China(including Hongkong area), you can still cancel our order but you have to pay for the cancellation fee.(Detail fee please consult customer service for your order)
4. If the order already out of China, the order can not be canceled. If you want cancel it, you need send it back after you receive the package and you will need to undertaken the return fee.